Main content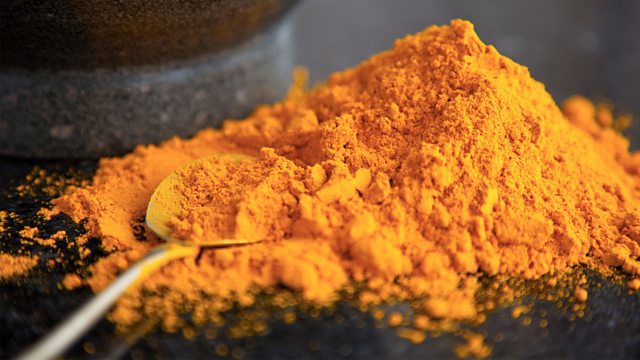 Turmeric
Sheila Dillon takes a golden-orange journey into the culinary use and the latest medical findings about turmeric.
Sheila Dillon takes a journey into the culinary use, history and the latest medical findings about turmeric.
Turmeric (Curcuma longa) is a member of the ginger family of plants - and its rhizome, the part mainly used in cooking, has a deep orange-golden colour that marks it out. Responsible for this distinctive hue is the bioactive compound, curcumin. Turmeric - and curcumin - have attracted a lot of attention in recent years, and much has been claimed about medicinal properties. In India, where most turmeric is still grown, turmeric - or haldi - has long been revered and widely used both as an essential savoury food ingredient and as a medicine, with the golden rhizome being particularly valued within the ancient medical system of Ayurveda.
Sheila investigates the health claims about turmeric and curcumin, talking to Dr Michael Mosley - former GP and presenter of BBC Two's Trust Me I'm A Doctor, about his team's recent research findings. Sheila also hears about an article published last month in British Medical Journal Case Reports, and speaks to its co-author Professor Jamie Cavenagh, a leading expert on blood cancer - and one of his patients Dieneke Ferguson, who turned to curcumin after all conventional treatment for her cancer was stopped. Also featuring in the programme are cook and food writer Monisha Bharadwaj - author of The Indian Cookery Course, Susie Emmett - radio producer who went to Andhra Pradesh, India, on the turmeric trail, as well as Dr Stephen Harris, Druce Curator of the Herbaria at Oxford University.
Presenter: Sheila Dillon
Producer: Rich Ward.
Last on
Monisha Bharadwaj's Fresh Turmeric Relish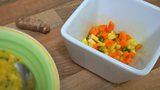 Haldi Ka Achar - Fresh Turmeric Root Relish
Turmeric is one of the healthiest spices used in Indian cooking. The active compound curcumin is considered anti-inflammatory and an anti-oxidant. The spice has been popular in Indian medicine such as Ayurveda for centuries. Wear gloves if you don't want your hands stained!
Makes about 100g
PREPARATION  10 minutes  
 4 teaspoons fresh turmeric root, scraped and finely chopped       
1 teaspoon finely chopped fresh root ginger
1 small fresh green chilli, minced
​fresh ​lemon​/lime​ juice, to cover the mixture
salt
Mix the turmeric root, ginger and chilli together, then pour in the lemon​ or lime​ juice and season with salt. Transfer to a sterilised, airtight container, seal tightly and shake well to blend. The relish will keep well for up to 1 week in the fridge.
Recipe from The Indian Cookery Course by Monisha Bharadwaj
Credits
| Role | Contributor |
| --- | --- |
| Presenter | Sheila Dillon |
| Interviewed Guest | Michael Mosley |
| Interviewed Guest | Jamie Cavenagh |
| Interviewed Guest | Dieneke Ferguson |
| Interviewed Guest | Monisha Bharadwaj |
| Interviewed Guest | Susie Emmett |
| Interviewed Guest | Stephen Harris |
| Producer | Rich Ward |
Broadcasts