Main content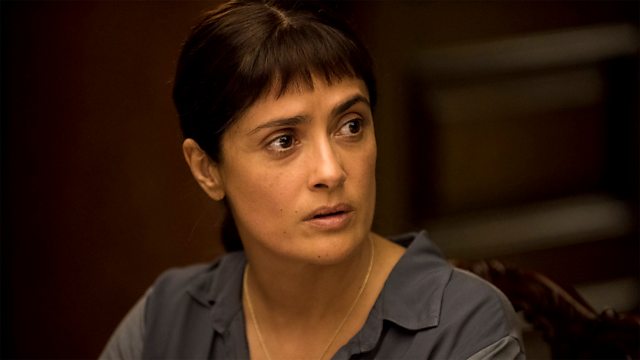 Salma Hayek, Anna of the Five Towns and Wonder Woman Merchandising
Samira Ahmed talks to Salma Hayek, explores Arnold Bennett country and looks at how comedians and musicians really make their money and the marketing of film merchandise.
As 'Beatrix at Dinner' opens the London Sundance Film Festival Samira talks to the film's star Salma Hayek and director Miguel Arteta about the politically charged dark comedy which has been described as the first great film of the Trump Era.
In his lifetime the novelist Arnold Bennett was so famous the Savoy Hotel named an omelette after him, but 150 years on from his birth his star has waned. We've been to his home city of Stoke-on-Trent where the celebrations to mark this special anniversary include an adaptation of his novel Anna of the Five Towns by playwright Deborah McAndrew and is directed at the New Vic by Conrad Nelson.
Last month comedian Amy Schumer told Front Row, that even though she has written, produced and starred in a series of successful films and television programmes, stand-up touring is still where she makes the most money. To throw more light on the economics of stand-up tours and beyond we speak to comedy agent Brett Vincent and sociologist of culture Sarah Thornton.
The film Wonder Woman is released this week but are girl fans being short-changed when it comes to the merchandising? Louise Blain of the film and game magazine and website Games Radar examines the evidence.
Chapters
Salma Hayek

Duration: 08:29

The economics of comics

Duration: 05:29

Wonder Woman merchandising

Duration: 04:13

Anna of the Five Towns

Duration: 08:21

Roy Barraclough

Duration: 01:03

Salma Hayek

Beatriz at Dinner, certificate 18, is being shown as part of the Sundance Film Festival:London, which runs from 01 - 04 June 2017.

Images:

Main image above: Salma Hayek as Beatriz in Beatriz at Dinner

Image to the left: From Left: David Warshofsky (Grant), Salma Hayek, Jan Duplass (Alex) and Connie Britton (Cathy) in Beatriz at Dinner .

Images credit: Lacey Terrell/Courtesy of Sundance Institute

Wonder Woman merchandising

Image: Gal Gadot as Diana in Warner Bros film Wonder Woman

Image credit: 2017Warner Bros. Entertainment and Ratpac Entertainment LLC

The Wonder Woman film opens in the UK on 01 June 2017, certificate 12A.

Anna of the Five Towns

Anna of the Five Towns by Arnold Bennett is at the New Vic Theatre, Newcastle-under-Lyme until 17 June 2017.

Image: Anna of the Five Towns cast members on stage

Image credit: Andrew Billington

 

Roy Barraclough

Image: Roy Barraclough in BBC's Are You Being Served in 2016.

Credits

| Role | Contributor |
| --- | --- |
| Presenter | Samira Ahmed |
| Producer | Harry Parker |
| Interviewed Guest | Salma Hayek |
| Interviewed Guest | Miguel Arteta |
| Interviewed Guest | Brett Vincent |
| Interviewed Guest | Sarah Thornton |
| Interviewed Guest | Louise Blain |