Main content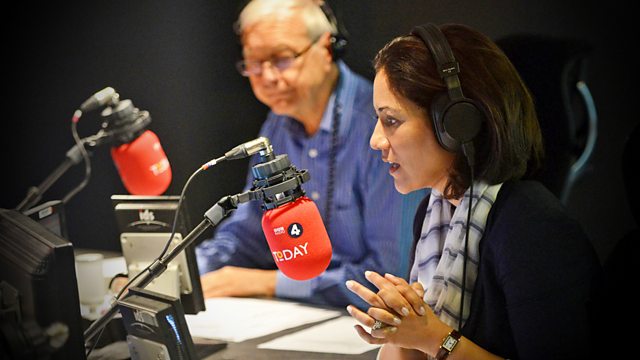 01/06/2017
Morning news and current affairs. Including Sports Desk, Weather and Thought for the Day.
Today's running order
0650
Labour claims that many people aren't 'just about managing' - they are not managing at all. Justin Webb reports from a foodbank in Cardiff run by the Trussel Trust. Chris Morris is the BBC's Reality Check correspondent.
0655
The hacking of the NHS computer system on 12 May and the crashing of the British Airways computer system last weekend raises the question of the cyber resilience of big and crucial organisations in the UK. Denis Fischbacher-Smith is professor of risk and resilience at the Adam Smith Business School part of the University of Glasgow.
0710
Our election subject this morning is the cost of living - our incomes, our expenditures, and the difference between them. Richard Best is co-owner of a thriving bakery in Cardiff.
0715
The government-commissioned inquiry into controversial working practices is set to call for employees on zero-hours contracts to be given the right to request a move onto fixed hours. The BBC's economics editor Kamal Ahmed reports.
0730
How do people in Cardiff feel about the cost of living? Justin Webb finds out from a number of people who work in the local bakery.
0740
Scientists are appealing for the public's help to record sightings of common, but relatively unknown, native insects - solitary bees. Stephanie Maher is a PhD student at Anglia Ruskin University.
0750
President Ashraf Ghani of Afghanistan has condemned a massive bomb attack in the capital Kabul, which killed at least 90 people, as "cowardly". Seema Ghani is chair of the Kabul-based Hand to Hand charity and Hameed Hakimi is research associate specialising in Afghanistan at think tank Chatham House.
0810
Our election topic today is the cost of living. Damian Green is secretary of state for work and pensions and Debbie Abrahams is shadow secretary of state for work and pensions. Kamal Ahmed is the BBC's economics editor.
0820
A Pakistani Kesar or an Indian Alphonso: that is the choice that British South Asian households will be largely divided over during the highly-anticipated by six-week mango season. But why is there such rivalry between the two types? Chetna Makan is a former finalist of the Great British Bake off and Sumayya Usmani is a food writer and broadcaster.
0830
Chinese and EU leaders are to agree a joint statement on the Paris climate agreement saying it is "an imperative more important than ever". Brian Deese is senior adviser to President Barack Obama on energy, climate and conservation strategies.
0835
The Hay Festival is celebrating its 30th anniversary this week. James Naughtie has been there to speak to one of the big literary names from this year's line-up, the American novelist Jonathan Safran Foer.
0840
With a week to go until the general election, where do the parties stand? Laura Kuenssberg is the BBC's political editor. Neil Hamilton is the leader of the UKIP group in the Welsh Assembly. Baroness Susan Kramer is the Liberal Democrats' economics spokesperson in the Lords. Adam Price is a Welsh assembly member for Plaid Cymru.
All subject to change.