Main content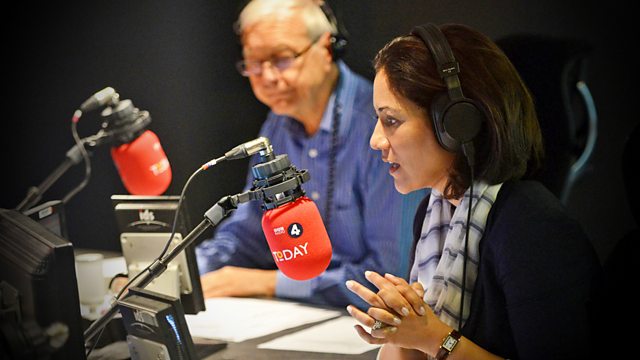 31/05/2017
Morning news and current affairs. Including Sports Desk, Weather and Thought for the Day.
Today's running order
0650
Most of the political parties in Northern Ireland are launching their general election manifestos this week, including the cross-community Alliance Party, which will set out its proposals later today. Naomi Long is leader of the Alliance Party.
0655
All the three main parties are offering extra spending on the health service at this election. Norman Lamb is Liberal Democrat health spokesman.
0710
For the first time, a British police force is to start recruiting people directly to become detectives - without them having to work as beat officers in uniform. Stephen Clayman is Detective Chief Superintendent of the Metropolitan Police.
0715
Sarah Montague is broadcasting from King's College hospital, whose trust is run by Lord Kerslake. Kerslake ran the civil service and now oversees a busy NHS foundation trust.
0720
While the UK has been busy running a general election campaign, the European Commission has been busy publishing a very detailed set of positions on two key Brexit issues - citizens' rights and the Brexit bill. Katya Adler is the BBC's Europe editor.
0725
One of the world's leading contemporary dancers, Akram Khan, came to public attention at the London Olympics when the director Danny Boyle asked him to perform at the opening ceremony. Tonight, Khan will perform his only ever solo work, Desh, at Sadler's Wells - an exploration of his family's Bangladeshi roots. The BBC's Sangita Myska reports.
0730
King's College Hospital is typical of many hospitals across the country: it's running a deficit and can no longer ensure that 95% of those turning up to A&E are seen within four hours. Sarah Montague spent the day with Shelley Dolan, chief nurse and executive director of midwifery.
0740
NASA will announce its first mission to fly directly into our sun's atmosphere today. Lucie Green is a space scientist at University College London.
0750
Authorities in the Philippines are battling to retake Marawi city from Islamist militants amid clashes that have left about 100 people dead. Colonel David Maxwell formerly commanded the Joint Special Operations Task Force-Philippines and Frank Gardner is the BBC's security correspondent.
0810
Throughout the election campaign, we've been exploring key policy areas. Today we're focusing on health and the NHS in England. George Stoye is senior research economist at the Institute for Fiscal Studies and Jonathan Ashworth is shadow health secretary.
0820
If you have a spare £75,000 would you consider spending it on a falcon box for your car? That's the new addition to the latest customised Bentley car. Or how about an extra seat in a plane for your falcon friend? A Saudi prince recently booked 80 extra seats for his 80 pets. So is falconry an increasingly popular pastime and should we welcome it? Nigel King is a falcon handler and Peter York is an author and columnist.
0830
The NHS is always a big battleground area in any election. Jeremy Hunt is secretary of state for health.
0835
Throughout this campaign we've been asking for your ideas for pieces that you think should be on the election grid - but aren't. One listener, a retired doctor and medical statistician, suggested the mortality rate. Today's Sanchia Berg reports.
0840
James Williams has won the Nine Dots award for answering the question: 'Are digital technologies making politics impossible?', in which he argued that digital technologies are making all forms of politics worth having impossible as they privilege our impulses over our intentions.
0850
It has often been said that if we were to invent the NHS from scratch today, we wouldn't end up where we are now. So we're giving three health professionals a blank sheet of paper and the chance to discuss what the NHS ought to look like in the 21st century. Professor Helen Stokes-Lampard is chair of the Royal College of GPs; Niall Dickson is chief executive of the NHS Confederation and Jeremy Taylor is chief executive of National Voices - a coalition of health charities speaking up for patients.
All subject to change.