Main content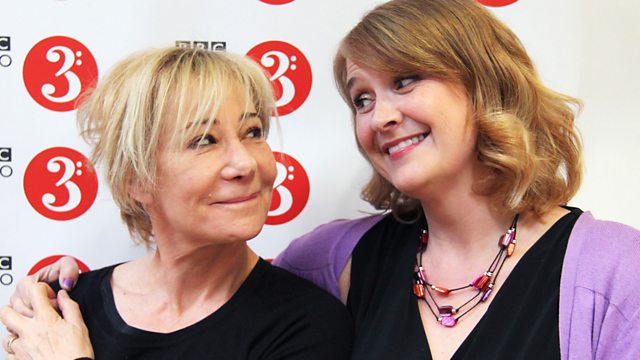 Thursday - Sarah Walker with Zoe Wanamaker
With Sarah Walker. Musical challenge; Music on Location: Ligeti: San Francisco Polyphony; Artist of the Week: Jorge Bolet, featured in Debussy's Preludes - Books 1, 2 (selection).
9am
Sarah sets the tone and mood of the day's programme with a range of music to intrigue, surprise and entertain.   
9.30am
Take part in our daily musical challenge: can you identify the piece of music, played in reverse?
10am
Sarah's guest this week is the award-winning actress Zoë Wanamaker. Zoë is best known for her roles in the BBC series My Family, which ran for eleven series, and as Madam Hooch in Harry Potter and the Philosopher's Stone. Zoë was immersed in the world of acting from a young age: her mother was an actress and radio star and her father was Sam Wanamaker, who drove the reconstruction of Shakespeare's Globe on London's South Bank. Zoë was the first person to perform on the stage when it was opened by Queen Elizabeth II, and was a member of the Royal Shakespeare Company in the '70s and '80s. As well as discussing her life's work, Zoë shares her passion for classical music, choosing a selection of her favourite works.
10.30am
Music on Location: San Francisco
Sarah explores music connected with San Francisco by Ligeti. Few modernists have enjoyed the popularity of Ligeti, whose music has featured in films such as '2001: A Space Odyssey' and 'The Shining'. His orchestral piece 'San Francisco Polyphony' is a musical tribute to the city: "Low clouds sailing slowly from the ocean... the view of the red towers of the Golden Gate... the turning of the cable car".
Double Take
Sarah explores the nature of performance by highlighting the differences between two interpretations of the Pie Jesu from Fauré's Requiem, comparing the effect of different voice types (an adult soprano and a treble) as well as period and modern instruments.
11am
Artist of the Week: Jorge Bolet
Sarah's Artist of the Week is the Cuban-born American pianist, Jorge Bolet. Born in Havana in 1914, he was praised in particular for his interpretations of Liszt, and his recorded legacy mainly focuses on the romantic tradition. His career was unusual in that he did not achieve international recognition until he was in his sixties. Bolet championed pieces that were out of fashion at the time, such as the piano music of Franck and Godowsky's fiendishly difficult arrangements of Chopin's Etudes, both of which feature this week on Essential Classics, as well as his recordings of Debussy's Preludes, works by Liszt and Rachmaninov's Third Piano Concerto, where Bolet is joined by the London Symphony Orchestra and conductor Ivan Fischer.
Debussy
Preludes (selection from Books I and II)
Jorge Bolet (piano).
Music Played
ZOE WANAMAKER'S FIRST CHOICE

ZOE WANAMAKER'S SECOND CHOICE

MUSIC ON LOCATION: SAN FRANCISCO

DOUBLE TAKE

ARTIST OF THE WEEK: JORGE BOLET
Musical Challenge: Recording Rewind
The piece of music played in reverse was Brahms's Hungarian Rhapsody No.5 in G minor.