Main content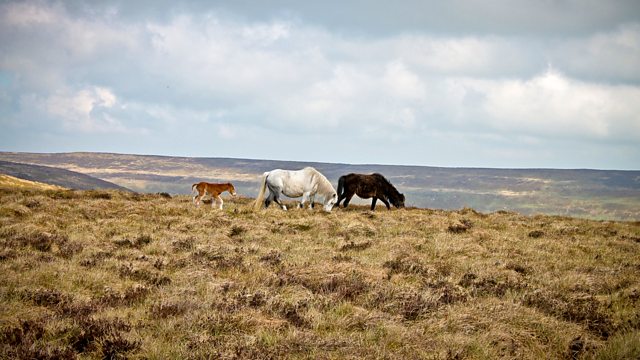 Sound Walk to Hay-on-Wye
Horatio Clare presents an immersive 'slow radio' experience of the British countryside, with a recording of a walk along Offa's Dyke, skirting the Black Mountains.
An immersive, "slow radio" experience of the British countryside, for a Bank Holiday weekend on the cusp of summer.
The core of this programme is a recording of a ten mile walk along part of Offa's Dyke, skirting the Black Mountains, travelling North and ending up in Hay-on-Wye (where the Hay Literary Festival is in progress).
Horatio Clare is walking and meditating on the landscape. His route takes him over a babbling stream near the chapel of Capel-y-Ffin, then through fields of bleating sheep and woodland rich in birdsong, (including a cuckoo) before climbing the steep hillside to the ridge. This Black Mountain ridge is where Offa's Dyke path runs along the Welsh/English border. He sees spectacular views of the craggy Brecon Beacons to the West, and the lush fields of Herefordshire to the East. On the high ridge there is much lark song, and an occasional whinny from wild ponies. When the route descends again at Hay Bluff, there are more woodland sounds approaching Hay. Interspersed through the programme are pure soundscape recordings of some of these landscapes.
You will also hear the voices of local artists and writers musing on the inspirations they find in this landscape (poet Christopher Meredith, artist Susan Milne, folk singer Sam Lee and novelist Tom Bullough), as well as orchestral music by Welsh symphonists William Mathias and Alun Hoddinott. And Alex Clatworthy reads from literature about the region.
Horatio Clare is a multi award-winning author, broadcaster and journalist who spent his childhood on a farm in the Black Mountains.
This unusual programme is a chance to step back from the busy hurly-burly of life and engage with natural sounds and meditative thoughts inspired by the gentle rhythm of walking in one of the most beautiful landscapes in Britain.
Part of Radio 3's week-long residency at Hay Festival, with Lunchtime Concert, In Tune, Free Thinking, The Verb, The Essay and The Listening Service all broadcasting from the festival.
Six Great British walks to try this weekend