Main content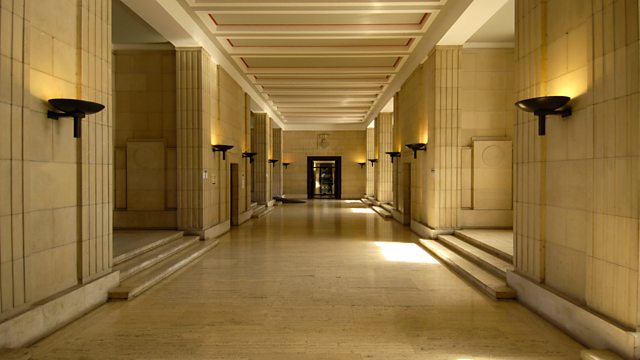 The Bloomsbury Lighthouse
Tracing the activities of four unlikely wartime propagandists, Graham Greene, George Orwell, AL Lloyd and Laurie Lee, through the corridors of the Senate House Building in London.
During the Second World War, almost every artist and writer left in London spent some time working for the Ministry of Information, the teeming, often absurd and deeply bureaucratic institution at the heart of Britain's wartime propaganda effort. Among them where some unlikely figures: Graham Greene, George Orwell, A L Lloyd and Laurie Lee.
In and around Senate House, the University of London's vast neo-Georgian skyscraper in Bloomsbury, thousands of people carried out censorship and produced propaganda material for the British Government, amongst them some of the most prominent creative figures of the 1930s and '40s.
But what effect did the experience have on these four apparent non-conformists and on their subsequent work? Cultural Historian Dr Lara Feigel, writer and journalist Owen Hatherley, storyteller, musician and writer Dave Arthur and literary critic Alexandra Harris wander the labyrinthine corridors of Senate House, unravelling the wartime stories of four writers and conjuring the strange and febrile atmosphere of the building at the heart of Britain's wartime bureaucracy.
Producer: Michael Umney.
Assistant Producer: Andrea Rangecroft.
Reader: Dudley Sutton.
With thanks to: Lucy Dearlove, James Torrance and Oliver Carter-Wakefield.
A Resonance Production.
Last on
Broadcasts