Main content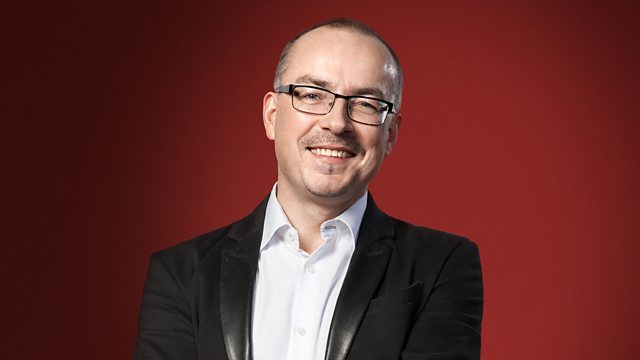 Andrew McGregor with Sarah Lenton and Tom McKinney
With Andrew McGregor. Including Building a Library: Arthur Sullivan's The Mikado; New chamber releases, including Franck, Faure, Chausson and Saint-Saens; Disc of the Week.
with Andrew McGregor.
0930
Building a Library: Sarah Lenton recommends the best recording of The Mikado by Sir Arthur Sullivan. This evergreen Savoy Opera concerns the comic goings-on of a motley crew of characters. Ostensibly set in Japan, this Gilbert and Sullivan favourite is in fact a biting satire on British manners and customs.
1030
Andrew talks to Tom McKinney about new releases of chamber music including works by Franck, Fauré, Chausson and Saint-Saëns
1145
Andrew chooses an outstanding new release as his Disc of the Week.
9am
Sir Arthur Sullivan: Songs
SULLIVAN, A: Sigh no more, ladies; Orpheus with his Lute; O mistress mine; The Willow Song; Rosalind; Love laid his sleepless head; Nel ciel seren; Where the bee sucks; I wish to tune my quivering lyre; Sweet day; Arabian Love Song; Birds in the Night; A life that lives for you; Once again; Golden Days; Guinevere!; None but I can say; O Israel; St Agnes' Eve; Edward Gray; What does little birdie say?; O swallow, swallow; Tears, idle tears; The Window; or, the Songs of the Wrens; Bid me at least goodbye; E tu nol sai; Ich mochte hinaus es jauchzen; Lied, mit thranen halbgeschrieben; Oh! Ma charmante; I would I were a King; Sad Memories; Ever; Mary Morison; Old Love Letters; County Guy; Sweethearts
Mary Bevan (soprano), Ben Johnson (tenor), Ashley Riches (bass-baritone), David Owen Norris (piano)
CHANDOS CHAN10935(2) (2CD)
Songs of The Great War
Arrangements and Ensemble directed by Matt Redman
Patricia Hammond (voice)
SONGOPHILE RECORDS SONG50
Le Belle Vielleuse: The Virtuoso Hurdy Gurdy in 18th Century France
With music by: Christophe Le Menu de Saint-Philibert, Jean Baptiste Dupuits, Monsieur Ravet, Charles Baton, Michel Corrette
Ensemble Danguy, Monika Mauch (Soprano), Tobie Miller (Hurdy Gurdy), Ellie Nimeroski (Violin), Caroline Ritchie (Bass Viol & Cello), Marc Meisel (Harpsichord), Esteban La Rotta (Theorbo)
RICERCAR RIC382 (CD)
STRADELLA: Santa Pelagia (Oratorio)
Roberta Mameli (soprano), Raffaele Pe (Contralto), Luca Cervoni (tenor), Sergio Foresti (baritone), Ensemble Mare Nostrum, Andrea De Carlo (director)
ARCANA A431 (CD)
Bach & Sons 2
BACH, C P E: Harpsichord Concerto in G major, Wq. 43/5 (H475)
BACH, J C: Berlin Harpsichord Concerto in F Minor, W. C73 (formerly attributed to W F Bach)
BACH, J S: Keyboard Concerto No. 4 in A major, BWV1055; Keyboard Concerto No. 5 in F minor, BWV1056; Concerto for Flute, Violin & Harpsichord in A minor, BWV1044
Sebastian Knauer (piano), Philipp Jundt (flute), Daniel Hope (violin), Zurcher Kammerorchester
BERLIN CLASSICS 0300764BC (CD)
9:30am - Building a Library
Composer: Arthur Sullivan
Piece: The Mikado
Reviewer: Sarah Lenton
Building a Library - Sullivan's 'The Mikado'
Recommended recording:
Donald Adams (The Mikado), Anthony Rolfe Johnson (Nanki-Poo), Richard Suart (Ko-Ko), Felicity Palmer (Katisha), Marie McLaughlin (Yum-Yum), Janice Watson (Peep-Bo), Anne Howells (Pitti-Sing), Richard Van Allan (Pooh-Bah), Nicholas Folwell (Pish-Tush), Welsh National Opera Chorus, Orchestra, Sir Charles Mackerras (conductor)
TELARC CD80284 (CD)
Other recommended recordings:
Below is a shortlist of other recordings which Sarah also liked, although we can't guarantee the availability of these discs.
DVD
Donald Adams (The Mikado), Philip Potter (Nanki-Poo), John Reed (Ko-Ko), Valerie Masterson (Yum-Yum), City of Birmingham Symphony Orchestra, Isidore Godfrey (conductor)
BRITISH HOME ENTERTAINMENT BHE00IV
Highlights
Richard Angas (The Mikado), Bonaventura Bottone (Nanki-Poo), Eric Idle (Ko-Ko), Richard Van Allan (Pooh-Bah), Mark Richardson (Pish-Tush), Lesley Garrett (Yum-Yum), Jean Rigby (Pitti-Sing), Susan Bullock (Peep-Bo), Felicity Palmer (Katisha), English National Opera Chorus and Orchestra, Peter Robinson (conductor)
Donald Adams (The Mikado), Thomas Round (Nanki-Poo), Peter Pratt (Ko-Ko), Kenneth Sandford (Pooh-Bah), Alan Styler (Pish-Tush), Jean Hindmarsh (Yum-Yum), Beryl Dixon (Pitti-Sing), Jennifer Toye (Peep-Bo), Ann Drummond-Grant (Katisha), New Symphony Orchestra of London, Isidore Godfrey (conductor)
AUSTRALIAN ELOQUENCE ELQ4807090 (2CD)
10:15am - More New Releases
Antheil: Orchestral Works, Vol. 1
ANTHEIL: Symphony No. 4; Symphony No. 5 'Joyous'; Over the Plains
BBC Philharmonic, John Storgards (conductor)
CHANDOS CHAN10941 (CD)
Kind of Satie
PANDOLFO, A: Impassible infiammato; La caccia; Commiato; Albertone sui baffi di Satie
PANDOLFO, P: Brothers; Respiro
RINALDI: Morbidamente rosacrociano; Sogno coniugale; Preghiera rosacrociana; Valzer rosacrociana
SATIE: Sonneries de la Rose et Croix
Andrea Pandolfo (trumpet, flugelhorn, voice), Paolo Pandolfo (violas da gamba, Michelangelo Rinaldi (piano, accordion, toy piano)
GLOSSA GCDP30416 (CD)
24 +1
…A cycle of preludes by 25 composers extending across 2 centuries.
Dominic John (piano)
WILLOWHAYNE RECORDS WHR041 (CD)
De Falla: El Amor Brujo
CANTEMIR: Escena Bestenigar
FALLA: Cancion del amor dolido (from El amor brujo); Ritual Fire Dance (from El amor brujo); El Amor Brujo: Pantomime; Las campanas del amanecer (El amor brujo); Koumiss y Fuego Fatuo; Pasacalle en Circulo Magico
RODRIGO: Concierto de Aranjuez: Allegro con spirito; Concierto de Aranjuez: Adagio (extract)
SANTA CRUZ: Xacara del juego de Amor
SANZ: Canarios; Taranta de la Siega
Enrike Solinis (guitar, laouto, musical director), Euskal Barrokensemble
ALIA VOX AV9921 (CD)
10:50am - Tom McKinney on French chamber music
Faure & Saint-Saens: Works For Cello & Piano
FAURE: Cello Sonata No. 1 in D minor Op. 109; Au bord de l'eau Op. 8 No. 1 (Prudhomme); Cello Sonata No. 2 in G minor Op. 117; Apres un reve Op. 7 No. 1
SAINT-SAENS: Romance in F major Op. 36; Romance Op. 51; Cello Sonata No. 1 in C minor Op. 32; Le carnaval des animaux: Le Cygne
Brian O'Kane (cello), Michael McHale (piano)
CHAMPS HILL RECORDS CHRCD113 (CD)
French Treasures
CHAUSSON: Poeme for Violin & Piano Op. 25
DEBUSSY: La plus que lente; Prelude a l'apres-midi d'un faune; Clair de Lune (from Suite Bergamasque)
POULENC: Violin Sonata, FP 119
SAINT-SAENS: Caprice d'apres l'Etude en forme de valse
Alexey Semenenko (violin), Inna Firsova (piano)
ARS PRODUKTION ARS38544 (CD)
Franck: Violin Sonata & Chausson: Concert
CHAUSSON: Concert in D major for piano, violin and string quartet Op. 21
FRANCK, C: Violin Sonata in A major
Salagon Quartet, Isabelle Faust (violin), Alexander Melnikov (piano)
HARMONIA MUNDI HMM902254 (CD mid-price)
Tasmin Little plays Franck, Szymanowski, and Faure
FAURE: Romance in B flat major for violin & piano Op. 28
FRANCK, C: Violin Sonata in A major
SZYMANOWSKI: Violin Sonata in D minor Op. 9; Romance in D major Op. 23; Nocturne & Tarantella Op. 28
Tasmin Little (violin), Piers Lane (piano)
CHANDOS CHAN10940 (CD)
11:45am - Disc of the Week
JS Bach: Cantatas for Soprano
BACH, J S: Cantata BWV202 'Weichet Nur, betrubte Schatten' (Wedding Cantata); Cantata BWV152 'Tritt auf die Glaubenbahn'; Cantata BWV199 'Mein Herze schwimmt im Blut'
Carolyn Sampson (soprano), Andreas Wolf (bass-baritone), Freiburger Barockorchester, Petra Mullejans (conductor)
HARMONIA MUNDI HMM902252 (CD)