Main content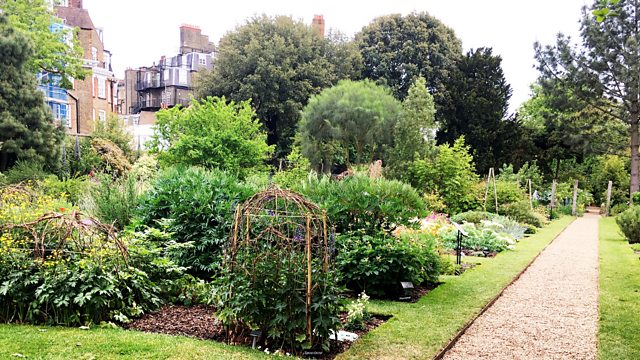 Chelsea Physic Garden Postbag Edition
Postbag edition of the horticultural panel programme from the Chelsea Physic Garden. Matthew Wilson, Matt Biggs and Pippa Greenwood answer the questions.
Eric Robson presents a postbag edition of the show from the Chelsea Physic Garden. Matthew Wilson, Matt Biggs and Pippa Greenwood answer the horticultural questions.
This week the questions come from listeners' correspondence on topics such as aiding an ailing Gunnera, planting a bog garden, and controlling a wandering Tayberry. They panel also offers advice on tending to a mammoth Magnolia and managing the suckers on a plum tree.
Matthew Wilson takes a tour around Chelsea Flower Show in order to sniff out some useful tips for the home gardener.
Produced by Dan Cocker
Assistant Producer: Laurence Bassett
A Somethin' Else production for BBC Radio 4.
Chelsea Postbag Fact Sheet
Intro: Madagascan Periwinkle (Catharanthus roseus)
Q - Can you advise us on helping our dramatic & beloved giant Gunnera?  Last weeks cold snap has blackened this year's tiny new leaves that were just showing new life for this year.
Pippa – I think it will be fine if the crown and the base are fine.  Remove the dead bits.
Matt – Get some horticultural fleece
Q - I used to have a dozen or more Aquilegia of various colours giving me lovely early spring colour - this included lots of self seeded 'Mrs Barlow'.  This year they have almost all disappeared.  I have found reports of Aquilegia downy mildew.  My question is can I safely buy new stock and are there any advances in tackling this problem?
Pippa – It's not that widespread so not many techniques out there.  I'd try some from seed in a new area and keep an eye on them
Q - I have a small bog garden – 7ft by 3ft (2.1m x 0.9m) which is next to but separate from my pond; i.e. the water doesn't feed from the pond. It is at the back of my north east facing garden and in the summer has sun for the middle of the day. I would love to add a fern or two but having researched on-line I've found that many different 'expert' ferns growers give advice on sun tolerant species but many seem to conflict with each other. I am confused and would love the panels help.
Matthew – The critical factor is whether or not there is enough moisture.  Something like Osmunda regalis – a good structural fern - should be fine.  Shuttlecock Fern (Matteuccia struthiopteris). 
Matt – Dryopteris wallichiana.  There's a genus called Cheilanthes which thrive in dry areas.
Pippa – Go straight to specialist fern nurseries and take their advice
Q - Hi, today while I was moving some soil into the raised bed in our community garden, I noticed there are very few worms and no insects in it.  The soil has not been screened and was fairly recently under an established lawn.  It is very nice soil from what was once a river bed.  My question is - how much is soil life affected by moving the soil around?  I mean all the microbes, fungi and insects that help make the soil fertile.  I have 12 tonnes and it has gone from ground to big pile, then onto a tipper, via the car park and into the raised bed - it's nearly 1m (3ft) high for wheelchair users - lots of soil!  How much help will it need?
Matthew – Stacked soil can lose its structure and fauna.  Get as much organic matter in there as possible.
Pippa – Well-rotted manure, garden compost, leaf clippings – they will all help.
Q - I have grown Alstroemerias (Peruvian Lilies) from seed with mixed success. A couple of the plants I have grown have interesting flowers and I would like to propagate them. What is the best way to do this?
Matthew – Division.  Root cuttings would work too if you're looking to select particular strains.
Matt – Take root cuttings when the plant is dormant
Q - I would be grateful if you could advise me about whether I need to control runners from my new Tayberry.  In my experience raspberries run everywhere once established. I am sure I read somewhere that the runners only go to 4 inches (10cm) below the surface so if you put a barrier in to that depth they should be more manageable. Is this correct and would it apply to Tayberry too?
Matt – It's better to have fewer stems that will grow longer than lots of stems. 
Pippa – The depth will depend on the soil but I think a barrier would work
Q - Why are my asparagus crowns only sprouting one (albeit enormous!) spear each?!
Pippa – It's a varietal issue
Matthew – It's been so cold and dry this year that asparagus has not been acting that typically
Matt – It's affected Clematis too – they've been turning green. 
Anne Edwards also mentions  – Veratrum viride and the Headache Tree (Umbellularia californica)
Q - I have been trying for ever to get climbing ivy to cover my London Plane tree but it seems adamant that is does not want to be a host! Is this normal? Do they not have the right sort of bark or are just not happy to be 'crept' upon? While magnificent up the top with their branches, they do look so gnarled and nude at eye level.
Matt – It might be too dry on the bark and the base for the ivy to climb
Matthew – Don't try and cover up the London Plane – it's beautiful!
Q - I have a plum tree (Stanley) purchased from a well known supermarket. While the tree seems to be doing well for a tree only planted on my allotment in Leigh on Sea during autumn of 2015. It keeps putting out suckers from below the graft. I have been taking these off but they keep reappearing. As it is a young tree I am keeping it watered on a regular basis. Can the panel advise on the cause of this problem and what can be done to prevent the problem?
Matt – If you're taking suckers off make sure you tear them off rather than cutting.  And take the suckers off early in the year when they're still soft.
Pippa – If it's in the Prunus family it can be a nightmare
Q - I have a beautiful Magnolia grandiflora abutting the rear elevation of our house. My wife wants to cut it down as it blocks light to our windows and the roots might be extending under the foundations of the house. Will it tolerate re-planting?
Pippa – There are lots of Magnolias planted against houses and they don't seem to cause too many problems.  If necessary, you could get an inspection report to make sure before trying to move it.
Matthew – If you prune it back hard you won't see the big flowers again
Q - I have an Actinidia kolomikta which last year lost the lovely pink and white leaf tips and was a boring plain green.
I spoke harshly to it last autumn and this year, thankfully, the lovely variegation is back,.
Why do you think last year was uniquely different... (or did my threatening words make the difference?)
Pippa – The site could be too shady