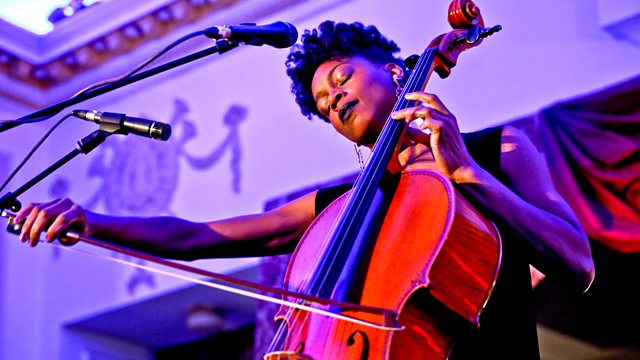 Nick Luscombe with Ayanna Witter-Johnson and Hejira
The Great Escape in Brighton is one of the UK's leading festivals for new music. Last weekend Late Junction and BBC Music pushed past the throngs at the seaside and joined the 2017 edition of the festival to present a showcase of boundary-pushing, up-and-coming artists and DJs.
Nick airs more highlights from the showcase tonight, starting with Ayanna Witter-Johnson's cello and cowbell solo set, and concluding with Hejira's eclectic and electric performance.
Witter-Johnson is currently readying her debut album, having dropped two EPs already. In 2012 she was nominated for a MOBO Award in the category of 'Best Jazz Act'. As an arranger and orchestrator she has worked with the London Symphony Orchestra, and she has featured on records by the likes of 4hero, Akala, Billy Jenkins, and Alex Webb.
Hejira formed in 2010 in South-East London and soon attracted the ears of Matthew Herbert, who became involved in the production of their debut album 'Prayer Before Birth', which was released in 2013. The band have recently channelled their proggy, jazzy, folky influences into a self-released EP called 'The Lima Limo Ceremony'.
Also on the programme this evening, interesting electronic experiments from Berkshire, Prague, and Tallinn, courtesy of Revbjelde, Birds Build Nests Underground, and Sven Grünberg.
Produced for Reduced Listening by Jack Howson.
Last on
Performers:
Ayanna Witter-Johnson:
Ayanna Witter-Johnson (vocals, cello, percussion)
Hejira:
Sam Beste (keyboards, guitar, bass)Rahel Debebe-Dessalegne (vocals, bass)Alex Reeve (guitar)Calum Duncan (guitar)Alexis Nunez (drums)


Is the synth the ultimate feminist instrument?