Main content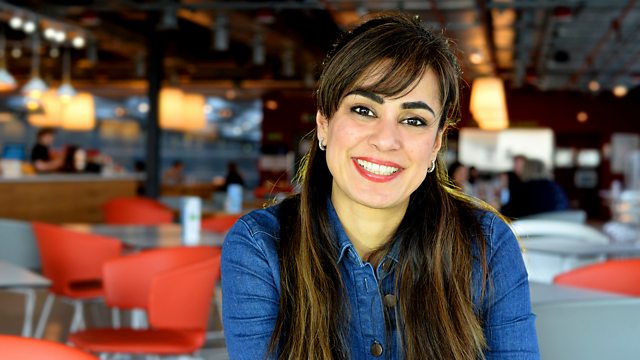 Curry Club
Sumayya Usmani and Ghillie Basan indulge themselves in Scotland's love of curry in the brand new Kitchen Cafe Curry Club.
The brand new Kitchen Café Curry Club indulges itself in Scotland's favourite cuisine. Sumayya Usmani and Ghillie Basan explore the world of curry, not just your weekly takeaway but the vibrant, diverse and exciting flavours of curry culture across the world! Discovering their story, exploring their authentic flavours and most importantly, teaching you how to you can make it in your own kitchen every day of the week.
This month Sumayya makes a seasonal fish curry with coley, mint and carom chutney. Special guest Susan Morrison, presenter of BBC Radio Scotland's new history series, Time Travels, might be useless in the kitchen but her love of chillies and fascination with the spice trade led her learn about some of the very early curry houses that opened in Scotland just after the war.
And if you've ever wondered how to make the perfect boiled rice for your homemade curry then Ghillie and Sumayya reveal their favourite ways for perfect rice, every time.
Coley curry with mint and carom chutney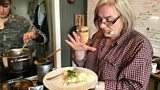 Blend together:
10-15 mint leaves
Small handful coriander leaves
1 tbsp chopped dill
1 garlic clove
½ inch ginger, peeled
salt to taste
½ tsp turmeric
1 small green chilli
Juice of half lemon
1 tbsp desiccated coconut
25 ml water 
Other ingredients:
1 tbsp coconut oil
1 tsp coriander seeds
½ tsp cumin seeds
2 large fillets of coley
1 tsp julienned ginger
 Method 
Once all the ingredients for blending are ready, heat coconut oil in a saucepan and once hot add coriander and cumin seeds and allow to pop. 
Once the seeds are fragrant, pour paste in, cook on medium heat until the oil comes to the surface (about 7-10 minutes). 
Now add fish, bring heat to low. Cover and allow to cook in steam for 3-4 minutes, lift lid and allow to cook without lid for another 1 minute.
The sauce should be thick, not curry like. Serve with basmati rice.
Time Travels on BBC Radio Scotland
Podcast
Celebrate the joy of Scotland's larder with recipes, reviews, tips and delicious ideas!