Main content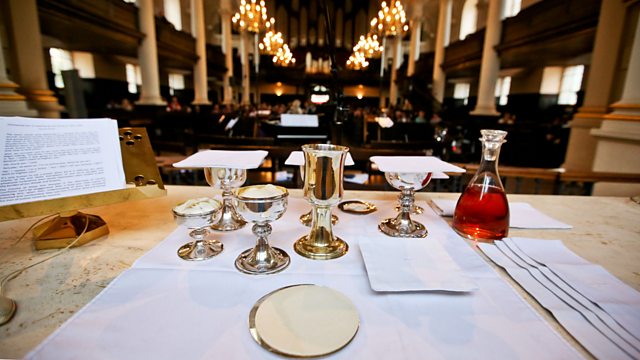 A Celebration for Ascension Day
A service for Ascension Day from St Martin-in-the-Fields, led by the vicar, the Rev Dr Sam Wells with music by Haydn.
The Rt Revd David Walker is the preacher at a service for Ascension Day, live from St Martin-in-the-Fields led by the vicar, the Revd Dr Sam Wells.
Music is provided by the Daily Service Singers, the St Martin's Voices Fellows and Southbank Symphonia as they perform Haydn's dramatic and majestic Paukenmesse. Hundreds of Radio 4 listeners will be joined in the church by on-air talent and broadcasters who will lead various parts of the service.
Sermon
This week has been a week like no other I can remember. With the eyes of the world turned on my city, I've spent much of the last few days out on the streets; listening to the voices of Manchester, as it's people reacted to a devastating suicide bomb attack. Through the lens of my Christian faith I have tried to respond to their questions, to support them with my prayers, and to articulate something of the sorrowful and yet defiant spirit of Manchester for those joining us on radio and TV from across the globe. I've been blessed by strong relationships, forged in less frantic times, with the leaders both of our religious communities and of wider civil society. We know and trust each other, and we come together quickly and naturally.
I've also been blessed, as so often before, by the core doctrines and the calendar of the Church, which has brought us this week, and tonight especially, to the story we have just heard, the Ascension of Jesus Christ at the end of his earthly ministry.
I've been asked many times in these last few days whether the evil that has been visited, first upon individuals and their families, and then upon Manchester as a whole, doesn't dent my faith. I've told and retold the story of how Jesus embraced pain and death on the cross. He is the God who knows human suffering from the inside. By his Ascension he is freed from the limitations of space and time. His face of compassion and his words of consolation are there for all who will turn and look towards him. On Earth he was present and made himself known sometimes to individuals sometimes to thousands; now in heaven he is personally known and recognized by millions and more as a constant friend, companion, saviour and Lord especially in times of acute pain and anxiety. This week above all weeks, any false rhetoric, any words based merely in dogma or teaching, would have echoed very hollow in Manchester. What I have said has had to come from my heart and from my lived experience. I have spoken only of what I have known to be true in the darkest days of my own life, when I have found the crucified, risen and ascended Christ draw closer to me than ever. 
                              
At some point, in the margins of one of many media interviews after Tuesday's vigil, I was asked about what I had said to the thousands gathered in and around Albert Square, and to the millions listening and watching from afar. I couldn't remember. I had spoken from no script, and had had no message planned and prepared. I was simply trusting in the promise that Jesus gave his disciples before he took his Ascensiontide leave from them, that he would send the Holy Spirit, and that this Spirit would guide their tongues when they were called to give witness to their faith. Unless he goes, he tells his followers, the Spirit will not be poured out upon them. When they return that day to Jerusalem from the mountain, they do so not in panic and distress as they had when he was arrested in Gethsemane. They go back to the city calmly, trusting, [ready to wait for what will happen next], knowing that God will give them all that is necessary to face the challenges ahead.
Challenges there will be. Soon the funerals of those killed will begin to take place. Other victims of the bomber will be released from hospital only to face lives through which they will carry deep physical and mental scars. The youthfulness of the concert audience makes clear that for some the tragedy will go on for many decades. Meanwhile both in Manchester and far beyond we fear that individual fanatics and small cells of likeminded extremists will be plotting further atrocities. Part of their aim will be to legitimate public abuse of visible minorities. Christians and everyone must shout out against such occurrences, and support those who shout first. The promised Spirit will be our guide and our strength.
I have seen the strain and the emotion on the faces of all those who have worked in the aftermath of this tragedy. You too are parents, brothers and sisters and know what we in Manchester are feeling. You have worked long and hard, and have done so showing respect and compassion for all of us. You have respected where we have needed privacy, and helped us gently to tell our stories. The poet Tony Walsh ended the verses he read at Tuesday's vigil with a loud cry of, "Choose love,  Manchester". Amen to that. In the face of evil, Choose love Manchester, choose love Britain, choose love humanity! Amen!