Main content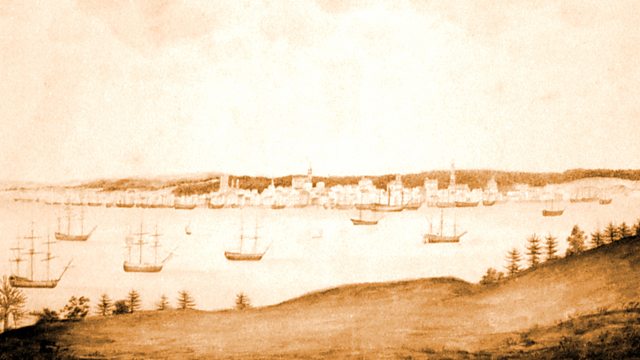 The play was a triumph and, amid the cast celebrations, Smith still has a question for Septimus.
New York, a small town on the tip of Manhattan Island, 1746. One rainy evening, a charming and handsome young stranger, fresh off the boat from England, pitches up to a counting house on Golden Hill Street, with a suspicious yet compelling proposition. He has an order for a thousand pounds in his pocket that he wishes to cash. But can he be trusted?
This is New York in its infancy, a place where a young man with a fast tongue can invent himself afresh, fall in love, and find a world of trouble.
Francis Spufford says of his book, "Golden Hill is just a novel. More specifically, it's an eighteenth century novel. It's set in the winter of 1746, in what was then the very small British colonial town of New York; but it's also written like a novel from the eighteenth century. So the story of the charming but unreliable-seeming young Mr Smith, who turns up from London with a document in his pocket that may be a fraud or may be worth a fortune, is as hectically stuffed with event as it would have been if Fielding or Smollett had written it.
"Eighteenth-century readers expected to get their money's worth, and Golden Hill contains (among other things) a mystery, a political intrigue, a love story, a ball, a duel, a high-stakes card game, a trial, a dash of horror, a play-within-a-play, some surprisingly graphic sex and a rooftop chase. As a slow writer, I enjoyed working on something that runs fast. It was intricate fun devising and winding up the book's clockwork. But I hope it's also a story that feels alive, and makes the past feel alive too, while Mr Smith runs for his life, and the snow falls on Manhattan Island."
Written by Francis Spufford
Read by Jamie Parker
Abridged by Isobel Creed and Jill Waters
Produced by Jill Waters
A Waters Company production for BBC Radio 4.
Credits
| Role | Contributor |
| --- | --- |
| Reader | Jamie Parker |
| Author | Francis Spufford |
| Abridger | Isobel Creed |
| Abridger | Jill Waters |
| Producer | Jill Waters |