Main content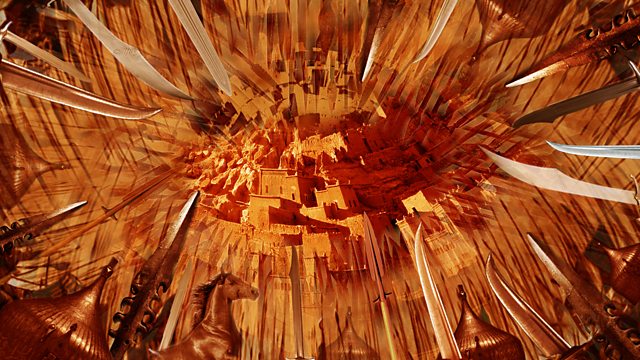 Threat of plague brings Barakat into conflict with Effendi Red. Meanwhile, Manel must now prove her commitment to the rebels by undertaking a dangerous mission.
Threat of plague from outlying villages and how to deal with it brings the Inquisitor Barakat (Hiran Abeysekera) into conflict with the ailing regent Effendi Red (Sagar Arya).
Meanwhile, Manel (Aiysha Hart) - having failed in the task given to her by the rebels - must now prove her commitment to the cause by undertaking a more dangerous mission. One that brings her face to face with a deadly secret at the heart of this fanatical regime.
Tumanbay is created by John Dryden and Mike Walker and inspired by the Mamluk slave rulers of Egypt.
Original Music by Sacha Puttnam and Jon Ouin
Sound Design by Steve Bond
Sound Edited by James Morgan and Andreina Gomez
Script Edited by Abigail Youngman
Produced by Emma Hearn, Nadir Khan and John Dryden
Written by Mike Walker
Directed by John Dryden
A Goldhawk production for BBC Radio 4.
Credits
| Role | Contributor |
| --- | --- |
| Gregor | Rufus Wright |
| Barakat | Hiran Abeysekera |
| Manel | Aiysha Hart |
| Heaven | Tanya Ravljen |
| Ibn | Nabil Elouahabi |
| Dorin | Vincent Ebrahim |
| Cadali | Matthew Marsh |
| Alkin | Nathalie Armin |
| General Qulan | Christopher Fulford |
| Effendi Red | Sagar Arya |
| Akiba | Akin Gazi |
| Madu | Danny Ashok |
| Girl in the Orphanage | Tia-Lana Chinapyel |
| Khaled | Zaqi Ismail |
| Orphanage Director | Byron Mondahl |
| Hoda | Anjli Mohindra |
| Sergeant | Jonas Khan |
| Owner | Nadir Khan |
| Writer | Mike Walker |
| Director | John Dryden |
| Producer | Emma Hearn |
| Producer | Nadir Khan |
| Producer | John Dryden |
Ibn Battuta: History's real life Indiana Jones
How past civilisations searched for the soul