Main content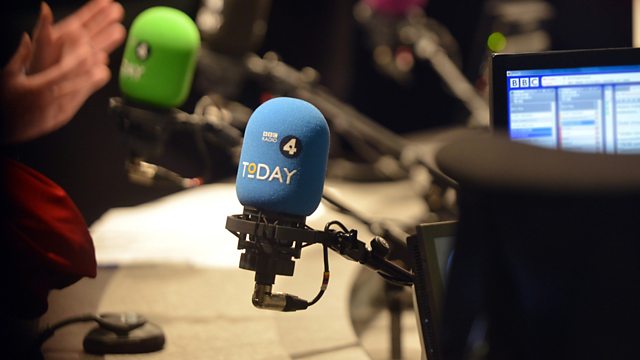 26/05/2017
Morning news and current affairs. Including Sports Desk, Weather and Thought for the Day.
Last on
Today's running order
0650
President Donald Trump's son-in-law and senior adviser, Jared Kushner, is under FBI scrutiny as part of the Russia investigation, according to US media. Nick Bryant is the BBC's North America correspondent.
0655
From September working parents of three and four-year-olds will be entitled to 30 free hours of childcare per week in term time compared with the current 15 hours. Tina Lassman is the owner of Little Legs Nursery and Josh Hillman is the director of Education at the Nuffield Foundation.
0710
Politicians are resuming campaigning in the general election after suspending it earlier out of respect for those who died in Monday night's attack. Barry Gardiner is the shadow international trade secretary.
0715
A new Conservative government would leave schools in England worse off financially than they currently are, the Institute for Fiscal Studies says. Andrew James is the head teacher of Chase High School.  
0720
Rising levels of personal debt coupled with slowing wages and rising prices are becoming more and more of a concern for policy makers. Trish Carpenter is the manager of Citizens Advice Bureau in Southend-on-Sea.
0725
Police and security services have arrested eight people they describe as "significant" in connection with Monday's attack. Lord Carlile is a former independent reviewer of terrorism legislation.
0740
School meals is back on the table as a political issue. Yotam Ottolenghi, the chef and restaurateur, talks to us about why school meals are important.
0750
Hundreds of thousands of people will be going to different events over this bank holiday weekend. What kind of security can people expect at these venues? Our reporter Zoe Conway has been finding out.
0810
Theresa May will chair a session on counter-terrorism with G7 leaders in Sicily, Italy, on Friday in the wake of the Manchester bombing. Ben Wallace is the security minister.
0820
Very few grammars are likely to open if the Conservatives are re-elected – a policy opposed by Labour. Is the focus on possible new grammar schools distracting us from other issues such as recruitment and retention of teachers? Sir Michael Wilshaw is the former head of Ofsted, Kevin Courtney is the general secretary of the NUT and Charlotte Marten is the deputy chair of the Grammar Schools Head's Association.
0830
The DUP's leader Arlene Foster has said this week that she is prepared to be "flexible about the precise terms and timings" of any Brexit arrangements for Northern Ireland. But what is the DUP's approach to what could happen to the border with the Irish Republic?
0845
Mario Testino has quietly been building a vast art collection over the last three decades. Five hundred works by artists who have inspired him are going on public display for the first time in the UK at Sotheby's in London before being sold there at auction in September. The BBC's arts correspondent Rebecca Jones reports.
All timing subject to change
Broadcast