Main content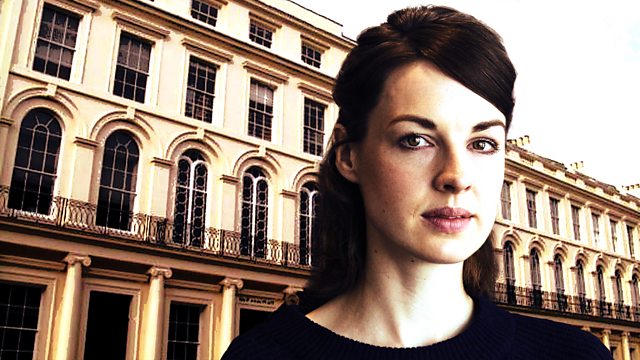 Jessica Raine stars in Galsworthy's epic saga. Arrivals and departures for Dinny as she struggles to come to terms with losing Wilfrid.
John Galsworthy's epic family saga of love, money and betrayal
Dramatised for radio by Lin Coghlan & Shaun McKenna
Wilfrid has tried to do the right thing by leaving Dinny, but as Fleur & Michael try to help each of them, unexpected echoes of their own past return.
Then an unexpected arrival changes Dinny's world.
Original music composed by Neil Brand
Director ..... Marion Nancarrow
from the novels of John Galsworthy
dramatised by Lin Coghlan & Shaun McKenna
Tomorrow you can hear the very final part of the story. As repercussions of Clare's unhappy past begin to hit home, is there a chance of happiness for Dinny herself?
Over the last 2 years, BBC Radio 4 has dramatised all 9 of John Galsworthy's Forsyte novels and this series "The Forsytes Concludes" brings us to the last 3 novels, which he wrote at the end of his life. Across this week, we've had the 90' drama based on "Maid in Waiting" which introduced the Cherrell family and Dinny Cherrell in particular who, aged 24 in 1928, was full of excitement for the life ahead of her. She is Fleur & Michael's cousin and, unbeknown to either of them, their lives are to have parallels neither could have predicted.
Through the week, 5 x 15' episodes tell the story of "Flowering Wilderness" (which sees an unexpected return and a new love for Dinny) and now two 60 minute Dramas - today and tomorrow - end the story.
Joining Jessica Raine, Max Bennett, Ben Lambert and Brian Protheroe from the original cast are Sarah Ridgeway, Nina Sosanya, Allan Corduner, Jonathan Aris, Chloe Pirrie and John Heffernan.
Credits
| Role | Contributor |
| --- | --- |
| Fleur Mont | Jessica Raine |
| Michael Mont | Ben Lambert |
| Dinny Cherrell | Sarah Ridgeway |
| Wilfrid Desert | Max Bennett |
| Sir Lawrence Mont | Brian Protheroe |
| Lady Mont | Georgie Glen |
| Lady Clare Corven | Chloe Pirrie |
| Eustace Durnford | John Heffernan |
| Tony | Tom Forrister |
| Gerald Corven | John Dougall |
| Young Man | David Sturzaker |
| Doctor | Finlay Robertson |
| George | John Bowler |
| Author | John Galsworthy |
| Adaptor | Lin Coghlan |
| Adaptor | Shaun McKenna |
| Director | Marion Nancarrow |