Main content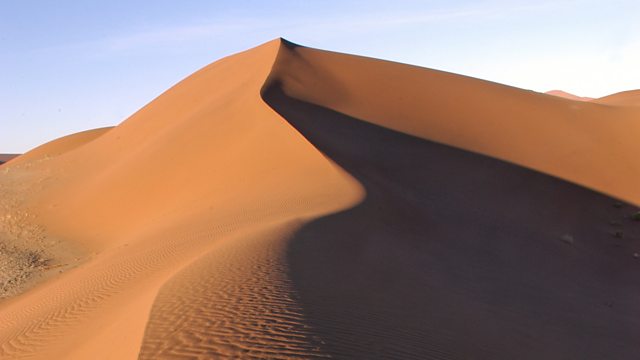 Circles, Curves and Contours
Texts and music on the theme of circles, curves and contours, with readings by Deborah Findlay and Hugh Fraser. With Shakespeare, Tennyson, Miles Davis, The Beatles, Bach and Bax.
Circles, Curves and Contours are explored as Words and Music strays from the straight and narrow. With literary selections from Shakespeare, Tennyson, Emily Dickinson and Tony Harrison and music from Miles Davis and The Beatles to Bach and Bax. The readers are Deborah Findlay and Hugh Fraser.
Producer: Harry Parker.
Music Played
Timings (where shown) are from the start of the programme in hours and minutes
William Shakespeare

Prologue to Henry V read by Deborah Findlay

Richard Le Gallienne

Orbits read by Hugh Fraser

Christina Rossetti

Up-hill read by Deborah Findlay

John Clare

Flow on Winding River read by Hugh Fraser

Anon

The River read by Hugh Fraser

Edward Thomas

The Combe read by Deborah Findlay

Alfred Lord Tennyson

from Morte d'Arthur read by Hugh Fraser

Rudyard Kipling

The Floods read by Hugh Fraser

William Wordsworth

My Heart Leaps Up read by Hugh Fraser

U. A. Fanthorpe

Stanton Drew read by Deborah Findlay

Emily Dickinson

I Make His Crescent Fill or Lack read by Deborah Findlay

Emily Dickinson

She Staked Her Feathers read by Deborah Findlay

Tony Harrison

Timer read by Hugh Fraser

Carol Ann Duffy

Valentine read by Deborah Findlay

Ovid, John Dryden (Translator)

The Story of Pygmalion and the Statue read by Deborah Findlay

L. P. Hartley

From The Go-between read by Hugh Fraser

Lewis Carroll

From Alice Through the Looking Glass read by Deborah Findlay

Ogden Nash

Soliloquy in Circles read by Hugh Fraser

David Saul

Pi read by Deborah Findlay

Judith Fitzgerald

Que Besa Sus Pies, Que Besa Sus Manos read by Hugh Fraser

Producer's Note: Circles, Curves and Contours

Circles, curves and contours have informed the work of musicians and writers as much as that of visual artists, all eager to explore a natural world of relatively few straight lines and angles.  They have taken inspiration from the arcs and circles of geometry, the curves of natural forms including the human body and the contours and undulations of the landscape.

By way of a foreword to the arc of this sequence Shakespeare's Prologue in Henry V  speculates on how much of the external world can be encompassed within a circle, in this case the 'wooden O' of the Elizabethan theatre: the encircling walls are not boundaries if one's imagination is given free rein.

Bach used circular forms of music for much of his work, exemplified in this case by the Goldberg Variation No 3.  Using the device of a round, or more accurately a canon, the themes are started, picked up and repeated and return to the beginning in a spiral of melody.  There are two versions of the same variation here, both by the same pianist, Glenn Gould.  He recorded the first in 1955 - a performance that made him famous and then, unusually for him, returned to the same pieces re-recording them 25 years later in a radical re-interpretation, a variation on the variation, completing the cycle.

An 1895 poem 'Orbits' by the British poet Richard Le Gallienne uses the metaphor of the heavenly movements to describe the passing nature of human encounters.  And a hundred years previously James Hook, the organist at Vauxhall Gardens which famously featured a spectacular Rotunda, composed his March, Andantino and Rondo the last part of which is heard here – a rondo being a musical form in which a refrain is stated, left and returned to in a series of overlapping musical circles.  This Rondo is played on a trio of the most winding of wind instruments: the serpent. 

The curves of the instrument are of course designed to compress greater length into a shorter space but it is this aspect of a winding road that makes it longer and more difficult to travel.  Christina Rossetti, in 'Up-hill', and Paul McCartney in 'The Long and Winding Road' both hope the twisting path will eventually lead to fulfillment.  The Beatles came to the end of their long and winding road with the recording of this song, their last single as quartet.  Paul McCartney objected to the adding of strings to the recording prompting him to leave the band.  This is the version without the orchestra. 

John Clare on the other hand sees the meandering of the stream in his 'Flow on Winding River' as not so much demanding as restful.  The river bends in  'Moon River', taken from the soundtrack of Breakfast at Tiffany's, and the anonymous 'The River', are seen as hiding something promising, the great curve of a rainbow in Audrey Hepburn's case.  'The River' is sometimes attributed to, of all people, Enoch Powell, but it seems he just quoted it once at friend's funeral.

Rivers are sinuous because of the contours of the landscapes they course through and down from the heights, expressed in 'Elevazione' by the baroque composer and Jesuit missionary Domenico Zipoli, to the deep, dark valley which Edward Thomas writes about in 'The Combe' including an early expression of horror at the still controversial killing of badgers.  Arnold Bax's tone poem evokes the rocky contours of Tintagel on the Cornish coast.  He wrote that he aimed to create 'a tonal impression of the castle–crowned cliff of (now sadly degenerate) Tintagel'.  He wanted to include the 'thoughts of many passionate and tragic incidents in the tales of King Arthur'.  Alfred Tennyson had the same notion in his retelling in verse of Sir Thomas Mallory's 'Morte d'Arthur', this extract referring to the dissolution of the Round Table.

The contrasting contours of hills and valleys also features in Rudyard Kipling's poem 'The Floods', presumably Indian, while  Hamish MacCunn's 1886 work 'Land of the Mountain and the Flood', written when he was only eighteen, evokes the Scottish equivalent. 

Terry Riley's 'A Rainbow in Curved Air' from 1969 used electronics to describe the arch of the spectrum whilst William Wordsworth's poem 'My Heart Leaps Up', sometimes called 'The Rainbow', is similarly minimalist in approach if not in style. 

Stanton Drew in Somerset is the home of a stone circle, the setting for U. A. Fanthorpe's verse of the same name, provoking reflections on the timelessness of the landscape surrounding the prehistoric menhirs.

Erik Satie coined the term "gnossiennes" for his short experimental piano pieces that often lacked time signatures and conventional chord structures.  They and the Gymnopédies have inspired many dancers.  Russell Maliphant based his interpretation of the first three gnossiennes, of which we hear No 1, on choreographic drawings made by Nijinsky depicting curves and circles.  Sir Frederick Ashton wrote of the pieces as "a series of interrupted and overlapping recapitulations which causes the piece to fold in on itself as it were...  and even succeeds in abolishing our time sense". 

It provides a background for Emily Dickinson's enigmatic two poems which both use imagery of arcs and curves; 'I Make his Crescent Fill or Lack' is about what? The moon, the earth, the sun?  And 'She Staked Her Feathers' on the surface at least concerns the arc of a bird's flight. 

'Timer' by Tony Harrison alludes to the curves of an egg-timer (as Shakespeare refers to an hour-glass in the Prologue earlier) and also the eternal nature of a circle in the form of a wedding ring.  Like Harrison's poem, Carol Ann Duffy's 'Valentine' is intensely personal, comparing onion rings to a wedding band.  Their domestic settings contrast with the intervening grandiose aspirations of Richard Wagner's epic Ring Cycle in which a ring can grant world domination.  This orchestral passage from Götterdämmerung is Siegfried's Journey on the Rhine, another winding river following the contours from Switzerland, through Germany to the Netherlands.

Another rondo as Mozart goes to town on the form in his celebrated 'Rondo alla Turca', interpreted here by the trumpet virtuosa Alison Balsom.

The curves of the female human body have inspired artists for millennia and Ovid, translated in the seventeenth century by the poet John Dryden, tells the legend of Pygmalion creating a sculpture of a female form so perfect he falls in love with it whereupon it is brought to life by a goddess.  And it is the curvaceous statue of a goddess's body that is the muse for Gerry Mulligan's composition 'Venus de Milo' played by trumpeter of a very different ilk, Miles Davis.  The curve of a young lady's nose prompts L. P. Hartley's musings on beauty in an extract from 'The Go-between' as he also notices the distracting orbit of other women.  And in a different kind of social circle Jake Thackray observes women more buxom in his mischievous 'The Castleford Ladies' Magic Circle' -  although even they couldn't compete with Humpy Dumpty's self-satisfaction with the ovoid form in this extract from 'Alice Through the Looking Glass'.

Benjamin Britten utilises the musical device of a round for his chorus 'Old Joe Has Gone Fishing' from 'Peter Grimes' to defuse a potentially unpleasant situation in the pub with a bit of social cohesion.   

Ostensibly light and humorous 'Soliloquy in Circles' by Ogden Nash actually deals with the rather grander theme of the cycle of life - a father's thoughts on the birth and raising of offspring whilst Pops Staples, with his children, reflects on the other side of the coin, the death of a mother in The Staple Singers' 'Will the Circle be Unbroken?'.

David Saul wrote his verse about π, the constant that expresses the relationship of the circumference to the diameter of a circle, as kind of mnemonic.  Each word in it contains the number of letters that corresponds to the digits of 3 plus the first thirty-four decimal places in order ('It's a fact a ratio immutable…' = 3.14159 etc. - except for the word 'nothing' which represents zero).  In printed form the words are arranged to form a circle.

'The Circle Game', Joni Mitchell explained in 1968, is 'about people and growing old and growing young and carousels and painted ponies and the weather and the Buffalo Springfield.'  More specifically she wrote it for Neil Young.  Some hear in it a mother's words to her son.  The poet Judith Fitzgerald, like Joni Mitchell, a Canadian, died at the end of last year.  She wrote 'Que Besa Sus Pies, Que Besa Sus Manos' a few years previously but it was published in the month of her death.  The title is a Spanish greeting, often abbreviated to qbsp, qbsm, meaning something like 'kissing his feet, kissing his hands'.  Her circular imagery includes clocks, circuses, the sun and the moon and, again, the continuity between parent and child; father, son and Holy Ghost.

At the end of this roundabout sequence we come full circle: Glenn Gould again plays two takes of Bach's Goldberg Variations, No 24 this time, the later one first and then, with the earlier version, back to the beginning.

 

Producer: Harry Parker