Main content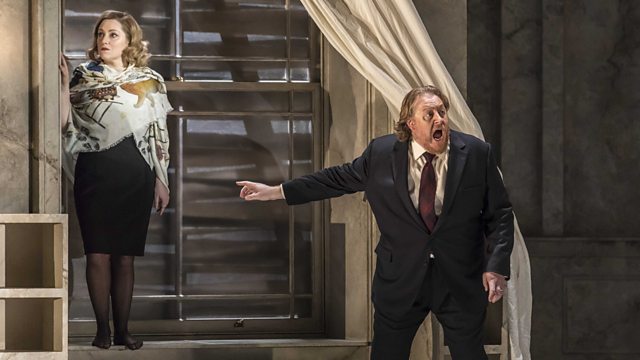 Ryan Wigglesworth's The Winter's Tale
From London's Coliseum, an English National Opera production of Ryan Wigglesworth's new work The Winter's Tale. Starring Sophie Bevan and Iain Paterson.
When King of Sicilia Leontes becomes convinced that his queen Hermione is pregnant by his childhood friend and King of Bohemia Polixenes, he descends into an unstoppable, self-destructive spiral of anger, despair and paranoia. The jealous husband and woman scorned at the heart of The Winter's Tale are standard operatic fare, so it's no wonder that Ryan Wigglesworth based his first opera on Shakespeare's play.
It's a major work with roles specially tailored for its cast, here recorded at its premiere run at English National Opera in March and presented by Tom McKinney in conversation with new music expert and Head of Music at Southbank Centre, Gillian Moore. Actor Rory Kinnear made his directorial debut with this production and he, along with the composer and members of the cast, talk not only about the challenges of creating a new work for the stage but also about its striking contemporary resonance.
7.40pm Interval
Composer, director and members of the cast reflect on The Winter's Tale as stage play and opera and explore the themes and roles in the work.
8.00pm Act 2
8.35pm Act 3
Ryan Wigglesworth: The Winter's Tale
Leontes.....Iain Paterson (bass-baritone)
Hermione.....Sophie Bevan (soprano)
Perdita.....Samantha Price (mezzo-soprano)
Polixenes.....Leigh Melrose (baritone)
Florizel/Court Official.....Anthony Gregory (tenor)
Paulina.....Susan Bickley (mezzo-soprano)
Antigonus/Shepherd.....Neal Davies (bass-baritone)
Camillo.....Timothy Robinson (tenor)
Two Guards.....Geraint Hylton (tenor), Michael Burke (bass)
Servant.....Paul Napier-Burrows (baritone)
Chorus and Orchestra of English National Opera
Ryan Wigglesworth (conductor).
Synopsis
Act ILeontes, King of Sicilia, is convinced his old friend, Polixenes, King ofBohemia, has been having an affair with his pregnant wife, Hermione.When the child (a girl) is born, certain it is Polixenes' rather than his,Leontes demands it be cast out to another kingdom. Hermione is puton trial at which an oracle, sent from the god Apollo, is called upon todeliver its verdict. During the trial, news arrives that Mamillius, first childof Leontes and Hermione, has died. This prompts Hermione to collapse.As the queen, too, is pronounced dead, her newborn baby (now namedPerdita) is abandoned on the coast of Bohemia.
Act IISixteen years later in rural Bohemia, adopted and brought up byshepherds, Perdita has begun a relationship, by coincidence, withPolixenes' son, Florizel. During the spring feast, Polixenes, in disguise,witnesses his son's proposal to Perdita. Furious, Polixenes reveals himself,disinherits Florizel and threatens to kill Perdita. The young couple escapeto Sicilia.
Act IIILeontes, still grieving for his wife and son after sixteen years, receivesFlorizel and Perdita at the Sicilian court. He discovers Perdita to be hislost daughter. Paulina, lady-in-waiting to Hermione, leads the assembledcompany, including the now reunited Leontes and Polixenes, to view astatue of Hermione.