Main content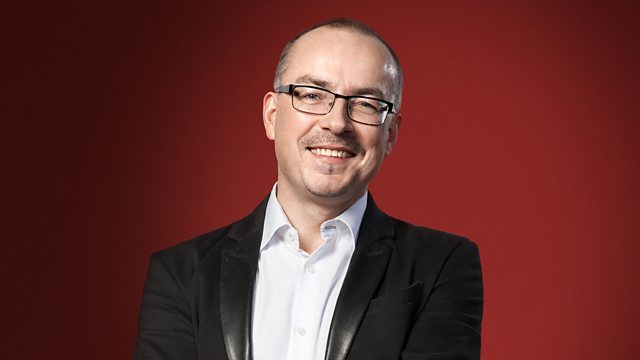 Andrew McGregor with Gillian Moore and Anna Picard
With Andrew McGregor. Including Building a Library: Music by Sofia Gubaidulina; Anna Picard on recently released collections of music by Monteverdi; Disc of the Week.
with Andrew McGregor.
0930
Building a Library: Gillian Moore recommends the best of Sofia Gubaidulina on record. Born in 1935, Russia's greatest living composer was blacklisted and denounced by the Soviet authorities early in her career - a situation which she turned to her advantage. Because, without performances of her music, she was able to compose without compromise and with complete integrity. Whether via 12-tone serialism, microtonal music or folk music improvisation, Gubaidulina's unique voice is characterised by an intense spirituality: "True art for me," she says, "is always religious; it will always involve collaborating with God."
1050
Continuing Radio 3's Monteverdi's 450 celebrations, Anna Picard picks the plums from recently released collections of his music by an international array of conductors and ensembles including William Christie and Les Arts Florissants, Jean Tubéry and La Fenice, Rinaldo Alessandrini and Concerto Italiano and Harry Christophers and The Sixteen.
1145
Andrew chooses an outstanding new release as his Disc of the Week.
9am
Claudio Monteverdi - 450th anniversary
MONTEVERDI: Vespro della beata Vergine (1610)
Ann Monoyios, Marinella Pennicchi, Michael Chance, Mark Tucker, Nigel Robson, Sandro Naglia, Bryn Terfel, Alastair Miles, Christopher Wilson (chitarrone), Jakob Lindberg (chitarrone), David Miller (chitarrone), The Monteverdi Choir, The London Oratory Junior Choir, His Majesties Sagbutts, Cornetts The English Baroque Soloists, John Eliot Gardiner (conductor)
DG ARCHIV 4797176 (2CD + DVD Video)
Meraviglia d'amore
BARTOLOTTI: Allemande
CALVI: Ballo dell'Granduca
CARBONCHI: Ciaccona; Toccata
CORBETTA: Passacaglia I & II
FOSCARINI: Toccata
FRESCOBALDI: Canzona
GALILEI, M: Toccata; Volta
INDIA: Sfere fermate; O del cielo d'amor unico sole
KAPSBERGER: O dolci sguardi; Alma Mia; Cinta di rose; Ite, sospiri miei; Gia risi
MARINI, B: Meraviglia d'amore; Mirami
PELLEGRINI, D: Allemanda; Toccata; Brando
Marco Beasley (tenor), Pierre Pitzl (baroque guitar, viola da gamba, direction), Private Musicke
ACCENT ACC24330 (CD)
Bruckner: Symphony No. 3
BRUCKNER: Symphony No. 3 in D minor 'Wagner Symphony'
WAGNER: Tannhauser: Overture
Gewandhausorchester Leipzig, Andris Nelsons (conductor)
DG 4797208 (CD)
DVORAK: Stabat Mater Op. 58
Eri Nakamura (soprano), Elisabeth Kulman (contralto), Michael Spyres (tenor), Jongmin Park (bass), Czech Philharmonic Orchestra, Prague Philharmonic Choir, Jiri Belohlavek (conductor)
DECCA 94831510 (2CD)
9.30am - Building a Library
Composer: Sofia Gubaidulina
Piece: Survey
Reviewer: Gillian Moore


Building a Library: Sofia Gubaidulina
Recommended recording:
Gubaidulina: Offertorium & Hommage a T. S. Eliot
GUBAIDULINA: Offertorium - Concerto for Violin and Orchestra; Hommage a T.S. Eliot
Gidon Kremer (violin), Boston Symphony Orchestra, Charles Dutoit (conductor), Christine Whittlesey, Eduard Brunner, Klaus Thunemann, Radovan Vlatkovic, Isabelle van Keulen, Tabea Zimmermann, David Geringas, Alois Posch
DG 4791518 (CD)
Other recommended recordings:
Below is a shortlist of other recordings which Gillian also liked, although we can't guarantee the availability of these discs.
Mei Yi Foo: Musical Toys
CHIN, U: Piano Etudes (6)
GUBAIDULINA: Musical Toys
LIGETI: Musica Ricercata for piano
Mei Yi Foo (piano)
ODRADEK RECORDS ODRCD302 (CD)
The Lyre of Orpheus, for violin, string orchestra and percussion
The Canticle of the Sun
Gidon Kremer (violin), Marta Sudraba (cello), Kremerata Baltica; Nicolas Altstaedt (cello), Andrei Pushkarev, Rihards Zalupe (percussion) & Rostislav Krimer (celesta)
Chamber Choir Kamer, Maris Sirmais
ECM 4764662
Preludes (10) for solo cello
Sieben Worte for cello, bayan and strings
De Profundis, for solo accordion
Münchener Kammerorchester, Christopher Poppen
ECM 4618972
Ali-Zadeh: Mugam Sayagi (1993)
Golijov: K'vakarat
Gubaidulina: String Quartet No.4
Kancheli: Night Prayers
Tahmizyan: A Cool Wind is Blowing
trad.: Kongerei
Yanov-Yanovsky: Lacrymosa
David Harrington, Joan Jeanrenaud, Throat Singers of Tuva, John Sherba, Hank Dutt
Kronos Quartet
Nonesuch 7559793462
Bach, J S: Violin Concerto No. 1 in A minor, BWV1041; Violin Concerto No. 2 in E major, BWV1042
Gubaidulina: In tempus praesens - Concerto for violin and orchestra
Dedicated to Anne-Sophie Mutter
Anne-Sophie Mutter (violin)
London Symphony Orchestra, Valery Gergiev, Anne-Sophie Mutter (violin and conductor), Trondheim Soloists
DG 4777450
Offertorium - Concerto for Violin and Orchestra
Gidon Kremer (violin), Boston Symphony Orchestra, Charles Dutoit
Hommage à T.S. Eliot
Christine Whittlesey, Eduard Brunner, Klaus Thunemann, Radovan Vlatkovic, Gidon Kremer, Isabelle van Keulen, Tabea Zimmermann, David Geringas & Alois Posch
DG 4791518
Meditation on the Bach Chorale 'Vor deinen Thron tret ich hiermit'
Silenzio - Five Pieces for bayan (accordion), violin and cello
Ein Engel ... for alto and double bass
Der Seiltänzer (Dancer on a Tightrope), for violin & piano
Suslin: Capriccio über die Abreise, Three Choruses on Poems by Daniil Kharms for women's choir and girl narrator
Hanna Weinmeister (violin), Gidon Kremer (violin)
Women´s Voices of the Moscow Tchaikovsky Conservatoire, KREMERata MUSICA, Boris Tevlin
BIS BISCD810
St. John Passion
St. Petersburg Chamber Choir, Choir & Ochestra of the Mariinsky Theater St. Petersburg, Valery Gergiev
Hänssler HAEN98405
St. John Passion
St. John Easter
Radio-SinfonieOrchester Stuttgart des SWR, Helmuth Rilling
Hänssler HAEN98289

10.20am – New chamber music releases
Delius & Elgar: String Quartets
DELIUS: String Quartet (1916) [plus two movements from original version, reassembled by Daniel Grimley]
ELGAR: String Quartet in E minor Op. 83
Villiers Quartet
NAXOS 8573586 (CD)
La Symphonie des Oiseaux
CASALS: El Cant dels Ocells (Song of the birds)
DVORAK: Waldesruhe (Silent woods) for cello and orchestra Op. 68 No. 5
GRANADOS: Goyescas: Quejas o La Maja y el Ruisenor
GRIEG: Lyric Pieces Op. 43: No. 4 - Little bird
LISZT: Legende S.175 No. 1, St Francis of Assisi preaching to the birds
MESSIAEN: Louange a L'Immortalite de Jesus (from Quatuor pour la fin du temps)
MOZART: Der Vogelfanger bin ich, ja (from Die Zauberflote)
PERLMAN: A Birdling sings
RAMEAU: La poule
SAINT-SAENS: Le carnaval des animaux: Le Cygne
SCHUMANN: Vogel als Prophet (No. 7 from Waldszenen Op. 82)
STRAVINSKY: Berceuse from The Firebird
TCHAIKOVSKY: Dance of the Little Swans (Swan Lake)
VAUGHAN WILLIAMS: The Lark Ascending
Shani Diluka (piano), Genevieve Laurenceau (violin), Les Chanteurs d'Oiseaux
MIRARE MIR327 (CD)
Bogenhauser Kunstlerkapelle
ALBERT, H: Vorspiel No. 1; Walzerfantasie; Erchinger Jagd-Marsch; Marsch; Quand mon mari alloit a la guerre; Rheinlander; Tyrolienne
ARCADELT: Ave Maria
BACH, J S: Cantata BWV106 'Gottes Zeit ist die allerbeste Zeit' (Actus tragicus): Sonatina
BIZET: L'Arlesienne Suite No. 1: II. Minuet
CHOPIN: Piano Sonata No. 2 in B flat minor Op. 35 'Marche funebre': 3rd movement (Funeral March)
DURAND, A: Chaconne Op. 62
PLEYEL: Polonaise
RAMEAU: Sarabande
Ensemble Arcimboldo, Thilo Hirsch
AUDITE AUDITE97730 (CD)
Dvorak, Grieg & Brahms: Music for Piano Four Hands
BRAHMS: Hungarian Dances (excerpts)
DVORAK: Slavonic Dances Nos. 1-8 Op. 46 Nos. 1-8
GRIEG: Norwegian Dance Op. 35 No. 1; Norwegian Dance Op. 35 No. 2; Norwegian Dance Op. 35 No. 3
Jos van Immerseel and Claire Chevallier (Bechstein piano 1870)
ALPHA ALPHA282 (CD)
10.50am – Anna Picard on Monteverdi
Monteverdi & Rossi: Balli & Sonate
Clematis, Zachary Wilder (tenor)
RICERCAR RIC377 (CD)
The Heritage of Monteverdi
BANCHIERI: Mulier, cur ploras hic, Dialogo di Christo e Maria Maddalena; Intonuit de Caelo
BASSANI, O: Vergine bella di Cipriano dimiuito per la viola
CAPELLO: Dic mihi, sacratissima virgo, dialogo a due voci
CASTELLO, D: Sonata No. 1 (1621); Sonata terza; Sonata decima sesta a 4 per stromenti d'arco; Sonata seconda a due soprani; Exultate Deo; Sonata seconda a sopran solo; Sonata decima quinta per stromenti d'arco; Sonata decima settima a 4; Sonata undecima per due violini e trombone; Sonata decima per due soprani e fagotto; Sonata quarta per due soprani; Sonata duodecima a doi Soprani e Trombon overo Violeta from Sonate concertate in stil moderno ­ Libro secondo (Venice 1644)
CAVALLI: Sonata a 3
CAZZATI: Alma Redemptoris Mater
CIFRA: Quem Vidistis Pastores?
CIMA: O sacrum convivium, in echo; Sonata per cornetto e trombone
DONATI, I: Angelus Gabriel Descendit
FIAMENGO: Sonata Pastorale a Quattro
FRESCOBALDI: Partita Prima sopra l'aria di Monicha - Toccate d'Intavolatura
GAGLIANO: Io vidi in terra; Vergine bella, che di sol vestiva
GRANDI: O vos omnes
GRAZIANI , B: Regina coeli laetare
INDIA: Benedetto sia'l giorno; Voi Ch'ascoltate
KAPSBERGER: Bergamasca; Passacaglia
LANDI, S: A qualunque animale
MARINI, B: Sonata Terza; Sonata per violino; Peccator pentito; Canzon octava; Sonata Secunda; Sonata sopra "La Monica"; Aria a 3 "Da Soranza" from Affetti Musicali Op. 1; Capriccio 14 Op. 8; Grotte ombrose, madrigale in echo con sinfonie; Sonata per organo e cornetto; Sonata La Foscarina a 3 con il tremolo; Ligature e durezze; Canzon prima a quattro cornetti; Passacaglio a quattro; Miserere a tre voci
MAZZOCCHI, D: Lagrime Amare
MERULA: Ciaccona; Jesu Dulcis Memoria; Canzonetta spirituale sopra alla nanna 'Hor ch'e il tempo di dormire'; La Treccha
MONTEVERDI: Venite, siccientes; Et resurrexit, a quattro; Angelus ad Pastores;Jesu Redemptor Omnium, sopra La Medesima Aria del Sanctorum Meritis; Hor che'l ciel e la terra (Book 8)
PERI, J: In qual parte del ciel
PESENTI: Balletto per soprano e basso
PICCHI: Pass'e mezzo; Sonata a Tre, per Due Violini e Flauto
PICCININI: Toccata; Passacaglia
RICCIO: Canzon a doi soprani in echo proposta
RIGATTI: Nunc dimittis
ROSSI, S: Sonata i dialogo detta la Viena; Sonata sopra l'aria di Ruggiero from 'Il terzo libro de varie sonate, sinfonie, gagliarde, brandi, e corrente'
SALVATORE: Durezze e ligature
SANCES: Stabat mater dolorosa
SCARANI: Sonata sexta a due canti; Sonata decima quinta a tre
STORACE, B: Pastorale
TARDITI: Volate Caelites
TRABACI: Ancidetemi pur, per l'Arpa
TURINI: Sonata seconda
UCCELLINI: Aria sopra la Bergamasca
La Fenice, Jean Tubery (cornetto and conductor)
RICERCAR RIC374 (7CD)
 Monteverdi: Madrigali & altri canti
MONTEVERDI: Selva morale e spirituale; Altri canti di Marte (Book 8); Perche t'en fuggi, o Fillide? (Book 8); Chiome d'oro (Book 7); Hor che'l ciel e la terra (Book 8); Lamento della Ninfa (Book 8); Gira il nemico, insidioso amore (Book 8); Amor che deggio far (Book 7); Tirsi e Clori, ballo concertato (Book 7); Il Ballo delle ingrate; Sestina - Lagrimae d'Amante al sepolero dell'amata; Il Combattimento di Tancredi e Clorinda; Mentre vaga Angioletta; Con che soavita (Book 7); Eri gia tutta mia; Quel sguardo sdegnosetto; Tu dormi? Ah crudo core; Presso un fiume tranquillo; Zefiro torna; O come sei gentile; Ardo, avvampo
Les Arts Florissants, William Christie (conductor)
HARMONIA MUNDI HMX290877275 (4CD)
Monteverdi: Selva Morale e Spirituale Volumes 1-3
The Sixteen, Harry Christophers (conductor)
CORO COR16156 (3CD)
Monteverdi: Night - Stories of Lovers and Warriors
MONTEVERDI: L'Orfeo: Sinfonia a 7; Hor che'l ciel e la terra (Book 8); Cosi sol d'una chiara fonte viva (Book 8); Sinfonia; Il Combattimento di Tancredi e Clorinda; Il ritorno d'Ulisse in patria: Sinfonia; Non havea Febo ancora; Amor dicea (complete duets 2); Si tra sdegnosi; Al lume delle stelle; A Dio, Florida bella (Book 6); Il ottavo libro de madrigali, 1638 'Madrigali guerrieri et amorosi': Sinfonia; Ecco mormorar l'onde (from Secondo Libro de Madrigali); Quando l'Alba in Oriente
Concerto Italiano, Rinaldo Alessandrini (conductor)
NAIVE OP30566 (CD)
11.45am – Disc of the Week
MAHLER: Symphony No. 3
Gerhild Romberger (alto), Budapest Festival Orchestra, Cantemus Children's Choir, Chor des Bayerischen Rundfunks, Ivan Fischer (conductor)
CHANNEL CCSSA38817 (2Hybrid SACD)