Main content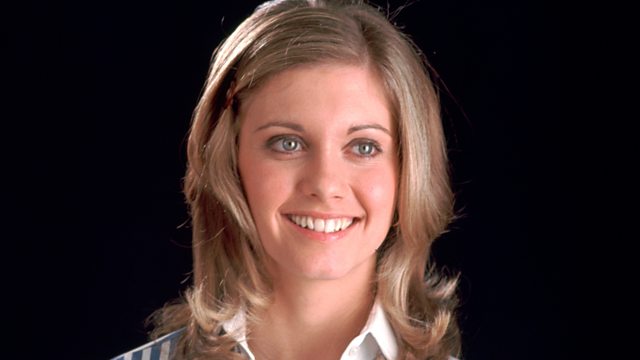 Olivia Newton-John reflects on the success of Grease.
In these two programmes, four-time grammy winner Olivia Newton-John offers her own story, in her own words. From her early childhood in England, the daughter of a Jewish émigré and an MI5 officer, to her teenage rise to fame on Australian Television, her formative experiences as a young singer performing in London in the mid sixties, to selling 100 million records and becoming one of the best-selling artists of all time.
Episode Two.
Olivia Newton John, surely one of the most likeable people in the music business, continues her first-hand account of fifty years as a singer, actor and campaigner. Reflecting on the success of Grease - now the most successful movie musical of all time - she puts it down to the combination of fantastic music (both the original music and new music by John Farrar and Barry Gibb) in addition to her chemistry with John Travolta and the rest of the cast "we did have an amazing amount of fun and that translates".
Her next musical was Xanadu - a film that was famously plagued with script issues and a director who didn't like music. But nevertheless it gave her the opportunity to work with Hollywood legend Gene Kelly: "When I was told I was going to do a dance with Gene Kelly, I almost had a heart attack. We spent three weeks in rehearsal with him, I was the original dancing with the stars, I got to dance with Gene Kelly. It was very exciting and very terrifying. But my father came when we were filming that day when I was dancing to make it even more terrifying."
Olivia's father was a professor of languages who had worked at Bletchley park during World War Two and was part of the team that cracked the enigma code. Whilst her maternal grandfather, Max Born, was a Nobel prize winning scientist and close friend of Einstein.
Performing in black leather as the raunchy 'Sandy 2' at the end of Grease, was a liberating experience. She recalls her reservations about releasing the song Physical because of the obvious innuendos and her decision to make an accompanying music video about exercising - to detract from the suggestive lyrics. Olivia also recalls writing environmental songs inspired by her deep love of animals.
Having survived breast cancer, she established the Olivia Newton-John Cancer and Wellness research centre in Australia - which was partially funded by a sponsored walk along the Great Wall of China, aided by celebrity friends including Sir Cliff Richard and Joan Rivers. Australia is her heart-home and she describes performing at the opening of the Sydney Olympic Games in 2000 as a career highlight: 'that's one of the moments that stands out, to be in Australia representing my country in front of all those Olympic hopefuls.'
Olivia also has a heartwarming story to tell - and it's the subject of her new Album LIV/ON recorded with Amy Sky and Beth Nielsen-Chapman. Intended as a message of hope, inspiration and renewal, especially to people facing sadness, illness or bereavement in their lives. It's Olivia's fulsome expression of what matters in life, far removed from the fame and glitter.
More episodes
Next
You are at the last episode