Main content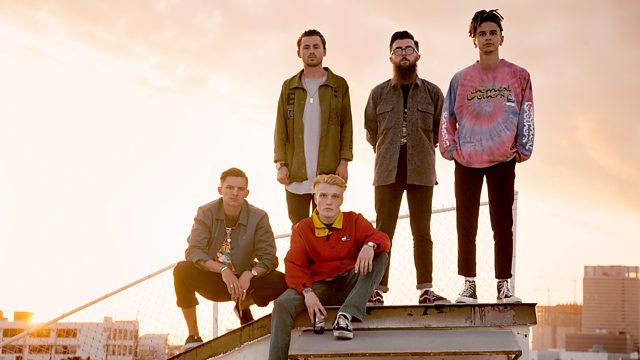 Exclusive Rockest Record and Linkin Park interview
Dan has an exclusive and surprise Rockest Record and he's chatting to Mike Shinoda and Chester Bennington from Linkin Park about their brand new album 'One More Light'. Plus Dan has two exclusive live tracks from Creeper recorded at the Radio 1 Academy in Hull.
Last on
Music Played
Royal Blood

Hook Line and Sinker

Slaves

People That You Meet

Take Control (Parental Advisory).
Virgin EMI.
11.

All Time Low

Nice2KnoU

Last Young Renegade.
Fueled By Ramen.

WSTR

Eastbound & Down

Red, Green or Inbetween.
No Sleep Records.

blink-182

Wildfire

California (Deluxe).
BMG.

ROCKEST RECORD - BEN BARLOW ON THE PHONE

Neck Deep

Where Do We Go When We Go

The Peace And The Panic.
Hopeless Records.

Neck Deep

Happy Judgement Day

The Peace And The Panic.
Hopeless Records.

Grieving

Brian Emo

Demonstrations EP.
Unsigned.

Broadside

Puzzle Pieces

Paradise.
Victory Records.

CREEPER LIVE AT RADIO 1'S ACADEMY IN HULL

Creeper

Misery (Radio 1 Academy, 21 May 2017)

Creeper

Love (Radio 1 Academy, 21 May 2017)

EXCLUSIVE

Arcane Roots

Matter

Melancholia Hymns.
Easy Life & Red Essential.

Envy on the Coast

Virginia Girls

Ritual.
Equal Vision Records.

Milk Teeth

Owning Your Okayness

Be Nice EP.
Roadrunner Records UK.

LINKIN PARK INTERVIEW

Jay-Z / Linkin Park

Numb / Encore

Collision Course.
Warner Bros. Records.
2.

Linkin Park

Good Goodbye (feat. Pusha T & Stormzy)

Linkin Park

One More Light

EXCLUSIVE

Beartooth

Sick of Me (Live From Columbus)

Marilyn Manson

Slave Only Dreams To Be King

Papa Roach

Born for Greatness

Crooked Teeth.
Eleven Seven Music.

Zeal and Ardor

Come On Down

Tidal Sleep

Hearses

Be Water.
Holy Roar Records.

Arcadia

Army Of Electrons

Wear Your Wounds

Invitation

CHRIS CORNELL TRIBUTE

Temple of the Dog

Hunger Strike

Temple Of The Dog.
Polydor Limited.
3.

Chris Cornell

Can't Change Me

Euphoria Morning.
Polydor Limited.
1.

Audioslave

Like A Stone

Like A Stone.
Sony Music Entertainment UK Ltd.
1.

Johnny Cash

Rusty Cage

Unchained.
Sony Music Entertainment UK Ltd.
3.

Soundgarden

Fell On Black Days

Superunknown.
A&M Records.
3.
Broadcast