Main content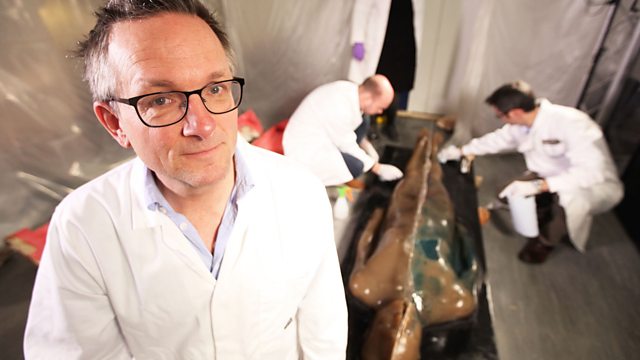 Michael Mosley vs The Superbugs
Can new treatments save us from the antibiotic resistance crisis? Michael Mosley carries out an extraordinary experiment.
More and more bacterial infections are becoming resistant to antibiotics. Not just MRSA but also TB, pneumonia and e-coli. In Britain, hundreds die of these infections - mainly the very young or the frail and elderly. Health experts warn, unless we crack the problem, that by 2050 we will be facing a pathogenic apocalypse with over 10 million people dying of resistant bacterial infection worldwide every year.
Michael Mosley goes in search of the causes of this crisis and possible solutions to overcome it. At the heart of the film is an unprecedented experiment to create a life-size clone of Michael in agar and then grow bacteria on it taken from all over his body. This is 'Microbial Michael', a living bacterial sculpture that offers new insights into what happens when we hit our body - and our bacteria - with a broad spectrum antibiotic.
Michael finds that he has some resistant bacteria. But how has this happened and how do bacteria acquire resistance to antibiotics? In a cave in New Mexico, Michael discovers that it is a natural process, which has been going on for millennia, long before the discovery of penicillin. Our overuse of antibiotics in medicine and farming accelerates the development of resistance among bacteria, but evolution ensures that bacteria will gradually overcome the antibiotics we use to defeat them.
So, we desperately need new antibiotics, or ways to make our existing antibiotics work effectively again. In a trip that goes to the US, to Poland and to research labs around the UK, we meet the 'resistance hunters' - scientists who are trying to find new ways of beating resistant bacteria. And in a finale to the 'Microbial Michael' experiment, some of Michael's agar body parts - his face and his hands - are infected with superbugs. Can any of the new treatments get rid of them?
Music Played
Timings (where shown) are from the start of the programme in hours and minutes
00:25

Nine Inch Nails

Right Where It Belongs
Credits
| Role | Contributor |
| --- | --- |
| Presenter | Michael Mosley |
| Executive Producer | Alan Hayling |
| Director | Peter Gauvain |
| Producer | Peter Gauvain |
| Production Company | Renegade Pictures Limited |