Main content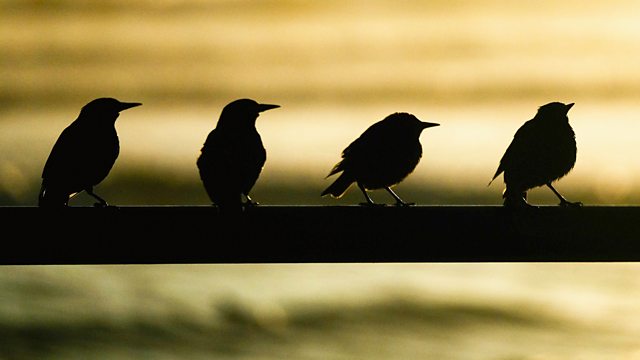 Highlights
Highlights of International Dawn Chorus Day, in which radio stations across the globe came together to broadcast the dawn chorus in real time. Presented by Brett Westwood.
The best bits of International Dawn Chorus day when radio stations across the globe come together and broadcast the dawn chorus in real time.
Pop star and bird lover Will Young joins Brett Westwood and a gang of unexpected bird lovers as Radio 4 throws an all-nighter in search of the Dawn Chorus. Going on air just after midnight and staying up till 7am Brett and Will host a night of conversation, story-telling, argument and explanation culminating in the live broadcast of the Dawn Chorus from Ham Wall Nature reserve in Somerset.
Other guests include Birds Brittania author Mark Cocker, Bird acoustics expert Dr. Jenny York and singer Hanna Tuulikki.
Radio 4 is doing this as part of International Dawn Chorus day - a unique broadcast event hosted by RTE in Ireland - in which radio stations in India and Europe join together to track the rising sun across the continent from Delhi to Dublin. You'll hear capercaillies in from Norway, bitterns in Somerset, bluethroats in Holland - it's like the Eurovision Song contest, but with much better singing.
In our increasingly digital world Dawn Chorus provides a genuine encounter with the natural world on unmediated terms. There's a lovely sense of anticipation as you hunt and you wait and you feel the sense of being really there - of the sudden excitement of a Tawny Owl at midnight, the joy of a cuckoo at 4am. And as we wait and we listen we take the opportunity to have a series of interesting conversations about wildlife and literature, music, evolution and conservation.