Main content
Tomatoes
Flora Shedden and Sumayya Usmani celebrate British Tomato Week, with Flora making bruschetta and Sumayya trying out a few tomato chutneys.
Flora Shedden and Sumayya Usmani go absolutely tomato-tastic as they celebrate British Tomato week. Flora makes a delicious bruschetta lunch-time treat and Sumayya talks us through how simple it is to make different tomato chutneys. Also, Pennie Latin joins Ghillie Basan to make a Mediterranean classic melanzane alla parmigiana and we've drafted in gardening expert Nicola Singleton to give Neil Forbes some handy tips on growing tomato plants.
Bruschetta by Flora Shedden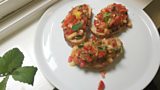 Ingredients
4 slices of good quality bread
olive oil
1 garlic clove
100g mixed tomatoes
2 tbsp fresh mixed herbs
salt and pepper
Method
Heat a griddle pan until smoking. Pour a little oil over each slice of bread then place in the smoking pan. Once charred a little, turn and cook on the second side.
Remove from the heat.
Cut the garlic clove in half them rub the cut side all over each slice of toast. Set aside.
In a bowl roughly chop the tomatoes, and herbs.
Season lightly before adding a little drizzle of olive oil. Toss together then use to top each toast.
Particularly good when a little feta cheese is crumbled on top.

Melanzane alla parmigiana by Ghillie Basan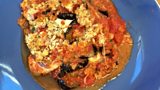 For this classic Italian dish, you can fry, grill or roast the aubergine slices. I prefer to roast them so I have written the recipe that way. Also, there really is no set rule about whether the mozzarella should go in between the layers of aubergine or on top or, indeed, whether you need mozzarella at all – just do what you feel like.
Serves 4-6
3-4 biggish aubergines
olive oil
2 red onions, finely chopped
2-3 garlic cloves, finely chopped
2 teaspoons dried oregano
2 x 400g tins chopped tomatoes
1-2 teaspoons sugar
1 tablespoon white wine vinegar
sea salt
freshly ground black pepper
a large handful of fresh basil leaves
4-6 handfuls finely grated Parmesan
2 balls of mozzarella (buffalo if you can get it)
2 handfuls fresh breadcrumbs
Preheat oven to 400F/mark 6/200C
Slice the aubergines quite thickly, roughly ½ cm thick rounds, place them in a large colander, sprinkle with salt and leave to weep for about 15 minutes. Rinse well under cold water, gently squeeze or press out any excess water, or pat dry with a clean dish towel.
Arrange the aubergine slices in the base of a large baking tray or oven dish so that they don't overlap too much. Drizzle with olive oil (roughly 2-3 tablespoons) and place them in the oven for 25-30 minutes, turning them over once so that they brown lightly.
In the meantime, glug a bit of olive oil into a heavy–based pan and stir in the onions and garlic until lightly browned. Stir in the dried oregano and add the tomatoes, sugar and vinegar. Cook gently for about 15 minutes until the mixture has thickened a little and looks quite saucy. Season well to taste with salt and pepper.
Choose an oven dish that will hold two layers of aubergine and tomato. Spread a spoonful of the tomato mixture thinly over the base, sprinkle with a little of the Parmezan, then arrange a layer of roasted aubergine slices over the top. Spoon a thin layer of the tomato mixture over the aubergines, followed by a good layer of grated Parmezan and scatter fresh basil leaves over the top. At this stage, you can add the layer of Mozzarella slices or you can reserve them for the top. Add the next layer of aubergines, followed by sauce and Parmezan and top with the mozzarella if it didn't go in the middle.
In a small bowl mix together the breadcrumbs with an extra drizzle of olive oil to moisten, and a little extra dried oregano and grated Parmezan, scatter it over the top of the dish, and pop it in the oven for 20-25 minutes until it is nicely browned on top with crispy breadcrumbs and bubbling around the edges.  It is best eaten straight away while the mozzarella is melted. Delicious!

Fresh Tomato Chutney by Sumayya Usmani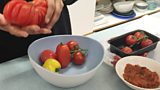 Ingredients
1 tbsp coconut oil
1 tsp nigella seeds (kalonji)
1 tsp cumin seeds
1/2 tsp mustard seeds
4-5 fresh curry leaves
1 garlic clove chopped finely
1 small red onion, chopped finely
1/2 tsp Kashmiri red chilli
6 medium tomatoes, chopped finely
Method
Heat oil in a saucepan. Once hot add all seeds and allow to splutter.
Next add the curry leaves and allow to splutter for a few seconds.
Add red onion and garlic and cook until light brown.
Add red chilli powder and chopped tomatoes. Cook until soft and oil rises to the top (about 10 minutes of stirring).
Store in air tight container once cooled, and keep in fridge and consume within 2 days.
Podcast
Celebrate the joy of Scotland's larder with recipes, reviews, tips and delicious ideas!