Main content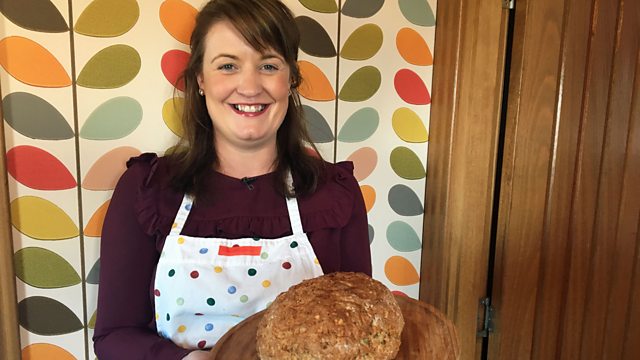 Nì Màiri NicRisnidh agus bèiceirean sgileil iomadh seòrsa arain a tha fìor-bhlasta. Mairi MacRitchie and skilful home bakers share their favourite bread recipes.
Tha Màiri NicRisnidh a' siubhal na Gàidhealtachd is nan Eilean a' tachairt air bèiceirean sgileil, làn deònach air deagh bhiadh a dhèanamh. Seallaidh iad dhi na seòrsaichean arain is fheàrr leotha - a' dearbhadh gu bheil aran a' ciallachadh iomadh rud nas blasta na lof phlèan. Eadar Uibhist 'san Eilean Sgitheanach, tha Màiri a' cluinntinn mar a nì i fhèin seòrsaichean arain sònraichte math.
Ged a tha còcaire a' fuireach air eilean, cha chùm sin iad bho roghainn bìdh an t-saoghail mhòir! Tha i a' feuchainn aran naan, aotrom is brisg, sgoinneil le curraidh; ni bèiceir eile fougasse Frangach - math ga roinn a-mach mun bhòrd. Bì Màiri a' dèanamh aran na cidsin fhèin an Uibhist. Is toigh leatha aran-sòda Èireannach a' bheothachadh le mustard agus càise làidir, agus airson aran-milis, dè a b' fheàrr na bonnaich Chelsea, a' cur thairis le measan thioram agus suathadh de mhil a' cur lainnir orra.
Mairi MacRitchie is in the Highlands and islands meeting skilful home bakers with a passion for food. They share with her the tried and tested recipes for bread and show her that bread can mean so much more than just a simple plain loaf. In this episode, Mairi samples samples some easy to follow and delicious bread recipes. She tries a crispy, light naan bread, the perfect partner to a curry.
Another adventurous baker makes a tasty French fougasse, a type of bread perfect for tearing and being shared around the table. Mairi also makes her own bread recipes from her kitchen in Uist, including a classic Irish soda bread with a twist - she adds wholegrain mustard and strong cheddar cheese. She also bakes deliciously sweet and spiced Chelsea buns bursting with raisins and sultanas, and topped with a honey glaze.
Clips

Credit
| Role | Contributor |
| --- | --- |
| Presenter | Mairi MacRitchie |