Main content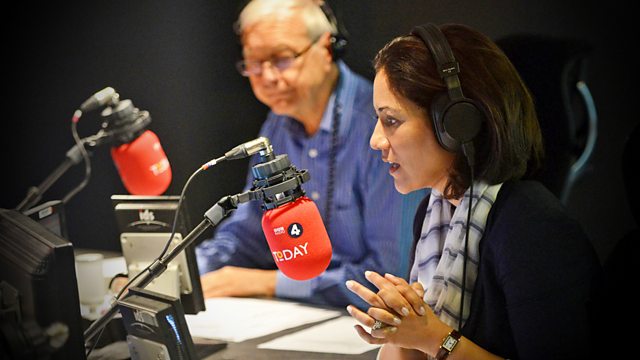 18/05/2017
Morning news and current affairs. Including Sports Desk, Weather and Thought for the Day.
Today's running order
0650
When the Conservative manifesto is launched later today, it may include a promise to limit - or perhaps end - the reach of the European Court of Justice over our affairs. Sir Konrad Schiemann was a British judge at the court for eight years and has written to Conservative MPs and peers to urge care in the way they refer to its role after Brexit.
0655
After speaking to a group of Leave voters in Halifax last week as part of our Election Takeaway series, Nick Robinson chatted to a group of Remainers chosen for us by the pollsters IPSOS Mori in the Tory marginal seat of Bedford last night. How will the choice people made less than a year ago affect the choice they face now?
0709
Wealthy pensioners will lose up to £300 in winter fuel payments and more elderly people could be forced to pay to be looked after in their own homes under Theresa May's plans to tackle the social care funding crisis. Sir Andrew Dilnot is an economist and author of the Dilnot Review into social care.
0712
Richard Smother, the finance boss of Mothercare, has abruptly handed in his notice just one week before the company unveils its annual results. Today's Katie Prescott is joined by Mark Newton-Jones, the chief executive of Mothercare.
0715
Scotland is playing a fascinating and perhaps pivotal role in the election. Today's James Naughtie reports from the territory that explains, best of all, why that is.
0720
The former Welsh first minister Rhodri Morgan, who some called "the father of Wales", has died aged 77. Lord Peter Hain is former Welsh secretary.
0730
Part 2 of Nick Robinson's Election Takeaway which this week sees him speaking to a group of remain voters in Bradford over some Thai food. What do remainers think of the Liberal Democrat pledge for a second referendum?
0740
Girl uiding is planning a major overhaul of its badge programme.  Classic badges will be replaced by new ones more relevant to the twenty first century, such as app design, vlogging and upcycling. Janie Hampton is the author of How the Girl Guides Won the War and joined the Guides in the 60s and Elena Veris Reynold is a 17-year-old Girl Guide advocate.
0750
Former FBI boss Robert Mueller has been named special counsel to oversee an inquiry into Russia's alleged interference in the US election. Professor Stefan Halper was a White House official in the Nixon, Ford and Reagan administrations and is now director of American studies at the department of politics, University of Cambridge.
0810
One of the key measures contained in the Tory manifesto is a plan to tackle the social care crisis which the prime minister describes as a "declaration of intent" to tackle the "great challenges of our time". Other measures include changes to free school meals to boost schools funding, the end of the triple lock on pensions, and further measures to curb immigration. Jeremy Hunt is the health secretary.
0820
A film about the global refugee crisis will be seen for the first time at the Cannes Film festival this afternoon. Sea Sorrow is about the current global refugee crisis and is told through the people at the centre of it - campaigners and children. Vanessa Redgrave is the film's director.
0830
Part 3 of our Election Takeaway with Nick Robinson talking to a group of remain voters in Bradford.
0840
Almost 2,000 species of plants have been discovered in the past year, according to an annual assessment by the Royal Botanic Gardens at Kew. Professor Kathy Willis is the director of science at Kew.
0845
In the biggest week of the election campaign yet, the BBC's political editor Laura Kuenssberg reports.
0850
Britain's two largest political parties have chosen towns in Yorkshire to launch their manifestos. The county has largely been the domain of Labour for quite some time but does the fact both parties are giving it much attention mean it's in play? Geoffrey Boycott is Yorkshire's greatest cricketer and Ian McMillan is a poet and broadcaster popularly known as the Bard of Barnsley.
0855
20 young people are being presented the Diana Award today at St James' palace, set up in memory of Diana, Princess of Wales. The winners are nominated for their inspiring and positive work in society. Asha Parkinson and Nicholas Nikiforo are two winners of the prize.
All subject to change.