Main content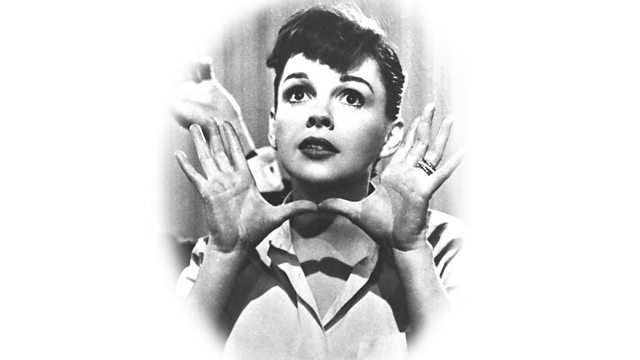 Judy Garland, Catharine MacKinnon, School trips
Judy Garland - tragic figure or survivor? The pros and cons of residential school trips. The lawyer and feminist Catharine MacKinnon on sexual harassment, rape and pornography.
Judy Garland has become an enduring icon to millions of fans of all generations around the world. She is often perceived as a tragic figure but in a new play Judy! at the Arts Theatre in London she is portrayed and celebrated as a survivor in a man's world. The writer Ray Rackham and Belinda Woolston who takes on the role of Judy discuss her story. Belinda will also perform one of her songs live in the studio.
Catharine MacKinnon is a lawyer, a radical feminist scholar, a political activist and a passionate advocate for ending inequalities and abuse in women's lives. Jenni talks to her about her new book Butterfly Politics, the coming together of forty years of her work which has been defined by the central concerns of gender inequality, putting an end to sexual harassment, rape, pornography and prostitution.
School trips can be educational, adventurous, fun and costly. What are the merits of getting back to basics and going camping? Or is that too much effort? James Wynne, Head of Science at Chesterfield School in Crosby, who has recently introduced his year 11s to virtual reality school outings and Pamela Butchart, author of the children's book "There's a Werewolf in My Tent" discuss the pros and cons of residential school trips.
And more from Women in One, a collection of audio snapshots in which Abigail Hollick talks to women of all ages and backgrounds about their lives. Abigail meets a woman at a bus station in Glasgow.
Presenter: Andrea Catherwood
Producer: Dianne McGregor.
Chapters
Catharine MacKinnon

Duration: 12:08

School trips

Duration: 12:29

Women in One - Glasgow

Duration: 03:27

Judy Garland

Duration: 09:36

Credits

| Role | Contributor |
| --- | --- |
| Presenter | Andrea Catherwood |
| Producer | Dianne McGregor |
| Interviewed Guest | Catharine MacKinnon |
| Interviewed Guest | Ray Rackham |
| Interviewed Guest | Belinda Woolston |
| Interviewed Guest | James Wynne |
| Interviewed Guest | Pamela Butchart |
| Interviewed Guest | Abigail Hollick |