Main content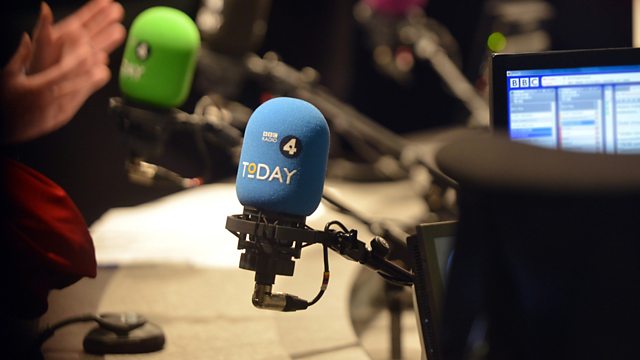 17/05/2017
Morning news and current affairs. Including Sports Desk, Weather and Thought for the Day.
Last on
Today's running order
0650
A growing cholera crisis in Yemen, that has already killed more than 120 people with 11,000 suspected cases, could deteriorate rapidly unless donor governments immediately send aid pledged last month according to Oxfam. Sajjad Mohammad Sajid is the country director of Oxfam in Yemen.
0655
We might think we have a pretty good idea of what Theresa May stands for and how she wants to change the country, but the Conservative manifesto will spell it out in cold print.  The work of writing it has been led by one of her closest aides, Nick Timothy. Who is he, and what does he want to achieve? Today's Ross Hawkins reports.
0709
The Liberal Democrats will unveil their election manifesto today with a pledge to hold a second referendum on leaving the European Union. Sir Ed Davey is the Liberal Democrat election campaign spokesman.
0715
"Science" according to the renowned physicist Michio Kaku, "is the engine of prosperity". But that strength is precarious - it depends on a fine blend of pump-priming Government funding, the nurturing of expertise in universities, and attracting investment from globetrotting multi-national corporations. Brexit has fundamentally changed the mix. Today's Tom Feilden reports.
0720
Donald Trump is facing yet another explosive allegation. James Comey says President Trump had asked him to end the FBI's investigation into allegations surrounding the man he'd appointed as his national security adviser, Michael Flynn, about his connections with Russia.  Ron Hosko is a former assistant director at the FBI.
0740
In October we broke the story of Jeremy the "lefty" snail, a rare garden snail whose shell coils anti-clockwise instead of clockwise. After a public appeal to find a mate for Jeremy, two more lefties were discovered by our listeners and sent off to the University of Nottingham. We can now exclusively reveal that the lefties have produced their first offspring. Dr Angus Davison is a reader in evolutionary genetics at the University of Nottingham.
0750
In the last election, the Conservatives spent £1.2 million on advertising through Facebook, and it's widely believed that social media targeting was a factor in the Leave campaign's win in the Brexit vote. As more campaign funds are spent on online advertising, do the rules regulating it need tightening up? Claire Bassett is chief executive of the Electoral Commission.
0810
The Chancellor will say that there is a £58 billion black hole in Labour's spending plans in their manifesto that was launched yesterday. The Conservatives say working families would "pay the price" for what they said were a series of unfunded spending commitments. Philip Hammond is the Chancellor.
0820
The actor Christopher Eccleston is opening a new Dementia Hub at the University of Salford's Institute for Dementia this afternoon. His father Ronnie was diagnosed with the condition in 2000 and has said the experience was devastating and "dismantled his father's personality".
0830
The life sciences, engineering and technology sectors contribute some £41 billion to the economy every year and employ more than 2 million people. Could they be a major driver of prosperity in post-Brexit Britain? Dr Mene Pangalos is executive vice-president of AstraZeneca's innovative medicines and early development biotech unit.
0840
The general secretary of the Unite union Len McCluskey has said a "successful" election campaign would be Labour holding 200 seats, which is below their current tally. Rebecca Long-Bailey is the shadow secretary of state for business, energy and industrial strategy.
0850
Where will both the main parties position themselves before 8th June? Both are signalling a return to interventionist government – Labour will renationalise many public services and the Conservatives will cap energy bills. What is motivating this? Camilla Cavendish is a journalist and former head of the Number 10 policy unit and Owen Jones is a Guardian columnist and Labour supporter.
0855
As election campaigning hits social media, YouTube surprisingly isn't generating much excitement. Instead, fidget spinners were trending. They are a kind of stress-relieving toy that has become a craze among school children. The BBC's Jon Kay went on the road to see if he could inject some life into the campaigning with his own fidget spinner.
All subject to change.
Broadcast