Main content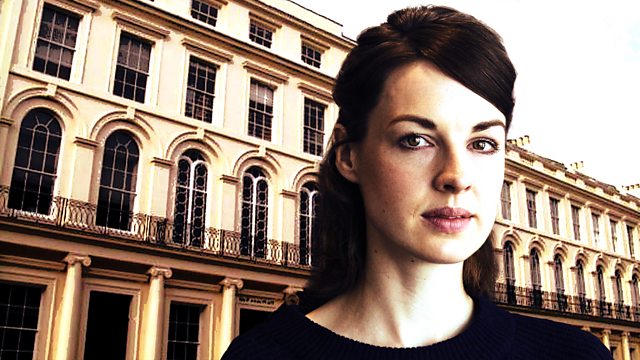 It is 1928, and Fleur and Michael Mont welcome young cousin Dinny into the Forsyte fold, who reveals her passionate nature when the wellbeing of loved ones is at stake.
based on the novels of John Galsworthy
dramatised by Lin Coghlan
It's 1928 and, after her father's death, Fleur is determined to make a steady life with Michael. But when his young cousin Dinny - lively, determined, and 'not the marrying sort of woman' - struggles to help first a brother accused of war crimes and then a best friend in trouble, can Fleur be of use, as echoes of her own life reverberate?
Original music composed by Neil Brand
Written by John Galsworthy
Dramatised by Lin Coghlan
Director/Producer ..... Marion Nancarrow
Over the last 2 years, BBC Radio 4 has dramatised all 9 of John Galsworthy's Forsyte novels and this series "The Forsytes Concludes" brings us to the last 3 novels, which he wrote at the end of his life. This first 90' drama is based on "Maid in Waiting" and moves to Oxfordshire to introduce the Cherrell family and, in particular, Dinny Cherrell, who, aged 24 in 1928, is full of excitement for the life ahead of her. She is Michael & Fleur's cousin and, unbeknown to either of them, their lives are to have parallels neither could have predicted.
With her father Soames dead, Fleur has resolved to put her love for Jon behind her and live a good life with husband Michael and son Kit. But Dinny's brother is in trouble and as things escalate, both Fleur and Michael are pushed to try to find ways they can help the besieged brother and sister.
Joining Jessica Raine, Ben Lambert and Brian Protheroe from the original cast are Nina Sosanya, Allan Corduner, Jonathan Aris and Sarah Ridgeway in this episode, with Max Bennett, Chloe Pirrie and John Heffernan arriving later.
This 90' Saturday Drama is followed by 5 x 15' episodes to tell the story of "Flowering Wilderness" (which sees an unexpected return) and a Saturday and Sunday Drama at the end of the week conclude the story and all 9 novels.
More episodes
Previous
You are at the first episode
Credits
| Role | Contributor |
| --- | --- |
| Fleur Mont | Jessica Raine |
| Michael Mont | Ben Lambert |
| Dinny Cherrell | Sarah Ridgeway |
| Professor Hallorsen | Allan Corduner |
| Sir Lawrence Mont | Brian Protheroe |
| Lady Mont | Georgie Glen |
| Adrian | Jonathan Aris |
| Diana | Nina Sosanya |
| Hubert | Finlay Robertson |
| Ferse | Nicholas Murchie |
| Snubby Saxenden | David Sterne |
| Alan Tasburgh | David Sturzaker |
| Home Secretary | John Dougall |
| Lottie | Sanchia McCormack |
| Edie | Maeve Bluebell Wells |
| Judge | John Bowler |
| Author | John Galsworthy |
| Adaptor | Lin Coghlan |
| Director | Marion Nancarrow |
| Producer | Marion Nancarrow |