Main content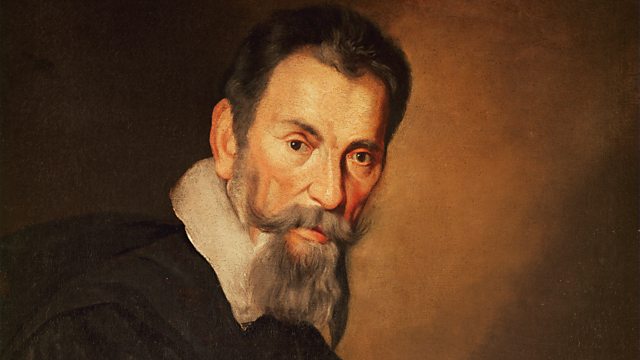 Donald Macleod focuses on Monteverdi's rapid rise from Cremona choirboy to string player and composer at Mantua. Including Ardo; Rimanti in Pace; Cruda Amarylli; O mirtillo.
To mark 450 years since the composer's birth, Donald Macleod traces Claudio Monteverdi's remarkable rise from relatively humble origins in Cremona (he was the son of a barber-surgeon) to his subsequent career as instrumentalist and composer at the court of Vincenzo Gonzaga at Mantua, and his later promotion to the role of Director of Music at the Basilica of St Mark's in Venice.
In today's episode, Donald traces Monteverdi's rapid rise from Cremona choirboy, with one collection of compositions published by the time he was 15, to attaining the post of string-player at the court of Mantua, the home of the fabulously wealthy Gonzaga family. With no fewer than four books of madrigals to his name by the age of 30, Monteverdi is already set to transform the traditional form of the madrigal - and in so doing, will incur the wrath of one Canon Artusi, who is offended by the composer's 'trenchant dissonances'!
Ardo
Hugues Cuenod, tenor
Paul Durenne, tenor
Nadia Boulanger, director
Ubi duo; Quam pulchra es; Ave Maria
Gyor Girls' Chorus
Milos Szabo, director
Non si levava ancor l'alba novella
E dicea l'una sospirando allora
Ecco mormorar l'onde
Concerto Italiano
Rinaldo Alessandrini, director
Rimanti in pace
I Fagiolini
Robert Hollingworth, director
Sfogava con le stelle
Si ch'io vorrei morire
Voi pur da me partite, anima dura
Les Arts Florissants
Paul Agnew, director
Cruda Amarylli
O mirtillo
Era l'anima mia
Les Arts Florissants
Paul Agnew, director.
More episodes
Previous
You are at the first episode