Main content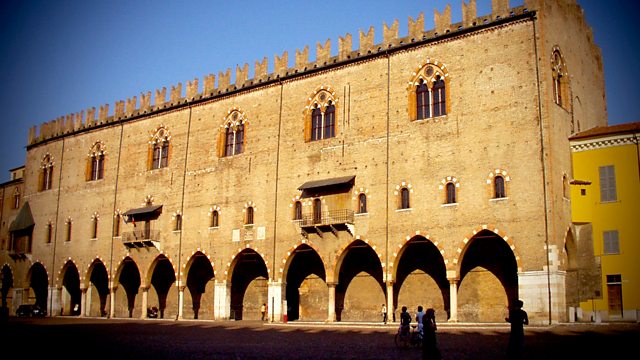 Monteverdi 450: Monteverdi's Women
Dr Catherine Fletcher explores Monteverdi's innovative and subversive use of female singers and the characters they inhabited.
In 1608, Monteverdi wrote Il Ballo delle Ingrate as a finale to a gargantuan wedding in Mantua. It ends with a solo female ingrate bemoaning her sentence to the dark and fiery underworld where she will never again have an individual voice. Dr Catherine Fletcher takes up the story of the woman who performed that aria - Virginia Ramponi. The power and passion of her singing was chronicled at the time, but, Catherine observes, the fact that it was a woman providing such a powerful performance meant that the means of delivering the message far exceeded the message itself.
And so begins our journey through the Renaissance mind that housed, shaped and was challenged by Claudio Monteverdi. The very act of singing - the use of throat, mouth, lips, tongue and chest, the invocation of passions and resonances - was highly ritualised and the object of profound suspicion by many in the early 1600s. That women - those highly sexualised, intemperate and incontinent beings - might be allowed, even encouraged, to sing verged on the blasphemous. And yet, one of the enduring strengths of Monteverdi's music is the demand for trained female voices to make dramatic and expressive statements that have reached out to us down the centuries.
Monteverdi was very aware of the restrictions on women in the courts of Mantua and the less limiting world of Venice but he continued to write some of his most passionate pieces for the female voice. Like the Renaissance painters around him, he revelled in human sensuality. Like the sculptors of the time, he continued to chisel out the erotic sound of the female voice and enjoyed creating powerful, though often doomed, female characters. That women were willing to sing and willing to listen suggests that the courts of Italy were full of what the language of the time might have called, "unruly women".
Producer, Tom Alban.
Last on
Broadcasts

Featured in...
From prison breaks to VR dinosaurs: insights from the AHRC & BBC's scheme for academics.

Creativity, performance, debate