Main content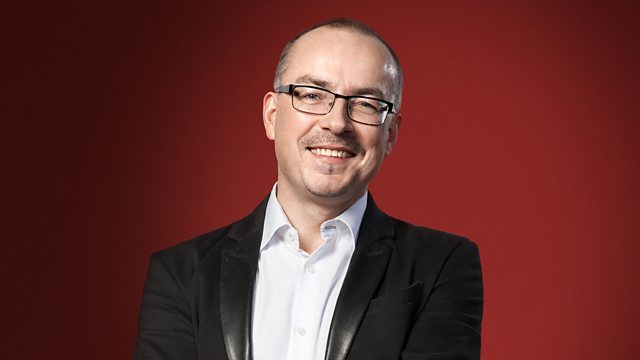 Monteverdi 450: Andrew McGregor with Jeremy Summerly and Hannah Kendall
With Andrew McGregor. Including Building a Library: Monteverdi's L'Orfeo; composer Hannah Kendall reviews new music releases; Disc of the Week.
with Andrew McGregor
0930
Building a Library: Monteverdi 450
Renowned conductor Jeremy Summerly joins Andrew for a live traversal of recordings of Monteverdi's L'Orfeo, the first opera that has both survived the centuries and stayed in the repertoire.
1045
Andrew is joined by the acclaimed British composer Hannah Kendall for a review of the latest releases
1145
Andrew chooses an outstanding new release as his Disc of the Week.
9am
Monteverdi: The Other Vespers
CASTELLO, D: Sonata in D minor
DONATI, I: Dulcis amor Iesu
FRESCOBALDI: Toccata terza (1615)
GABRIELI, G: Magnificat a14
MONTEVERDI: Dixit Dominus II; Confitebor tibi Domine (Secondo); Beatus vir (from Selva Morale e Spirituali); Laudate pueri; Laudate Dominum; Ut queant laxis from Selva morale e spirituale; Salve, O Regina
PALESTRINA: Ave Verum
USPER: Sonata a 8
VIADANA: Deus in adiutorium meum
I Fagiolini, The English Cornett and Sackbut Ensemble, The 24, Robert Hollingworth (conductor)
DECCA 4831654 (CD)
Telemann: Ein feste Burg
TELEMANN: Wertes Zion, sei getrost, TVWV 1:1606; Jesu wirst Du bald erscheinen, TVWV1:988; Herr Gott, der du uns hast von unsrer Jugend an, TVWV1:742; Ein' feste Burg ist unser Gott, TVWV1:419; Welch' Getummel erschuttert den Himmel, TVWV1:1546
Wolfgang Weiss, Simone Schwark (soprano), Johanna Krell (alto), Hans Jorg Mammel (tenor), Markus Flaig (bass), Kammerchor Bad Homburg, Johann Rosenmuller Ensemble, Arno Paduch
CHRISTOPHORUS CHR77405 (CD)
Adams & Korngold: Violin Concertos
ADAMS, J: Violin Concerto
KORNGOLD: Violin Concerto in D major Op. 35
Ilya Gringolts (violin), Copenhagen Phil, Santtu-Matias Rouvali (conductor - Adams), Julien Salemkour (conductor - Korngold)
ORCHID CLASSICS ORC100066 (CD)
9.30am – Building a Library
Building a Library: a weekly look at a piece of music, a comparison of the available recordings, and a recommendation.
Composer: Claudio Monteverdi
Piece: L'Orfeo
Reviewer: Jeremy Summerly


Building a Library: Monteverdi's L'Orfeo
Recommended recording:
Mirko Guadagnini (Orfeo), Emanuela Galli (La Musica / Euridice), Marina De Liso (Messaggiera), Cristina Calzolari (Proserpina), Matteo Bellotto (Plutone), Jose Maria Lo Monaco (Speranza), Salvo Vitale (Caronte), Vincenzo Di Donato (Apollo), Francesca Cassinari (Ninfa), La Venexiana, Claudio Cavina (conductor)
GLOSSA GCD920941 (2CD)
Other recommended recordings:
Below is a shortlist of other recordings which Jeremy also liked, although we can't guarantee the availability of these discs. 
Laurence Dale (Orfeo), Efrat Ben-Nun (Euridice/La Musica), Jennifer Larmore (Messaggiera), Bernarda Fink (Proserpina), Harry Peeters (Plutone), Andreas Scholl (Speranza), Paul Gerimon (Caronte), Nicolas Rivenq (Apollo), Concerto Vocale, Rene Jacobs (conductor)
HARMONIA MUNDI HML5901553/54 (2CD)
Historical recommendation:
Helmut Krebs (Orfeo), Hanni Mack-Cosack (Euridice), Margot Guilleaume (La Musica/Proserpina), Jeanne Deroubaix ((La Messagiera/La Speranza),Horst Gunter (Plutone), Peter Roth-Ehrgang (Caronte), Bernhard Michaelis (Pastore 1), Fritz Wunderlich (Apollo/Pastore 2), Peter Offermanns (Pastore 3), Clemens Kaiser-Breme Pastore 4), Hildegard Wild (Ninfa), Orchester der "Sommerlichen Musiktage Hitzacker 1955", Chor der Staatlichen Hochschule fur Musik, Hamburg, August Wenzinger
DG ARCHIV 4531762
DVD recommendation:
Furio Zanasi (Orfeo), Arianna Savall (Euridice), Montserrat Figueras (La Musica), Sara Mingardo (Messaggiera), La Capella Reial de Catalunya, Le Concert des Nations, Jordi Savall (conductor)
OPUS ARTE OA0843D
Curiosity
MONTEVERDI: L'Orfeo (Respighi's arragement and orchestration)
Paolo Coni (Orfeo), Nuccia Focile (Euridice), Enrico Facini (Apollo), James Loomis (Caronte), Orchestra da Camera Lucchese, Herbert Handt
CLAVES 509419
10.20am – Brahms Concertos
Brahms: Piano Concerto No. 1 & Violin Concerto & Schumann: Piano Quartet
BRAHMS: Violin Concerto in D major Op. 77; Piano Concerto No. 1 in D minor Op. 15
SCHUMANN: Piano Quartet in E flat major Op. 47
Frank Peter Zimmermann (violin), Emanuel Ax (piano), Royal Concertgebouw Orchestra, Bernard Haitink (conductor), RCO Chamber Soloists
RCO LIVE RCO17001 (2Hybrid SACD)
Brahms: Piano Concertos
BRAHMS: Piano Concerto No. 1 in D minor Op. 15; Piano Concerto No. 2 in B flat major Op. 83
Sunwook Kim (piano), Halle, Sir Mark Elder (conductor)
HALLE CDHLD7546 (2CD)
Brahms: Symphony No. 4, Alto Rhapsody & Schicksalslied
BRAHMS: Symphony No. 4 in E minor Op. 98; Alto Rhapsody Op. 53; Schicksalslied Op. 54
Ann Hallenberg (mezzo), Collegium Vocale Gent, Orchestre des Champs-Elysees, Philippe Herreweghe (conductor)
PHI LPH025 (CD)
10.50am – Hannah Kendall on contemporary music
Tarik O'Regan: A Celestial Map of the Sky
O'REGAN: A Celestial Map of the Sky; Latent Manifest; RaI; Chaabi; Fragments from Heart of Darkness; Now fatal change*
Halle, Halle Youth Choir, The Manchester Grammar School Choir, Sir Mark Elder (conductor), Jamie Phillips, Ryland Angel* (countertenor), Lara St. John* (violin)
NMC NMCD220 (CD and download) (*Only available on download)
Gaudent in Coelis
BEAMISH: Gaudent in coelis; Two Canticles; St Catharine's Service
BINGHAM, J: Edington Service
MARSH, JOANNA: Lord, thou hast searched me and known me; Missa Brevis - Collegium Sanctae Catharinae
The Choirs of St Catharine's College, Cambridge, Edward Wickham (conductor)
RESONUS CLASSICS RES10185 (CD)
Calliope
With music by Kerry Andrew, Roger Marsh, Bushra El-Turk, Cecilia McDowall, Robert Fokkens, Duncan MacLeod and Geoffrey Hannan
Sarah Dacey (soprano), Belinda Jones (piano)
SMFA Foundry Studios (Download only)
Brian Elias: Electra Mourns
ELIAS, B: Geranos; Meet me in the Green Glen; Once did I breathe another's breath; Electra Mourns
Psappha, Nicholas Kok, Roderick Williams (baritone), Susan Bickley (mezzo-soprano), Iain Burnside (piano), Nicholas Daniel (cor anglais), Britten Sinfonia, Clark Rundell (conductor)
NMC NMCD235 (CD)
11.45am – Disc of the Week
Francois Couperin: L'Apotheose de Lully & Lecons de tenebres
COUPERIN, F: L'Apotheose de Lulli; Lecons de Tenebres
Stephane Degout (speaker), Katherine Watson (soprano), Anna Dennis (soprano), Arcangelo, Jonathan Cohen (conductor)
HYPERION CDA68093 (CD)