Main content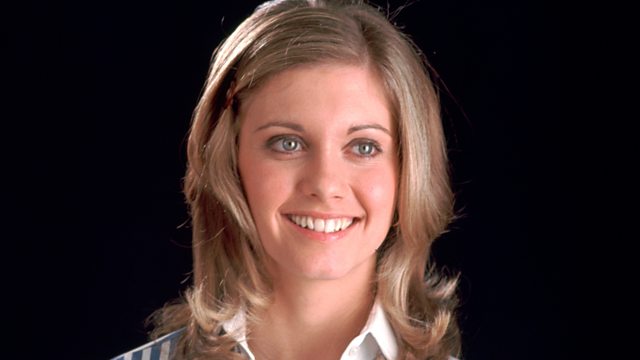 Olivia Newton-John tells the story of her 50-year career in entertainment in a confection of music, archive and friends including Sir Cliff Richard, Bruce Welch and John Farrar.
In these two programmes, four-time grammy winner Olivia Newton-John offers her own story, in her own words. From her early childhood in England, the daughter of a Jewish émigré and an MI5 officer, to her teenage rise to fame on Australian Television, her formative experiences as a young singer performing in London in the mid sixties, to selling 100 million records and becoming one of the best-selling artists of all time.
Episode One.
Going back to her teenage years, Olivia remembers returning to England in 1966. " I had won a talent contest In Australia when I was 15 on a rock and roll show. And the prize was a trip to London. I was at school and my mother wanted me to go to RADA, that was her dream." Homesick, Olivia pined for her boyfriend back in Melbourne and her burgeoning career on Australian television.
She reflects on her first taste of success in swinging London, performing as a double act with her friend Pat Carroll. Life on the road was fun and they were backing singers for Sir Cliff Richard, Frank Ifield, The Seekers and The Shadows - but there were also some hilarious incidents: "One night we were booked into Raymond's Revue bar and so we went to sing there, us in our pink mini skirts with flowers all over them. And we got up on the stage and behind us was a woman swimming around topless in a fish tank. And we didn't really understand what was going on. We looked out into the audience and there was just a few tables with guys in raincoats. We did our show and Mr Raymond came up and paid us off, cash, and said thank you but this isn't going to work. And we were mortified because we didn't really get it, where we had been!"
After being picked out by Harry Saltzman to appear in a wacky sixties musical film 'Toomorrow', Olivia recalls scoring her first major hit with a cover of Bob Dylan's 'If Not For You' in 1971 and finding fame on The Cliff Richard Show. Co-produced by The Shadows' guitarist, Bruce Welch (her then fiancé) and Australian musician John Farrar, she had a string of country-tinged hits with Banks of The Ohio, Take Me Home (Country Roads) and If You Love Me Let Me Know, plus classic ballads Sam and I honestly Love You.
But she he remembers the surprising backlash from Nashville purists when her records began to dominate the American Country charts, winning a string of music awards including the Grammy for Best Female Country Vocal Performance in 1973. "There was a controversy when I won because I was an Australian, I recorded these songs in England, it was written by an Englishman. It was totally out of the box. And they weren't very happy because they had their own thing and I understand. But Dolly Parton stood up for me, Loretta Lynn did and Stella Parton wrote a really sweet song."
Olivia recalls representing the UK at the 1974 Eurovision song contest - which was dominated by ABBA's Waterloo. And of course, she describes the thrill of landing the part of Sandy in Grease...after which her career went stratospheric.
More episodes
Previous
You are at the first episode