Main content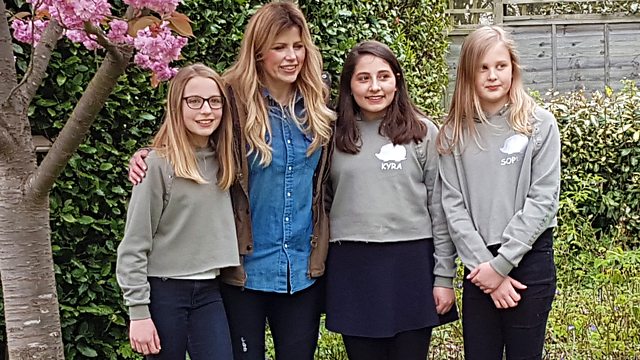 Warwickshire
For Hedgehog Awareness Week, Ellie Harrison meets three schoolgirls on a mission to keep the hedgehogs of Warwickshire safe from harm.
It is Hedgehog Awareness Week. Populations of wild British hedgehogs have declined rapidly since the turn of the century, and Ellie Harrison meets three schoolgirls who on a mission to keep the hedgehogs of Warwickshire safe from harm. She pays them a visit in their back garden hedgehog rehab centre!
Ellie also visits the Heart of England Forest, which is planting a great native woodland. It is largely thanks to one man, Felix Dennis, who bequeathed millions to the project after recognising a need for more woodland.
Steve Brown meets the volunteers 'Taming the River Tame' to bring the wildlife back. The river, canal and floodplain that make up the wetlands are remnants of Warwickshire's industrial past, but they're now joining up the waterways for nature.
John Craven is at a nature reserve with a difference - it's not just a home for wildflowers and wildlife, it's a permanent resting place for people too. The Sunrising Nature Reserve is a burial ground for people who want a very natural resting place after they die. John also visits a farming family who have swapped pints of milk for pints of beer by turning their dairy into a microbrewery.
Adam Henson is in Kendal, Cumbria, with a farming family who love their traditional breeds nearly as much as Adam does! It is the Robinson family's 100th year of registering shorthorns on the farm. With dad, lad and grandson in tow, we hear from three generations of Robinson about their passion for the cows.
Tom Heap travels to Scotland to find out why Britain's favourite fish is causing such a big row and asks what the salmon industry is doing to try and solve the problem.
Music Played
Timings (where shown) are from the start of the programme in hours and minutes
Helping hedgehogs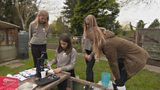 Three ten year olds, Sophie, Eve & Kyra, from Stratford upon Avon have an unusual hobby. They rehabilitate sick and injured hedgehogs. With a bit of help from local experts they're re-releasing their patients in the gardens where 400 years ago Shakespeare courted his bride-to-be. Ellie finds the girls in their back garden to see how they run their hedgehog hospital and joins them for a release at Anne Hathaway's cottage. For head gardener, Glyn Jones the hedgehogs might just be enough to keep the slug numbers down.
Salmon farming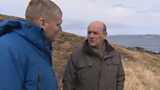 Tom Heap's in Scotland where a tiny creature is causing a big problem. Sea lice are the bane of salmon farmers and can be fatal for the fish. Environmentalists blame the farms and the lice for the fall in wild salmon and trout numbers. With the lice problem costing millions of pounds a year, the race is on to find the technology to beat them and it seems removing the fish from the water entirely might be the answer.
Taming the Tame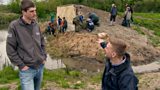 Between Birmingham and Tamworth lie a network of rivers, canals and waterways which provide a home to otters, herons and even the famous water vole. Despite being on the doorstep of over a million people the Tame Valley is a haven for Warwickshire's wetland wildlife. Water voles were once a common sight along Britain's rivers but their range shrunk dramatically as the countryside was industrialised and the invasive mink introduced. It's now only commonly found in tributaries further up the river. Steve Brown is on the scene to find out where the voles are and what work is being done to allow them to expand back into the valley.
Willow coffins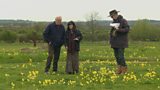 In a quiet, peaceful corner of Warwickshire there is a nature reserve with a difference. Sun Rising Natural Burial Ground is a cemetery where nature itself is the grounds keeper. John Craven finds out about the environmentally friendly ways to be buried and meets professional weaver Avril Smolders who can make all manner of items with her bendy willow branches. Avril's speciality is coffins. They are completely biodegradable and take over 4 weeks to make. John tries his hand to see if he too has the ancient gift of willow weaving.
Record breaking short horns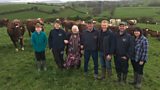 Adam is in Cumbria meeting family of dairy farmers who are bucking the trend and using traditional British Short Horns rather than the normal black and white dairy cows. James Robinson's family have been farming Short Horns in Kendal for more than 100 years and diary entries written by his grandfather during the war illustrate how interwoven the breed is with this family's own history. Adam joins the Robinsons on the best day of the Spring calendar for the 'lead out' when Jame's 250 strong herd taste fresh grass for the first time in nearly 5 months. 
Dennis' forest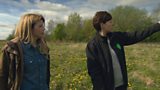 'A society grows great when old men plant trees whose shade they know they shall never sit in' Maverick billionaire and publisher Felix Dennis understood this Greek proverb and seems to have taken it quite literally. Appalled at how little forest cover there was in the UK he left the bulk of his estate to planting trees. Dennis passed away in 2014, but since the Heart of England Forest was founded it has created over 3,000 acres of new woodland. Ellie visits the forest to meet the people who share Felix's vision and find out more about the project.
Church Farm Brewery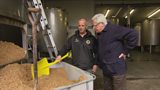 Taking an old family business in a new direction is always a risk but for one farm in the heart of Warwickshire, success has come in pints! In response to the tightening dairy margins the Reynolds family converted their dairy tanks to beer brewing and have never looked back. John Craven meets the family to see how the make their locally famous brews.
Credits
| Role | Contributor |
| --- | --- |
| Presenter | Ellie Harrison |
| Presenter | Steve Brown |
| Presenter | John Craven |
| Presenter | Adam Henson |
| Presenter | Tom Heap |
| Series Producer | Joanna Brame |
| Executive Producer | William Lyons |