Main content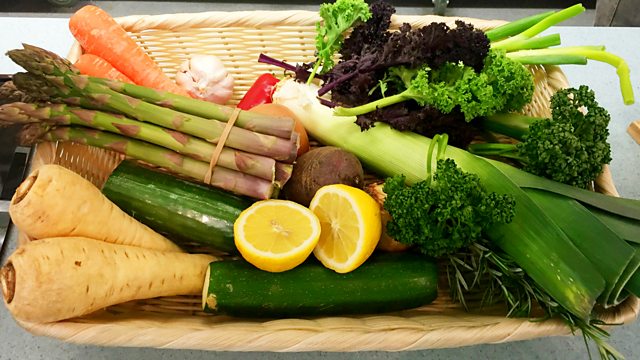 Veg Box Lottery
The Kitchen Cafe team focus on vegetables with Sumayya making a kale pakora starter, Neil making roast onion salad, and Flora turning a parsnip into dessert.
Carrots, kale and parsnip feature on this week's menu as the Kitchen Café team show you how to turn boring old veg into a mouth-watering 3-course meal. Sumayya's on the kale pakora starter, Neil does a roast onion salad for the main course and Flora turns a parsnip into a delicious pud. Also, food innovator Simon Preston visits carrot producer Steven jack in Moray to hear about his many varieties of colourful carrots.
Asparagus, sauce gribiche, watercress and radish by Neil Forbes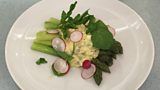 Ingredients
Allow 4 spears of asparagus per person, bottom 2 inches peeled
4 hard-boiled eggs
1 banana shallot, peeled and finely chopped
A pinch of tarragon, chopped
A pinch of parsley, chopped
A tablespoon cornichons  (pickled gherkins) chopped
A tablespoon of capers, chopped
4 big tablespoons of mayonnaise
Squeeze of lemon juice
A small hand full of watercress
A few radish, sliced
A drizzle of olive oil
A good knob of butter
Good salt and pepper
Method
Put a pan of water on the hob and bring to the boil, season with salt and blanch the asparagus for 3 to 4 mins until just cooked, then place in a bowl with the butter and season with salt and pepper.
To make the gribiche, simply place the mayonnaise in a bowl and add the chopped parsley, tarragon, shallot, cornichon, caper, and lemon juice.
Season and remove the egg yolk from the white and chop them both together.
Next, add the egg to the mix and combine.
Season and serve with the spears of asparagus on a plate with leaves of watercress and slices of radish and a trickle of olive oil.

Onion Salad by Neil Forbes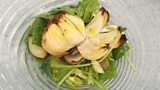 Ingredients for 4 portions
4 medium onions, peeled
4 handfuls of good salad leaf, watercress, rocket etc..
20 small pickling or silver skin onions, peeled
A few spring onions
Thyme, slither of garlic
Tablespoon of grain mustard
Tablespoon of hunny
Splash of red wine vinegar
6 tablespoons of olive oil or cold pressed rapeseed oil
Trickle of sunflower oil and some butter
Good salt and pepper
Radish
Method
Cut the onion 3/4 of the way down in a cross style and season with salt and pepper, trickle the sunflower oil all over and place in a hot oven, 200c for about an hour until soft and just caramelised. Meanwhile fry the wee onions in a little sunflower oil and butter then roast until browned for 30 to 49 mins.
Season and serve with the salad and spring onions chopped finely and a few slices of radish.
Place the roast onion on top of the salad and make a dressing by mixing the mustard and hunny, next trickle the vinegar and olive oil as you whisk, season and pour all over the salad and add a few slices of radish.
A good goats cheese or a hard cheddar would be nice with this too.

Kale and polenta pakoras by Sumayya Usmani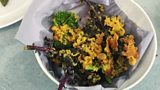 Ingredients
4 tbsp fine polenta
50 grams gram flour
1/2 tsp salt
1/2 tsp each dry roasted cumin and coriander seeds, ground
1/4 tsp turmeric (fresh in possible)
1/4 tsp ajwain seeds
1 fresh green or red chilli, chopped
1 tbsp chopped fresh coriander leaves
2 -3 handful kale leaves, washed
Water
Oil to fry
Method
Make a thick batter by combining all the ingredients (except kale), and ensure the thickness is a tiny bit more than pancake batter.
heat 25-30 ml vegetable oil in a frying pan, once hot, dip a couple of leaves of kale in the batter lightly and fry until golden brown. Serve hot.

Parsnip Cake by Flora Shedden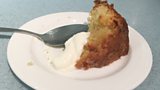 Ingredients
200g parsnip, grated
200g self raising flour
200g caster sugar
1 tsp ground ginger
200ml sunflower oil
2 large eggs
100g honey
50ml water
 
Method
Preheat the oven to 180C. Grease and line a 20cm cake tin. In a bowl mix the grated parsnip with the flour, sugar, ginger, oil and eggs. Beat until smooth and fully combined.
Pour into the prepared tin the bake for 45 minutes or until golden and skewer comes out of the centre clean. Allow to cool down a little. Boil the honey and water together for 2-3 minutes or until thickened slightly. Use a skewer to poke lots of little holes over the the top of the cake before pouring the hot honey all over. Cut and serve with a dollop of creme fraiche.

Podcast
Celebrate the joy of Scotland's larder with recipes, reviews, tips and delicious ideas!