Main content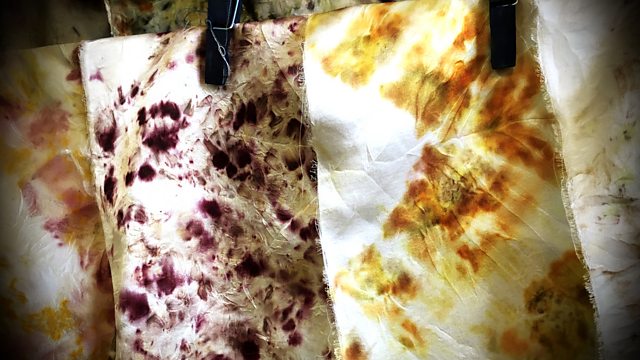 Paxton, Berwick-upon-Tweed
Horticultural panel programme. Peter Gibbs and the panel travel to Paxton near Berwick-upon-Tweed. Matt Biggs, Anne Swithinbank and Bob Flowerdew answer the audience questions.
Peter Gibbs and the panel travel to Paxton near Berwick-upon-Tweed. Matt Biggs, Anne Swithinbank and Bob Flowerdew answer the audience questions.
This week, the panellists help out with the local Onion Club's white rot problem, tackle early-seeding rhubarb and debate the pros and cons to mist-spraying fruit trees.
Also, Verity Sharp investigates the colourful world of dying clothes with plants.
Produced by Dan Cocker
Assistant Producer: Laurence Bassett
A Somethin' Else production for BBC Radio 4.
Paxton Fact Sheet
Q – I remove all the male flowers from my courgette plants. Is this right?
Matt – There's no harm in leaving them in there and you don't need to remove them.
Bob – You do need to do this with cucumbers though to stop them becoming bitter
Q – We have a thriving onion club in Paxton but we are suffering from White Rot.  What can we do to stop this?
Bob – There is no cure.  You need to start with clean seed, clean potting compost and grow in tubs. 
Q – After seeds have germinated and been potted on when is the optimum time for feeding?
Anne – I don't normally feed my seedlings, the act of potting them on is enough. However, if you're not moving them on and they get pot-bound then I would feed.
Q – Why has my rhubarb gone to seed in early April?
Anne – I think it's down to the variety.  I have a 'Timperley Early' that did well at my parents but has never flowered at mine.  It could be something in the climate.
Bob – It might be that the plants didn't do well last year so want to do better this year.  Chop them down as low as you can and then give them a good feed.
Matt – The combination of dry and cold could have stressed the plants
Q – Does mist-spraying fruit trees when they're in blossom protect from frost?
Bob – My vines, Kiwi and Mulberry have all been hit badly with frost this year.  If it's a light frost then spraying can help. Do it before the sun comes up if you can.  Vapours around the tree can help too.
Matt – A thin layer of fleece can really help
Q – I have over 350 square yards (293 square metres) of cobbles that are riddled with weeds.  What natural methods can you recommend?
Matt – You could try dry mortar mix to fill in the gaps
Anne – My husband sprays with glyphosate.  You could put a flock of chickens on it.
Bob – I use large pieces of old carpet over the winter and that keeps it weed free in spring.  Then I pour boiling water over it in small increments over the year.
Q – Our four-year-old Forsythia is large and healthy but it refuses to flower.  What can I do?
Matt – I would prune in April.  It flowers on one-year-old wood.  Make sure it is well watered and fed with sulphate of potash. 
Anne – I wouldn't prune until it starts flowering and then prune about a third of it and prune it hard!
Q – Pelargonium and Geranium cuttings: when is the best time to hormone rooting compound?
Anne – People don't use it any more
Bob – Don't pot your Pelargonium and Geranium cuttings the day you take them.  Let the cut end dry and close over then it roots better.
Q – In the wild most plants thrive without human attention, so why do we make such a fuss?
Anne – Because we're trying to grow plants not necessarily in their perfect environment
Bob – I'd dispute this – next time you're out in the wild look much closer! There are pests and diseases everywhere!