Main content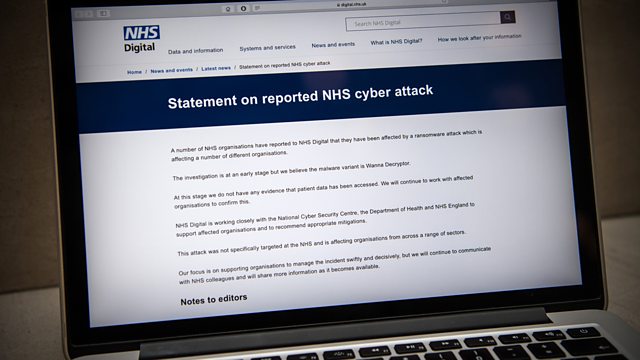 Global cyber-attack hits 70 countries and NHS
In-depth reporting and analysis from a global perspective. Huge ransomware attack 'targets old Windows systems'.
Windows XP computers in NHS organisations in England and Scotland - and more than 70 countries around the world - have been hit by a 'ransomware' attack. We get a roundup of the worldwide extent of the attack, hear from doctors' leader, Professor Helen Stokes-Lampard from the Royal College of General Practitioners and speak to a former US cybersecurity official, James Lewis, who served under President Obama. Also: the latest on the Iranian elections, and the futuristic composition commissioned for Liverpool Metropolitan Cathedral's inaugural mass 50 years ago - which finally gets its premier this weekend.
Picture: A message informing visitors of a cyber attack is displayed on the NHS website
Credit: Getty Images.
Podcast
In depth reporting, intelligent analysis and major breaking news from a global perspective