Main content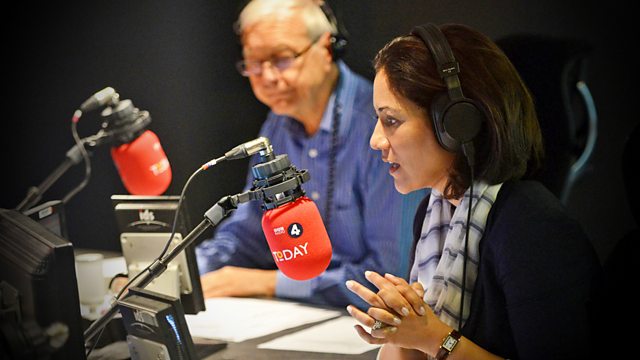 12/05/2017
Morning news and current affairs. Including Sports Desk, Weather and Thought for the Day.
Today's running order
0650
Foreign ministers from the eight countries with land in the Arctic Circle have ended their meeting in Alaska with a pledge for urgent action to tackle global warming. Victoria Herrman is President of the Arctic Institute.
0710
The Fawcett Society has predicted that the number of female MPs will flat-line at this election. Its analysis of candidates has found 33% are women and it predicts one less woman will be elected on June 8 than in the last parliament. Baroness Anne Jenkin is the Conservative co-founder of Women2Win.
0715
Labour leader Jeremy Corbyn will tell an audience at Chatham House that he is "not a pacifist" and accepts that military action is needed "as a last resort". Barry Gardiner is the shadow international trade secretary.
0720
For the first time in 24 years, the public will be able to swim in Manchester's Victoria Baths this Sunday. Gill Wright is project development manager for Victoria Baths.
0730
In recent years there has been a rise in the number of children going to special schools. Dr Adam Boddison is chief executive of the National Association of Special Educational Needs.
0740
Fidget spinners are the latest, stress-relieving toy that has become a craze among children. The BBC's Jon Kay went on the road to see if he could inject some life into the election campaign with his own fidget spinner.
0750
US President Donald Trump has insisted he is not under investigation, while dismissing the FBI director he fired as a "showboat" and "grandstander". Nancy Soderberg is the former deputy national security adviser under the Clinton administration and Lord Black is author of Richard M Nixon: A life in full.
0810
The Bank of England governor Mark Carney has warned of a consumer spending squeeze this year as inflation rises and real wages fall. Andrew Lilico is executive director of Europe Economics and Professor Ngaire Woods is dean of the Blavatnik School of Government at Oxford University.
0820
The virtuoso sitar player, Ravi Shankar's first and only opera receives its world premiere in Leicester four years after his death at the age of 92. The BBC's arts correspondent David Sillito reports.
0830
Have SNP calls for a second referendum on Scottish independence fallen quiet since Theresa May's general election announcement? Stephen Gethins is the SNP's Europe Spokesman.
0835
At least 39 people have died in Venezuela in anti-government protests that have lasted over a month. The BBC's Vladimir Hernandez reports from Caracas.
0840
The Hospice UK conference is celebrating the 50th anniversary of the foundation of modern hospice care in the UK by looking ahead to end of life care for the next 50 years. Dr BJ Miller is an American hospice and palliative medicine physician.
0850
How radical is Labour's draft manifesto from a business perspective? Nicola Horlick is the former investment fund manager and CEO of Money and Co which lends to small and medium sized British businesses and Will Hutton conducted a review of public sector pay for the Cameron government.
All timings subject to change