Main content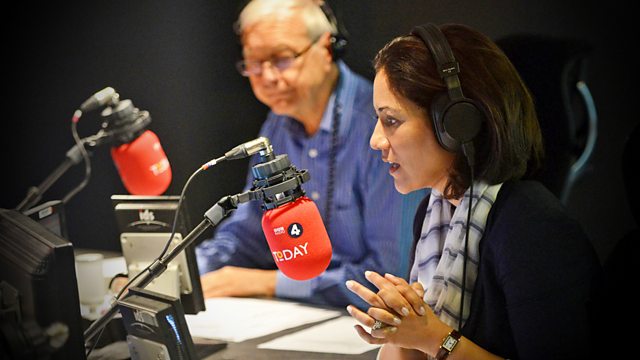 11/05/2017
Morning news and current affairs. Including Sports Desk, Weather and Thought for the Day.
Today's running order
0650
The Today programme will be looking at Brexit from the vantage point of Leeds and West Yorkshire. Paul Latham represents UKIP and Ed Carlisle is from the Green Party.
0710
Working class voters who backed the Leave campaign in the EU referendum are being targeted by big parties in the run up to the general election. Ben Page is chief executive of Ipsos MORI.
0715
A cold-calling firm has been fined a record £400,000 by the Information Commissioner's Office (ICO) for making almost 100 million nuisance calls. Simon Entwistle is the deputy information commissioner.
0720
Foreign ministers from the eight countries with land in the Arctic Circle are meeting in Alaska. Concerns have been raised about the Trump administration's policy on climate change. Victoria Herrman is the president of the Artic Institute.
0730
The Today programme will be speaking to voters who are being targeted by the big parties according the pollster Ipsos MORI. Nick Robinson spoke to seven working class voters who backed Leave in the referendum.
0740
Fiona McFarlane has been awarded the International Dylan Thomas literary prize for the best published literary work in the English language. She is the author of The High Places.
0752
Theresa May has announced that she will meet the NATO commitment to spend at least 2% of GDP on defence and will increase the defence budget by at least 0.5% above inflation in every year of the new Parliament. Sir Michael Fallon is the defence secretary.
0810
A draft of Labour's general election manifesto has been leaked, including plans to nationalise parts of the energy industry and scrap tuition fees. Andrew Gwynne is the Labour party's general election co-ordinator.
0820
Businesses which rely on imports from Europe to produce their products – will they be better or worse off after Brexit? Andy Mill is the finance director of Winder Power and James Andrews is head of investment management at Redmayne-Bentley.
0840
NATO Secretary-General Jens Stoltenberg spoke to John Humphrys about his concerns over Russia's activities in the last couple of years.
0850
How will party promises improve the UK after Brexit? Nick Robinson speaks to three Yorkshire MPs: Hilary Benn is a Labour MP, Greg Mulholland is a Liberal Democrats MP and Kevin Hollinrake is a Conservative MP.  
0855
Kate Moss's daughter Lila Grace has come under fire after launching her first fashion campaign. The Braid Bar. which shows the 14-year-old with her hair done up in colourful braids. Social media comments accused the company of "cultural appropriation". Afua Hirsch is a writer, lawyer and broadcaster of Ghanian and English heritage and Tiffacy Jenkins is author of Keeping Their Marbles.
All timings subject to change