Main content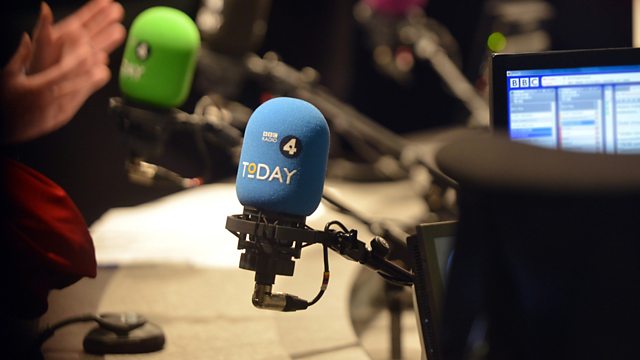 10/05/2017
Morning news and current affairs. Including Sports Desk, Weather and Thought for the Day.
Last on
Today's running order
0650
The South West Open Youth Orchestra gives musical opportunities to people with severe physical and mental impairments. Yesterday it won a major classical music award. Barry Farrimond is founder of the South-West Open Youth Orchestra.
0710
President Donald Trump has fired the director of the FBI James Comey over his handling of the inquiry into Hillary Clinton's emails, the administration says. Dan Balz is chief correspondent at the Washington Post.
0715
Road safety campaigners are warning that roads in England and Wales are at risk of becoming increasingly "lawless" because of cuts to traffic policing. Gerard McManus is a bereaved father from the West Midlands and Amy Aeron-Thomas is an advocacy and justice manager at Road Peace.
0720
Business Secretary Greg Clark told us on this programme yesterday that there is "no suggestion" that skilled migrants will be kept out. So where will the migration cuts come from? Peter Lilley is a former Conservative cabinet minister and Jonathan Portes is professor of economics and public policy at King's College.
0730
Labour and the Liberal Democrats are both making multibillion pound funding pledges to tackle school cash shortages in England. Angela Rayner is the shadow education secretary.
0740
The Mays went on the BBC's One Show last night to give us an insight into their life behind the door of Number 10. Rosa Prince is the author of Theresa May: The Enigmatic Prime Minister and Camilla Cavendish is the former head of Downing Street Policy Unit.
0750
The NATO Secretary General, Jens Stoltenberg is expected to discuss a request for more British troops to be sent to Afghanistan with Theresa May later this morning. General Sir Richard Barrons is the former commander of joint forces command.
0810
The White House shocked Washington by announcing that James Comey "has been terminated and removed from office".  Aleem Maqbool is the BBC's North America correspondent and Michael Hayden is the former director of the national security agency and CIA.
0820
The Liberal Democrats say they would put £7bn into education over the next five years. Tim Farron is leader of the Liberal Democrats.
0830
Ireland and its relationship with Britain will be one of the EU's top priorities in the Brexit negotiations. Michel Barnier and Tony Blair will give speeches in Dublin tomorrow to highlight Ireland's importance. Bertie Ahern is the former Irish Taoiseach.
0840
Over two thousand people died and many more had their lives devastated after being infected with Hepatitis C and HIV through NHS blood products in the 1970s and 80s. Panorama examines recently released documents, and asks if the government could have done more to save lives. Dr Brian Colvin is the director of the Haemophilia Centre at the Royal London Hospital.
0845
The Sydney Opera House will undergo renovation later this month, The BBC's Hywell Griffith reports.  
0850
President Bill Clinton is going to write a novel with the thriller writer James Patterson which they are describing as a "behind the scenes drama from the highest corridors of power". Jonathan Freedland is a best-selling thriller writer and James Rubin was assistant secretary of state for Public Affairs in the Clinton administration.  
0855
The Conservative party has been criticised for taking front-page adverts in local newspapers in areas where elections are being held. Roy Greenslade is the Guardian media commenter and Andy Parkes is the group editor of Newsquest South London.
All timings subject to change
Broadcast