Main content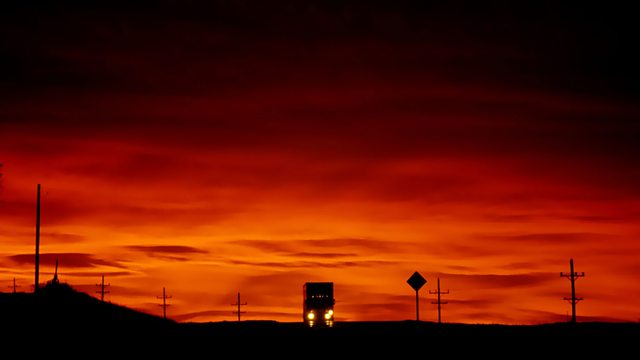 Proms 2016: Britten Sinfonia
John Shea presents a concert from the 2016 Proms, with Thomas Ades conducting the Britten Sinfonia in a programme of Beethoven, Prokofiev and his own work.
John Shea presents a concert from the BBC Proms 2016: Thomas Adès conducts Britten Sinfonia in a programme of Beethoven, Adès and Prokofiev.
1:01 AM
Prokofiev, Sergey [1891-1953]
Symphony No. 1 in D major, Op.25 (Classical)
Britten Sinfonia, Thomas Adès (conductor)
1:15 AM
Coll, Francisco [b.1985]
Four Iberian Miniatures for violin and orchestra
Augustin Hadelich (violin) Britten Sinfonia, Thomas Adès (conductor)
1:28 AM
Adès, Thomas [b.1971]
Lieux Retrouvés, for cello and orchestra
Steven Isserlis (cello) Britten Sinfonia, Thomas Adès (conductor)
1:45 AM
Beethoven, Ludwig van [1770-1827]
Symphony No. 8 in F major, Op.93
Britten Sinfonia, Thomas Adès (conductor)
2:08 AM
Bruckner, Anton (1824-1896)
Te Deum in C major for soloists, chorus and orchestra
Giorgia Milanesi (soprano), Anne Margrethe Punsvik Gluch (soprano), Ulfried Haselsteiner (tenor), Thomas Mohr (baritone), Håvard Stendsvold (bass-baritone), Kristiansand Cathedral Choir, Norwegian Radio Orchestra, Rolf Gupta (conductor)
2:34 AM
Ravel, Maurice [1875-1937]
Trio in A minor for piano and strings
Altenberg Trio, Vienna
3:01 AM
Debussy, Claude (1862-1918)
String Quartet in G minor, Op.10
Tilev String Quartet
3:27 AM
Beethoven, Ludwig van (1770-1827)
Piano Sonata No.23 in F minor, Op.57, 'Appassionata'
Plamena Mangova (piano)
3:52 AM
Druschetsky, Georg (1745-1819)
Sextet in E flat major for 2 clarinets, 2 horns and 2 bassoons
Bratislava Chamber Harmony
4:11 AM
Biber, Heinrich Ignaz Franz von (1664-1704)
Kyrie from Missa Sancti Henrici, for 5 soloists, 5-part chorus, 5 trumpets, timpani, 2 violins, 3 violas, violone, and organ (1701)
James Griffett (tenor), Michael Schopper (bass), Regensburger Domspatzen, Collegium Aureum, Herbert Metzger (organ), Georg Ratzinger (conductor)
4:19 AM
Chopin, Frédéric (1810-1849)
Scherzo No.2 in B flat minor, Op.31
Alex Slobodyanik (piano)
4:29 AM
Viotti, Giovanni Battista [1755-1824]
Serenade in A major for 2 violins, Op.23 No.1
Angel Stankov (violin), Yossif Radionov (violin)
4:39 AM
Vivaldi, Antonio [1678-1741]
Concerto in A minor for recorder, two violins and continuo, RV 108
Bolette Roed (recorder), Arte dei Suonatori (ensemble)
4:47 AM
Albeniz, Isaac [1860-1909]
Cordoba (Nocturne), from Cantos de Espana Op.232
Henry-David Varema (cello), Heiki Mätlik (guitar)
4:54 AM
Nielsen, Carl (1865-1931)
Overture to Maskarade, FS.39
Bergen Philharmonic Orchestra, Leif Segerstam (Conductor) Recorded at Grieghallen, Bergen on 21 September 2006
5:01 AM
Telemann, Georg Philipp (1681-1767)
Trio No.8 from Essercizii Musici, for recorder, harpsichord obligato, and continuo
Camerata Köln
5:09 AM
Cavalli, Francesco (1602-1676)
Lauda Jerusalem (Psalm 147) - for 2 choirs and instruments
Concerto Palatino
5:19 AM
Mozart, Wolfgang Amadeus (1756-1791)
Piano Duet Sonata in B flat major, K358
Leonore von Stauss & Wolfgang Brunner (fortepiano)
5:30 AM
Brahms, Johannes (1833-1897)
Theme with Variations, from Sextet in B flat major Op.18
Wiener Streichsextet: Erich Hobarth, Peter Matzka (violins), Thomas Riebl, Siegfried Fuhrlinger (violas), Susanne Ehn, Rudolf Leopold (cellos)
5:40 AM
Ranta, Sulho (1901-1960)
Finnish Folk Dances - suite for orchestra, Op.51
Finnish Radio Symphony Orchestra, Jukka-Pekka Saraste (Conductor)
5:49 AM
Schumann, Robert (1810-1856)
Adagio and Allegro in A flat, Op.70
Li-Wei (cello), Gretel Dowdeswell (piano)
5:59 AM
Grieg, Edvard (1843-1907)
Violin Sonata No.3 in C minor, Op.45
Alena Baeva (violin), Giuzai Karieva (piano)
6:22 AM
Moniuszko, Stanisław (1819-1872)
String Quartet No.1 in D minor (1837-1840)
Camerata Quartet - Wlodzimierz Prominski, Andrzej Kordykiewicz (violins), Piotr Reichert (viola), Roman Hoffmann (cello)
6:38 AM
Bantock, Granville [1868-1946]
Celtic Symphony, for strings and 6 harps
BBC Symphony Orchestra, Sakari Oramo (conductor).