Main content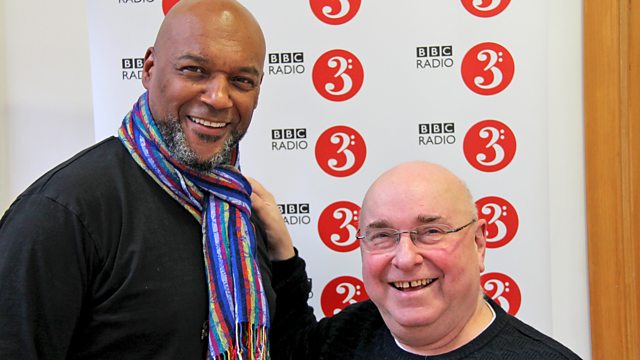 Wednesday - Rob Cowan with Colin Salmon
With Rob Cowan. Musical challenge; Music in Time: Modern: Rautavaara's Cantus Arcticus; Artist of the Week: Charles Dutoit, featured conducting Chopin's Piano Concerto No 2.
9am  
Rob sets the tone and mood of the day's programme with a range of music to intrigue, surprise and entertain.  
9.30am
Take part in our daily musical challenge: identify a piece of music played in reverse.   
10am
Rob's guest this week is the actor Colin Salmon. Colin is best known for playing M's Chief of Staff in three James Bond films and for his roles in action-horror films such as Resident Evil and Alien vs. Predator. He made his feature debut in the TV series Prime Suspect 2 and recent credits include Limitless for CBS and Henry IX for UKTV. Colin had a very musical childhood playing the trumpet in a Salvation Army band and he still considers music as more than just a hobby. He's played at the Cheltenham Jazz Festival and he combined music with acting in his role for the BBC's adaption of Alexander McCall Smith's The No.1 Ladies' Detective Agency. As well as discussing his acting work, Colin shares his passion for classical music choosing a selection of his favourite works. Across the week we'll hear music by composers including Prokofiev, Richard Strauss and Gershwin.
10.30am 
Music in Time: Modern
Today Rob looks back to the recent past with Rautavaara's Cantus Arcticus of 1972 - a work that incorporates recordings of birdsong made near the Arctic Circle and on the bogs of Liminka in northern Finland.
 
11am
Rob's Artist of the Week is the Swiss conductor Charles Dutoit. In 1977, Dutoit became the Artistic Director of the Montreal Symphony Orchestra (OSM) - a position he held for some twenty-five years. During his tenure, he raised the orchestra's recording profile and reputation significantly, making it one of the leading orchestras in the French-speaking world. While he's best-known for his association with the OSM, Dutoit has also conducted the Philadelphia Orchestra, the Orchestre National de France, Tokyo's NHK Symphony Orchestra, and the Royal Philharmonic Orchestra, as well as the Verbier Festival Orchestra in Switzerland. He is celebrated in particular for his recordings of the Romantic repertoire, and during the course of the week we'll hear him conduct Ravel's Mother Goose, Dutilleux's violin concerto L'arbre des songes (with soloist Isabelle van Keulen), Tchaikovsky's Swan Lake, Haydn's Symphony No.82 'The Bear' and Chopin's Piano Concerto No.2 in F minor, with Dutoit's former wife, Martha Argerich, as soloist.
 
Chopin
Piano Concerto No.2 in F minor
Martha Argerich (piano)
Montreal Symphony Orchestra
Charles Dutoit (conductor).
Music Played
Colin Salmon's Choice

Music in Time: Modern

Artist of the Week: Charles Dutoit