Main content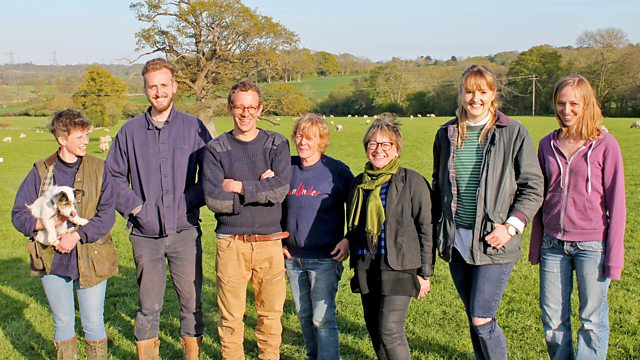 Out Like a Lamb
Why aren't millennials cooking with lamb? Ben and Barry from SORTEDfood plus food writer Yasmin Khan give Sheila Dillon some inspiration for cooking lamb on a weeknight.
Lamb. Long a staple of the UK dinner table. But one glance at the statistics and it's obvious that 'Generation Y' aren't inspired. Estimates suggest under 30s are buying just 15g of lamb a week. That's just over 10 lamb chops in a year and less than half the UK average.
In this programme Sheila Dillon asks young butchers, food entrepreneurs and a 3rd generation sheep farmer in his thirties whether there's any saving shepherd's pie, lamb shanks and Irish stew. She gets a lesson in Iranian midweek lamb cooking from cook and author of 'The Saffron Tales' Yasmin Khan. And Ben Ebbrell and Barry Taylor from SORTEDfood share the lamb recipes which excite their 1.7 million Youtube subscribers.
Presented by Sheila Dillon
Produced in Bristol by Clare Salisbury.
Yasmin Khan's week night Vaavishkaa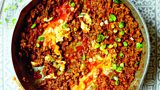 Spiced lamb with eggs and spring onions
Vaavishkaa
This rustic dish from the north of Iran was one of my grandfather's favourite meals and, according to my gran, the only thing he knew how to cook. The name, Vaavishkaa, suggests it is of Russian origin, which is unsurprising given the trade activity along the shores of the Caspian Sea over the centuries. Whatever its origins, it is a great dish to make if you want to whip up something quick and easy. The lamb is first poached and then lightly fried with tomatoes and spices – perfect for scooping up with some flatbread or serving with fluffy white rice, some natural yoghurt and a crunchy Salad Shirazi; a few radishes would go down very well too.
500g minced lamb (or beef)
1 medium onion, finely chopped
400ml cold water
1 tsp turmeric
½ tsp black pepper
4 tomatoes
2 tbsp tomato purée
¼ tsp cayenne pepper
1 tsp sea salt
2 tbsp sunflower oil
2 medium eggs
2 spring onions, trimmed and finely chopped, to garnish
Place the meat and onions in a saucepan and pour in the cold water. Add the turmeric and pepper and stir well. Place a lid on the pan and simmer for 20 minutes over a low heat.
Meanwhile, skin the tomatoes by scoring the skins with a sharp knife a few times and placing them in a bowl of just boiled water for about a minute. Drain well, then rub off the skin. Cut the tomatoes in half, remove and discard the seeds, then cut into small dice.
Add the diced tomato to the pan, along with the tomato purée, cayenne and salt, followed by the oil. Simmer with the lid on for another 15 minutes, stirring occasionally, and then cook for 5 minutes with the lid off until the sauce has the consistency of a thick ragu.
Crack the eggs into the pan and leave to set for a minute. Gently run a wooden spoon through the yolks a few times. Don't mix too much, as you want to have chunks of egg in the final dish, not scrambled eggs. Place a lid on until the eggs are set and then taste to adjust the seasoning.
Serve with the spring onions sprinkled on top.
Serves 4
Recipe taken from The Saffron Tales by Yasmin Khan, published by Bloomsbury
Photography © Shahrzad Darafsheh
Inspired?
Biryani, samosas, moussaka, crispy chilli lamb... 
SORTEDfood
 have loads of easy recipes for cooking lamb on their website.
Credits
| Role | Contributor |
| --- | --- |
| Presenter | Sheila Dillon |
| Interviewed Guest | Yasmin Khan |
| Interviewed Guest | Ben Ebbrell |
| Interviewed Guest | Barry Taylor |
| Producer | Clare Salisbury |