Main content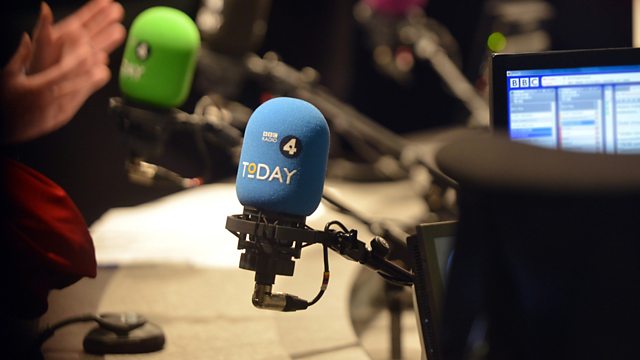 03/05/2017
News and current affairs. Including Sports Desk, Yesterday in Parliament, Weather, Thought for the Day.
Running order
0650
New research suggests that people taking statins complain of increased muscle pain mainly because they have been warned that it is a possible side effect of the drug and not because they are actually experiencing more pain than usual. Professor Peter Sever is the lead report author from the National Heart and Lung Institute, Imperial College London.
0655
On Tuesday we played a report about a musician playing alongside Nightingales. But it's not just the nightingale which has inspired music – in fact the great French composer Olivier Messiaen drew from the birdsong of several different species.  Classical pianist Pierre-Laurent Aimard worked closely with and has performed the works of the late French modernist composer.
0709
Diane Abbott says she "misspoke" when she got confused over the cost of Labour's pledge for 10,000 extra police officers for England and Wales. John McDonnell is the shadow chancellor.
0715
Theresa May supposedly reached the decision to call a General Election while she was on a walking holiday  in Snowdonia - inspired, perhaps, by the glory of the scenery. In the run up to the election our chief correspondent Matthew Price is going to take a number of people up a mountain to try to solve a problem - starting today with our topic of the morning - how should we pay for our social care needs?
0730
The Telegraph has a leak of what it says are the main measures in the Government's air pollution strategy – the Government yesterday said would appeal against a High Court decision to force it to publish the strategy before 9th May. Anna Heslop is an air quality lawyer for ClientEarth.
0740
The play Angels in America was a theatrical landmark - a seven and a half hour examination of the AIDs crisis, gay identity and US politics. It came out in 1992 and it is now back at the National Theatre. The BBC's arts correspondent David Sillito went to see one of the final rehearsals.
0750
On the last day of campaigning before the local elections, the issue of social care is likely to be paramount in the minds of voters as they enter the polling booths. Sir Andrew Dilnot chaired the Government's Commission on Funding of Care and Support in 2010.
0810
Theresa May said she'd be living up to her reputation as a "bloody difficult woman" while negotiating Britain's exit from the EU. This follows reports in the German press about the difficult dinner between Jean Claude Juncker and Theresa May. David Davis is Brexit Secretary and was present at the dinner.
0820
Being favourite to win the French presidency brings its own troubles in an era of political convulsions. For Emmanuel Macron, his En Marche party is a new creation and his profile is hazy to many voters. James Naughtie reports from the south of France.
0840
After Diane Abbotts "misspeaking" yesterday about how much it would cost to have 10,000 more police officers, we look back at other interviews that haven't quite gone to plan.
0845
The nominees for the Turner prize are to be announced this morning. The BBC's arts editor Will Gompertz reports.
0850
20 years after Tony Blair shot to power as Britain's youngest ever Prime Minister, projecting the image of the relatable family man, to what extent do politicians today still rely on the traditional nuclear family structure as a campaigning tool? Sandra Howard is a model and novelist who is wife of former Conservative leader Michael Howard and Tom Baldwin is former director of communications and strategy at the Labour party and was senior adviser to Ed Miliband.
All subject to change.