Main content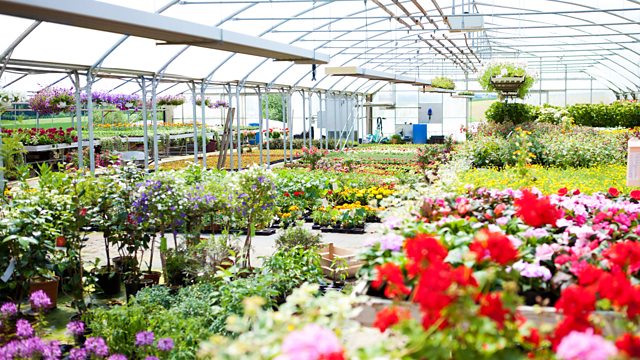 Garden centres, Caribbean holiday nightmare, Buying fine art online
Garden centre sales continue to rise every year but will a nation of renters change that? And who is buying art without seeing it first - online sales are up 15% year on year.
Garden Centres have seen sales rise every year for the last five years, why are we spending money on our gardens at a time when we're spending less on food and clothes? We visit Barton Grange, an independent garden centre in the North West to find out who their customers are, and what plans they have to attract a younger consumer.
It's nearly a year since the second largest garden centre chain, Dobbies, was sold by Tesco. We speak to the new CEO Nicholas Marshall about his plans for the company. How can the gardening industry respond to changes in the way we live? The number of people renting in the private sector has doubled in the last ten years, and analysis by the accounts Price Waterhouse Cooper suggests a quarter of all households will be private renters by 2025. How can garden centres attract a customer who doesn't own their garden? The RHS Chatsworth Show will have a garden made for renters this summer, we meet the gardener who designed it.
If you book a holiday and your travel company knows there's building work going on at your resort, you should be told about it. Travel companies that fail to do this can be fined by the Association of British Travel Agents, ABTA. We hear from a listener who spent over six thousand pounds on a dream Caribbean holiday only to find it was a building site.
According to the Hiscox Online Art Market report 2017, online sales now make up over 8% of the international art market. Last year saw a 15% increase in the number of art sales that took place online. So who is buying fine art without seeing it first? We speak to Paul Liss, whose gallery that went online only five years ago and Louisa Buck, The Art Newspaper's Contemporary Art Correspondent.
Presented by Winifred Robinson
Produced by Beatrice Pickup.
Last on

Chapters
Dobbies CEO

How is the second largest garden centre chain faring a year after it was sold by Tesco?

Duration: 02:10

Garden Centres

Latest footfall and sales figures for the garden centres sector

Duration: 04:40

Dobbies CEO part 2

How important are plant sales for garden centres and what online plans do Dobbies have?

Duration: 04:06

Caribbean Nightmare

ABTA says travel companies must tell customers about building work at holiday resorts

Duration: 06:21

Fine Art Online

A report by insurers Hiscox found the online art market has grown 15% in the last year

Duration: 07:15

Generation Rent and Gardening

RHS Chatsworth will display a portable garden designed for renters this summer

Duration: 06:19

Park Home Fraud

Conmen who installed useless insulation beneath mobile homes are jailed

Duration: 07:14

Broadcast