Main content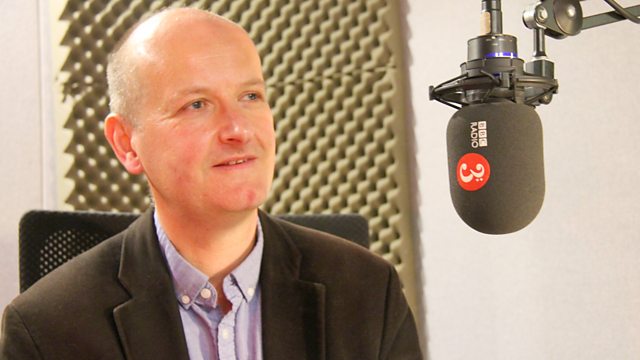 Thursday - Sarah Walker with Ian Mortimer
With Sarah Walker. Including Musical challenge; Music in Time: Sweelinck; Artists of the Week: Belcea Quartet, featured playing Beethoven's String Quartet in C sharp minor, Op 131.
9am  
Sarah sets the tone and mood of the day's programme with a range of music to intrigue, surprise and entertain.  
9.30am  
Take part in our daily musical challenge. Two pieces of music are played together. Can you identify them? 
 
10am
As Radio 3 celebrates the 500th anniversary of the Protestant Reformation, Sarah Walker is joined by the historian Ian Mortimer to explore the momentous changes that the Reformation brought to music and the arts.
Ian is best-known for his book The Time Traveller's Guide to Medieval History, which became a Sunday Times Bestseller. After completing his PhD he worked for several major research institutions including the Royal Commission on Historical Manuscripts and the universities of Exeter and Reading, all of which gave him a hands-on experience of history. He has also written poetry and a series of historical fiction novels under the pseudonym James Forrester. Ian believes that history is about people, not the past, and in his Time Traveller's Guide series he immerses readers in the real-life, everyday practicalities and concerns of men and women living in the Medieval era, the Restoration period, or Elizabethan England. Throughout the week Ian and Sarah will discover how music was shaped by the events, personalities and societies of these times.
10.30am 
Music in Time: Renaissance Reformation Reflections
Today Sarah's in late Renaissance introducing the music of the Dutch composer and organist Jan Pieterszoon Sweelinck. He made many settings of psalms from the Genevan Psalter, a book created under the supervision of leading religious reformer, John Calvin.
Double Take 
Sarah explores two interpretations of Mozart's Rondo for Horn and Orchestra in E flat major K.371, comparing performances by Barry Tuckwell, and Roger Montgomery playing it on a natural horn.
11am 
Sarah's Artist of the Weeks are the Belcea Quartet, which was formed under the leadership of violinist Corina Belcea in 1994, when the original members were still students at the Royal Academy of Music. Five years later they were one of the first groups selected to participate in Radio 3's New Generation Artists Scheme, and in 2001 they won the Gramophone Award for best debut recording. They have gone on to make acclaimed recordings of the core quartet repertoire, ranging from Mozart to Schoenberg, as well as collaborations with the tenor Ian Bostridge and bass, Jonathan Lemalu. The quartet combines technical brilliance with emotional intensity as we'll hear through the week in their recordings of quartets by Debussy, Schoenberg, Beethoven, Mozart and Schubert.
Beethoven 
String Quartet in C sharp minor, Op.131
Belcea Quartet.
Music Played
IAN MORTIMER'S FIRST CHOICE

IAN MORTIMER'S SECOND CHOICE

IAN MORTIMER'S THIRD CHOICE

MUSIC IN TIME: RENAISSANCE

DOUBLE TAKE

ARTIST OF THE WEEK: BELCEA QUARTET
Musical Challenge: Imperfect Harmony
The two pieces we heard simultaneously were 'Hemiones (wild asses)' from Carnival of the Animals and the 'Bacchanale' from Samson and Delilah, both by Saint-Saëns
Breaking Free - Martin Luther's Revolution