Main content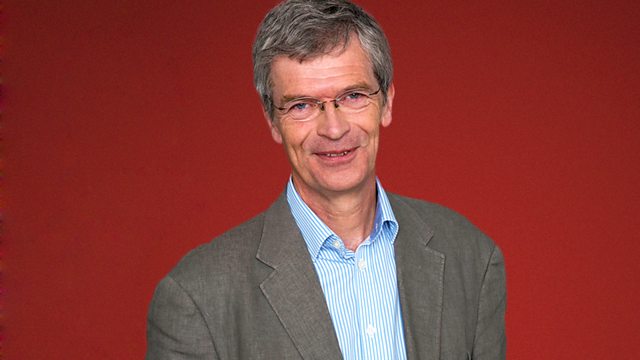 29/04/2017
In this week's selection of listeners' requests in all styles and periods of jazz, Alyn Shipton plays music by the Modern Jazz Quartet featuring the writing and piano playing of John Lewis.
Performers:
Artist  Modern Jazz Quartet
Title  A Night In Tunisia
Composer Gillespie / Paparelli 
Album  The Modern Jazz Quartet
Label  Pollwinners
Number  27341 Track 4
Duration  6.11
Performers: John Lewis, p; Milt Jackson, vib; Percy Heath, b; Connie Kay, d. 5 April 1957.

Artist  Mel Powell
Title  The World Is waiting for the Sunrise
Composer Seitz / Lockhart
Label  Commodore
Number  544 side A
Duration  2.37
Performers: Billy Butterfield, t; Lou McGarity. tb; Benny Goodman, cl; George Berg, ts; Mel Powell, p; Al Morgan, b; Kansas Fields, d.  Feb 1942

Artist  Louis Armstrong and Ella Fitzgerald
Title  Tenderly
Composer Lawrence / Gross
Album  Ella & Louis
Label  One
Number  59805 CD 1 Track 6
Duration  5.11
Performers: Louis Armstrong, t, v; Ella Fitzgerald, v; Oscar Peterson, p; Herb Ellis, g; Ray Brown, b; Buddy Rich d. August 1956

Artist  Chuck Berry
Title  Sweet Little Sixteen
Composer Berry
Album  Jazz on a Summer's Day
Label  Charly
Number  686 Track 9
Duration  4.01
Performers: Chuck Berry, g, v; Jack Teagarden, tb; Buck Clayton, t;  Buddy Tate, George Auld, Rudy Rutherford, reeds; Pete Johnson, p;  Jo Jones, d. 1958

Artist  Duke Ellington
Title  Moon Maiden
Composer Ellington
Album  Intimate Ellington
Label  Pablo
Number  2310 787 Track 1
Duration  2.42
Performers: Duke Ellington, celesta, v. 1969.

Artist  Benny Carter / Earl Hines Quartet
Title  Who's Sorry Now
Composer Kalmar / Ruby / Snyder
Album  Swingin' The 20s
Label  Essential Jazz Classics
Number  EJC 5522 Track 6
Duration  2.23
Performers: Benny Carter, as; Earl Hines, p; Leroy Vinnegar, b; Shelly Manne, d. 2 Nov 1958.

Artist  Bill Evans
Title  Soirée
Composer Zindars
Album  From Left to Right
Label  MGM 
Number  SE 4723 Side A Track 4
Duration  3.25
Performers: Bill Evans, p, elp; Eddie Gomez, b; Marty Morell, d.  1970

Artist  Tim Garland
Title  The Eternal Greeting
Composer Garland
Album  One 
Label  Edition
Number  1072 Track 3
Duration  5.59
Performers: Tim Garland, ts; Ant Law, g; Jason Rebello, kb; Asaf Sirkis, d. 2016.

Artist  Barb Jungr
Title  Every Grain of Sand
Composer Dylan
Album  Every Grain of Sand
Label  Linn
Number  AKD 581 Track 15
Duration  4.23
Performers: Barg Jungr, v; Simon Wallace, kb; Sonya Fairburn, vn; Sonia Oakes Stuart, vc; Julie Walkington, b; Kim Burton, acc; Gary Hammond, perc; Mark Lockheart, ts. 2002.

Artist  Ken Colyer
Title  Midnight Special
Composer trad
Album  Back to the Delta
Label  Decca
Number  LF 1196 Side B Track 1
Duration  2.41
Performers: Ken Colyer, g, v; Alexis Korner, g; Mickey Ashman, b; Bill Colyer, wb. 25 June 1954.

Artist  Bunk Johnson and Sidney Bechet
Title  Porto Rico
Album  Complete Blue Note Recordings of Sidney Bechet
Label  Mosaic
Number  MD4-112 CD 2 Track 4
Duration  3.12
Performers Bunk Johnson (tpt), Sidney Bechet (clt), Sandy Williams (tbn), Cliff Jackson (pno), 'Pops' Foster (bs) and Manzie Johnson (dms).  New York, 10 March 1945

Artist  George Lewis
Title  Walking with the King
Composer trad
Album  Complete Blue Note Recordings of George Lewis
Label  Mosaic
Number  MD3 132 CD 2 Track 11
Duration  2.52
Performers: Kid Howard, t,v; George Lewis, cl; Jim Robinson, tb; Alton Purnell, p; Lawrence Marrero, bj; Slow Drag Pavageau, b; Joe Watkins, d.

Artist  Cannonball Adderley
Title  Sack o'Woe
Composer Adderley
Album  At The Lighthouse
Label  Capitol
Number  31572 Track 1
Duration  10.31
Performers: Nat Adderley, c; Cannonball Adderley, as; Victor Feldman, p; Sam Jones, b; Louis Hayes, d. 16 Oct 1960.