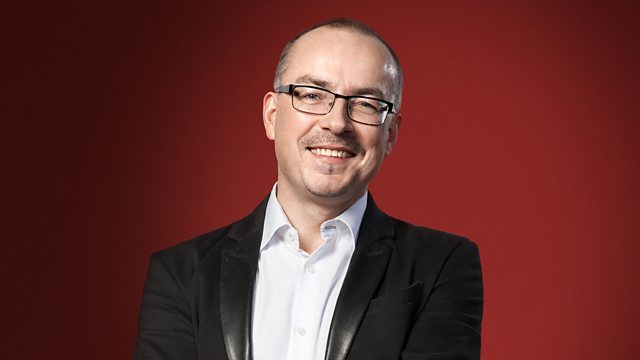 Andrew McGregor with Natasha Loges and Toks Dada
with Andrew McGregor.
0930
Building a Library with Natasha Loges on Schumann's song cycle 'Liederkreis', Op.24, composed in 1840, the year he almost exclusively devoted to song composition immediately after his marriage to Clara.
1030
Toks Dada joins Andrew to review recent releases of twentieth-century repertoire
1145
Andrew chooses an outstanding new release as his Disc of the Week.
Last on
9am
MOZART: Symphony No. 39 in E flat major, K. 543; Symphony No. 40 in G minor, K. 550; Symphony No. 41 in C major, K. 551 "Jupiter"
Berlin Philharmonic Orchestra, Sir Simon Rattle (conductor)
BERLINER PHILHARMONIKER BPHR17032 (download only)
Schumann: Einsamkeit
SCHUMANN: Gedichte (6) und Requiem Op. 90; Der Einsiedler Op. 83 No. 3; Die Lotosblume Op. 25 No. 7; Du bist wie eine Blume Op. 25 No. 24; Der Himmel hat eine Trane geweint Op. 37 No. 1; Was will die einsame Trane Op. 25 No. 21; Mein Schoner Stern! Op. 101 No. 4; Nachtlied Op. 96 No. 1; Es sturmet am Abendhimmel Op. 89 No. 1; Heimliches Verschwinden Op. 89 No. 2; Herbstlied Op. 89 No. 3; Abschied vom Walde Op. 89 No. 4; Ins Freie Op. 89 No. 5; Abendlied Op. 107 No. 6
Matthias Goerne (baritone), Markus Hinterhauser (piano)
HARMONIA MUNDI HMM902243 (CD)

Rostropovich & Britten [recorded live at the 1961 Aldeburgh festival]
BACH, J S: Cantata BWV41 'Jesu, nun sei gepreiset': Woferne du den edlen Frieden; Cello Suite No. 3 in C major, BWV1009
BRITTEN: Sonata for cello and piano in C major Op. 65; Sonata for cello and piano in C major Op. 65: V. Moto perpetuo: Presto; Sonata for cello and piano in C major Op. 65: IV. Marcia. Energico
DEBUSSY: Cello Sonata
SCHUBERT: Sonata in A minor 'Arpeggione', D821
SCHUMANN: Stucke im Volkston (5) Op. 102
Mstislav Rostropovich (cello), Benjamin Britten (piano), Peter Pears (tenor)
TESTAMENT SBT21517 (2CD)
MAHLER: Symphony No. 2 in C minor, 'Resurrection', tr. David Briggs
David Briggs (JW Walker & Wood organ of Blackburn  Cathedral), Christina Stelmacovich (mezzo-soprano), Julia Morson (soprano), City of Birmingham Choir, Renaissance Singers
CHESTNUT MUSIC CD012
9.30am – Building a Library
Composer: Robert Schumann
Piece: Liederkreis, Op. 24
Reviewer: Natasha Loges
Building a Library: Schumann's Liederkreis Op.24
Recommended recording:
Ian Bostridge (tenor), Julius Drake (piano)
WARNER 5565752 [available as a download]
Other recommended recordings:
Below is a shortlist of other recordings which Natasha also liked.
Dietrich Fischer-Dieskau (baritone), Hertha Klust (piano)
WARNER 5627552
Werner Güra (tenor)/Christoph Berner (piano)
HARMONIA MUNDI HMG501842
Christopher Maltman (baritone), Graham Johnson (piano)
HYPERION CDJ33108
10.20am – Monteverdi Anniversary
Monteverdi: Night - Stories of Lovers and Warriors
MONTEVERDI: L'Orfeo: Sinfonia a 7; Hor che'l ciel e la terra (Book 8); Cosi sol d'una chiara fonte viva (Book 8); Sinfonia; Il Combattimento di Tancredi e Clorinda; Il ritorno d'Ulisse in patria: Sinfonia; Non havea Febo ancora; Amor dicea (complete duets 2); Si tra sdegnosi; Al lume delle stelle; A Dio, Florida bella (Book 6); Il ottavo libro de madrigali, 1638 'Madrigali guerrieri et amorosi': Sinfonia; Ecco mormorar l'onde (from Secondo Libro de Madrigali); Quando l'Alba in Oriente
Concerto Italiano, Rinaldo Alessandrini (conductor)
NAIVE OP30566 (CD)
The Excellency of Hand: English Viola da Gamba Duos
Music by Christopher Simpson, John Jenkins, and Simon Ives
Robert Smith (viola da gamba), Paolo Pandolfo (viola da gamba)
RESONUS CLASSICS RES10186 (CD)
Passaggio - Eine Barocke Alpenuberquerung [A Baroque Alpine Crossing]
Music by Schmelzer, Piccinini, Marini, Bartolotti, Vilsmayr, Pandolfi Mealli and Muffat
Ombra e Luce - Bjorn Colell (guitar, lute, theorbo), Georg Kallweit (violin)
ALPHA ALPHA540 (CD)
TELEMANN: Reformations-Oratorium 1755, TWV 13:18
Regula Muhlemann (soprano), Daniel Johannsen (tenor), Benjamin Appl (baritone), Stephan MacLeod (bass), Chor des Bayerischen Rundfunks, Bayerische Kammerphilharmonie, Reinhard Goebel (conductor)
SONY 88985373872 (CD)
10.45am – Toks Dada on 20th century newcomers
Hungarian Treasures: Notos Quartett
BARTOK: Piano Quartet in C minor Op. 20
DOHNANYI: Piano Quartet in F Sharp Minor
KODALY: Intermezzo for string trio
Notos Quartett
RCA 88985411882 (CD)
Szymanowski: Works for violin and piano
SZYMANOWSKI: Mythes Op. 30; Harnasie Op. 55; La Berceuse d'Aitacho Enia Op. 52 (1925); Roxana's Song from the opera 'King Roger', for violin & piano; Nocturne & Tarantella Op. 28
Duo Bruggen-Plank: Marie Radauer-Plank (violin), Henrike Bruggen (piano)
GENUIN GEN17459 (CD)
Ginastera: The Piano Music
GINASTERA: Danzas Argentinas (3) Op. 2; Milonga Op. 3; Tres Piezas Op. 6; Malambo Op.7; Estancia Op. 8: Pequena Danza; Piezas Infantiles; 12 American Preludes Op. 12; Suite De Danzas Criollas Op. 15; Piano Sonata No. 1 Op. 22; Toccata; Piano Sonata No. 3 Op. 54
Michael Korstick (piano)
CPO 5550692 (CD)
Furatus
GRIEG: Holberg Suite
YAMADA: Songs
SHOSTAKOVICH: Three Fantastic Dances
TVEITT: Hardingtonar
NIELSEN: Humoreske-Bagateller
Ole Edvard Antonsen (trumpet), Wolfgang Plagge (piano)
LINDBERG LYD 2L-130-SABD
11.45am – Disc of the Week
HAYDN: The Seasons
Carolyn Sampson (soprano), Jeremy Ovenden (tenor), Andrew Foster-Williams (bass), Wroclaw Baroque Orchestra, Wroclaw Philharmonic Choir, Gabrieli Consort, Players, Paul McCreesh (conductor)
SIGNUM SIGCD480 (2CD)