Main content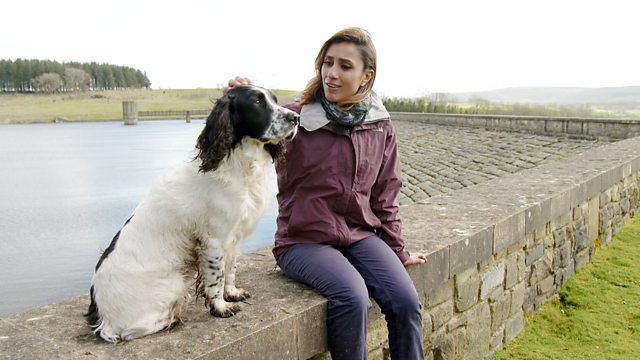 Lancashire
In Lancashire, Matt Baker learns all about the age-old Easter tradition of pace egg rolling and Anita Rani takes to the hills to follow the Lancashire Witches Walk.
Countryfile is in Lancashire, where Matt Baker learns all about the age-old Easter tradition of pace egg rolling. He meets the artist who decorates eggs for a living, joins some schoolchildren decorating theirs, then takes part in a pace egg-rolling challenge. He also does the rounds with a young entrepreneur who has found a niche delivering fresh eggs to people in his local area.
Anita Rani takes to the hills as she follows the Lancashire Witches Walk, set up to commemorate the famous witch trials which took place 400 years ago. She takes in the stunning Forest of Bowland and Pendle Hill. She also joins some volunteers for a bit of coppicing and gets to make a witch's besom broom.
Steve Brown is at Brockholes nature reserve, where he hopes to catch a glimpse of one of the real spectacles of spring - boxing hares. And Adam Henson is looking to buy some rare large black pigs. Tom Heap travels to Denmark, where an MRSA bug has infected almost all of the country's pigs. Is it something pig farmers need to worry about back home in the UK?
Music Played
Timings (where shown) are from the start of the programme in hours and minutes
Joe Brown's Egg Round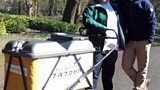 Joe Brown is a 28 year old self-made, egg entrepreneur, delivering fresh eggs door to door in and around his home town of Penwortham.   Joe has Asperger Syndrome, and like many with his condition, struggled to find work.  But he discovered a knack for handling and packing eggs on a friend's poultry farm and that was it, he knew what he had to do; set up his own egg business.   Joe now delivers to more than 450 customers each in around his home town, using eggs he gets from local producers.  Matt joins Joe as he takes delivery of the latest batch, then sets off out on his round with him.  Along the way they meet some of Joe's loyal customers, and Matt hears about the tradition of 'pace egging'. 
Lancashire Witches Walk
The Lancashire Witches Walk is a 51 mile walk through some of Lancashire's most stunning scenery.  But it commemorates a sorry episode in the history of the county; the Lancashire Witch Trials, which saw ten people from round and about Pendle executed for witchcraft.  Anita sets off on the walk and meets historian Dr Robert Poole to find out what happened here in 1612, and how  the reputation of these poor souls has been restored.  She then meets local artists Sue and Pete Flowers who devised the walk, which follows the route the Witches took to their place of execution in Lancaster.  And she is shown markers along the way, with lines inscribed that were written by Poet Laureate Carol Ann Duffy, to pay homage to the Lancashire Witches.
http://forestofbowland.com/Lancashire-Witches-Walk
Brockholes Nature Reserve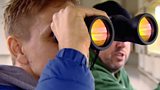 Steve Brown, fresh from Countryfile Diaries, visits the Brockholes Nature Reserve with one particular aim; to see brown hares.  Boxing hares are one of the spectacles of spring and something wildlife enthusiast Steve has never seen.  The reserve is just a stone's throw from the M6 but it's teeming with wildlife.  There are lapwings, curlews, avocets.  Even otters. But it's the hares Steve's here to see.  So he's up at the crack of dawn with his binoculars to join warden Alan Wright. Together they take up postion and wait.  Will they be in luck ?
Egg Decorating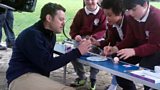 The decorating of hard-boiled eggs with bright colours and patterns is a tradition going back centuries, all over the world. Matt meets artist Linda Martin who specialises in egg decoration and creating works of art from little more than a blown egg shell.  Matt learns about the history of egg decorating, the local traditions of using onion skins to dye eggs, and has a go at blowing his own egg.  Matt is joined by Year 4 pupils from Broad Oak Primary School who are decorating eggs as farm animals in honour of Countryfile's visit.
https://www.bbcgoodfood.com/howto/guide/how-make-decorated-eggs-easter
Large Black Pigs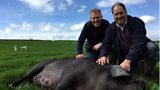 From the Gloucester Old Spot, to Tamworth's and Berkshire's – Adam has a soft spot for his pigs.  And being rare-breeds, their health and welfare is paramount. After worming some of his new piglets, he's off on a shopping trip to buy one of the rarest breeds of pig on the planet – the Large Black. They are critically endangered but with Adam increasing his herd, hopefully it will go some way to safeguarding their future.
Besom Brooms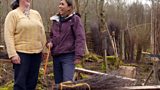 Anita takes a break from the Lancashire Witches Walk to meet with Natasha 'Twiggy' Twig. She's a coppice worker and teaches Anita how to make her very own besom broomstick, using traditional methods and tools and wood from the forests around them. 
Anita then visits one of the modern features of this ancient forest, Stocks Reservoir. She meets Dave Oyston, catchment manager, to find out how the trees surrounding the reservoir are so important to protect the quality of our drinking water. 
Pace Egging
Pace Egging is an Easter tradition that's been carried out for centuries in towns and villages all over Lancashire. Hard-boiled eggs are decorated then rolled down a hill with prizes awarded for the egg that rolls the furthest without breaking. At Avenham Park in Preston, the tradition has been running since the 1860's and this year Matt faces off against Anita and 30 pupils from Broad Oak Primary School to do battle with their coloured eggs.
Find out more about Easter traditions here: 
http://www.countryfile.com/explore-countryside/history/easter-traditions-still-alive-today
Pig MRSA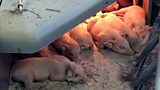 Tom Heap travels to the home of probably the most famous bacon in the world - Denmark. To keep up with global demand, Danish farmers produce 30 million pigs a year, and use antibiotics to keep them healthy. But a serious problem has emerged. Nearly 90% of conventional Danish pig farms are infected with antibiotic-resistant bacteria called MRSA CC398 or 'Pig MRSA'. It can be passed from pig to pig,between pigs and people and from person to person (although pork products when properly cooked are harmless). For the vast majority of the population the risk from Pig MRSA  is low but for elderly or very sick patients, it can be extremely dangerous. 
'Pig MRSA' does not respond to commonly-used antibiotics meaning a normally treatable infection can – and has - proved fatal. The bacteria has also been confirmed in a small number British pigs, so what lessons are there for the UK to learn? Tom finds out.
Credits
| Role | Contributor |
| --- | --- |
| Presenter | Matt Baker |
| Presenter | Anita Rani |
| Presenter | Steve Brown |
| Presenter | Tom Heap |
| Presenter | Adam Henson |
| Series Producer | Joanna Brame |
| Executive Producer | William Lyons |