Main content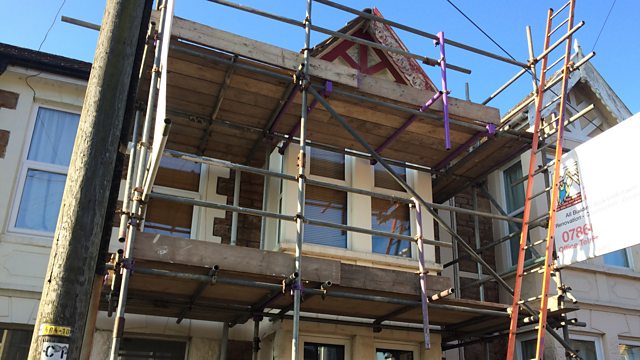 Insulation for the Nation
Homes are responsible for 25 per cent of carbon emissions in the UK. Tom Heap asks if they can be retrofitted to fight climate change.
Our homes are responsible for 25% of our carbon emissions in the UK. Tom Heap asks if we can retrofit our homes to fight climate change.
An Englishman's home is his castle, but most homes are not well defended against cold air and high fuel bills and if we are going to hit our 2050 carbon dioxide emissions targets we need to start a retrofit revolution from our front doors.
Tom visits the house of his producer, Martin, to take stock of his 'typical' Edwardian terrace. Pre-1920s housing makes up a big proportion of UK homes and what Tom and a team of eco-house experts discover in Martin's house is not uncommon: draughty doorways, patches of damp, hot-spots and cold spots.
Martin's home has room for improvement and so Tom then makes a whistle-stop tour of homes that are part of the SuperHomes network. SuperHomes is an organisation of determined householders who have made big changes to their dwellings to improve energy efficiency, cut bills and reduce emissions. They show that small changes can make a big difference.
However, in order to tackle our ageing housing stock, a lot of skilled workers are needed. Energy consultant Peter Rickaby, and Gavin Killip from the Environmental Change Institute at Oxford University explain that we simply do not have the skilled workforce to carry out the necessary retrofit renovations. The problem will be, according to Professor Linda Clarke from the Westminster Business School, exacerbated by Brexit.
Meanwhile, at his 'power station' in Notting Hill, Michael Liebreich, director of New Energy Finance at Bloomberg thinks we should think big: renovating all our homes could mean that we don't need big new power stations like Hinkley.
Presenter: Tom Heap
Producer: Martin Poyntz-Roberts.
Last on
Broadcasts

What has happened to the world's coral?